Merkel's Stand Against Euro Bonds Looks Like A Losing Battle; Has France's Hollande Outdueled The Chancellor?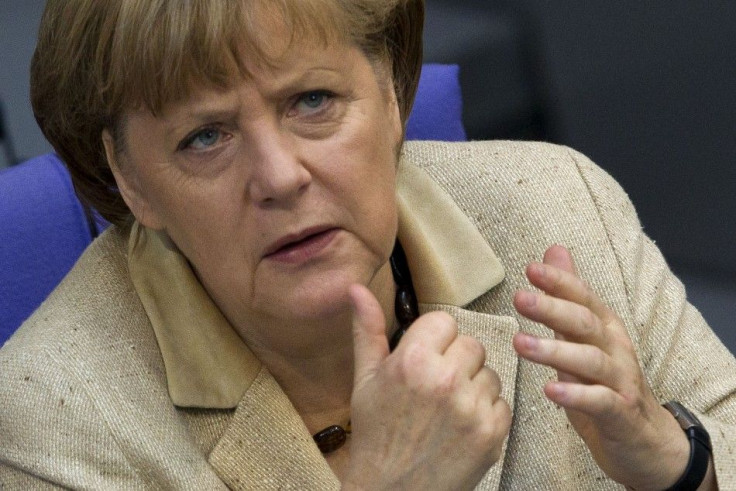 The line in the sand couldn't be clearer.
On one side is German Chancellor Angela Merkel; on the other is newly elected French President Francois Hollande. They're fighting over something that exists only in the imagination: the euro bond, a collective financial instrument for the financially troubled European Union.
Merkel's allies include Austria, Finland and the Netherlands, economically stable nations opposed to using their good will with lenders to help their more troubled brethren borrow money more cheaply. German sovereign bonds have recently sold at near 0% interest, while Spain's yield has risen above 6%.
Hollande counts Italy's PM Mario Monti, Spanish Premier Mariano Rajoy and European Commission President Jose Barroso among his supporters. His group appears to be gathering momentum, though none of the countries in that camp has yet to detail precisely who would be allowed to issue euro bonds, under what circumstances and how often.
The two leaders, each hoping that their vision for a European recovery will prevail, fought bitterly over the bond at a meeting of euro zone heads in Brussels on Wednesday; the sessions ended with no agreement and both sides unwilling to concede defeat.
While arguing that euro bonds would violate EU treaties, which she says outlaw joint liability for national debts, Merkel also dismisses claims that these loans will create jobs, adding that they would not contribute to kick-starting growth.
But on Thursday Monti launched a broadside at the chancellor's obstreperousness on the issue, and then surprisingly suggested that she could be persuaded to change her mind. Europe can have euro bonds soon," the prime minister said on Italian television. "A united Europe is in everybody's interest. ...We'll have euro bonds if the euro area, and therefore Germany, want them.
If Merkel does come around, euro bonds will likely be pooled loans issued by a European debt agency and paid back by all members of the euro zone. Most likely, each country would continue to raise money by issuing its own bonds as well. It's not clear yet whether euro bonds could be used to replace existing debt or only for to finance new borrowing.
According to financial experts, investors would readily snap up the bonds.
There certainly appears to be demand - a recent survey of over 17,000 EU investment professionals found that a majority approved of the idea, said Sally Painter, COO of Washington-based consultants Blue Star Strategies.
Since a euro bond would ultimately be backed by Germany and France, investors would see it as a very safe asset, similar to a U.S. Treasury bond.
Supporters see euro bonds as a way to avoid austerity programs, unpopular in much of Europe, which would slash government safety net programs and public works spending. For example, Hollande has stated that he hoped euro bonds would provide cash for stimulus programs or continent-wide unemployment insurance.
Without euro bonds, backers say, overleveraged countries like Spain, Portugal and Italy, whose debt carries the highest interest rates among developed nations, would be unable to pay back their loans while maintaining acceptable standards of living and quality of life for most of their residents.
Merkel's retort is that these countries are living beyond their means and if certain popular government programs are not affordable anymore, they have to be cut.
This is as much a political position as an ideological one. The chancellor is well aware that the German people are tired of shouldering the lion's share of the European debt crisis.
According to a poll by FG Wahlen conducted in February, 70 percent of Germans from across the political spectrum supported the chancellor's anti-bond stance.
Merkel's fellow Christian Democrats have applauded her attempt to hold the line on this issue. On Tuesday, for instance, conservative German state politicians put out a statement calling the bonds the fatal path to debt union.
But Merkel has also grown dangerously weak at home.
Invigorated by the election of the socialist Hollande in France, the German center-left is pushing for initiatives to boost employment and growth in Europe before it will commit to a EU-wide fiscal pact - the defining legislation of her austerity agenda. The Social Democrats (SPD) have threatened to delay a vote on the deal - designed to cement budget discipline within the euro zone – until Merkel eases her opposition to government spending on social programs.
The problem is, Germany has little to gain, and a lot to lose, from the introduction of euro bonds. While borrowing costs for the European basket-case nations would fall, Germany debt payments would rise substantially because of its euro bond commitments and undoubtedly higher yields on its own sovereign debt.
At the same time, confidence in the stability of the euro would grow, which would almost certainly drive the value of the currency up, making German exports less competitive.
Germany has low unemployment, record exports and business is booming," said John Lekas, a senior portfolio manager at Leader Capital. If I were Merkel, I would want to keep things the way they are.
As of this week, European leaders, including Merkel, have only agreed to study the possibility of a euro bond more closely. However, throughout the continent, Merkel's support seems to be ebbing. Her few supporters are quiet about their backing, knowing that austerity is not a popular idea in their countries as well.
Once in charge of the plans for Europe's future, Merkel and Germany are to a large degree backed into a corner. Having gone to war for austerity so passionately, Merkel may find that euro bonds prove to be her – and Germany's – Waterloo.
© Copyright IBTimes 2023. All rights reserved.