India's Aggressive Military Build-Up: Keeping Up With China
Analysis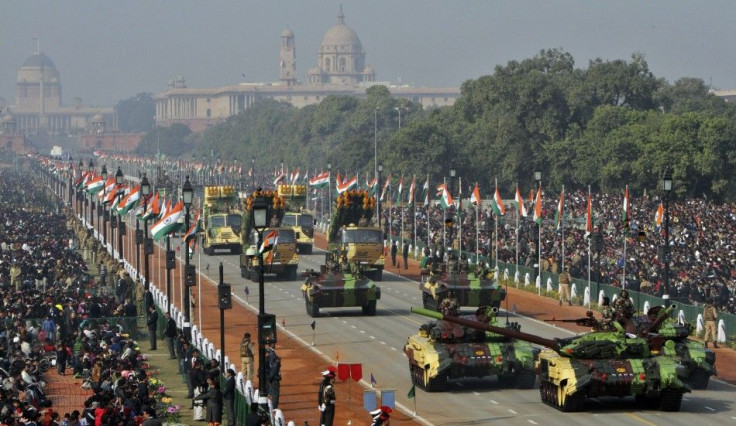 As India prepares to launch a long-range nuclear missile, the Agni V, the emerging South Asian giant has become one of the globe's most active buyers of weapons and missiles, raising some concerns in China, Pakistan and elsewhere.
According to India's defense ministry, New Delhi will increase its total defense spending by 17 percent this year to $38.6 billion -- reportedly more than four times what the government will spend on health care for its billion-plus citizens.
A new report by the Stockholm International Peace Research Institute (SIPRI) revealed that India's military spending has jumped by 66 percent over the last decade. Recently, India also commissioned a Russian-made nuclear submarine, and it is negotiating with a French company for more than a hundred Rafale fighter jets.
International Business Times spokes to an expert on South Asian issues to discuss why India is aggressively arming itself.
Anjalika Bardalai is the Economist Intelligence Unit's (EIU) senior analyst covering South Asia. She is based in London.
IB TIMES: Why is India committed to such an escalation in military and defense spending?
BARDALAI: India is keen to modernize its defense capabilities since much of its equipment is relatively old. This is especially true in the context of the recent leaking of a letter from the army chief General V.K. Singh, saying that much of India's defense equipment is obsolete.
In addition, relations with the country's neighbors, notably Pakistan and China, remain poor, and although relations are not as bad as they once were, this undoubtedly bolsters the desire to ensure an adequate level of military preparedness.
IB TIMES: Between 2007 and 2011, India accounted for 10 percent of all global arms imports. Is India simply flexing its muscle as an emerging superpower, or does it see a grave military threat from its historical enemies, China and Pakistan?
BARDALAI: The EIU wouldn't say that India sees China as a grave threat. India and China still have unresolved border disputes, and more broadly, India views China as a rival for strategic influence in Asia, but these issues would not have been the sole driving factors behind the rise in defense spending in India.
China recently announced its own large increase in military spending, and given the Chinese economy's larger size and faster growth, India is not about to eliminate the gap in military spending.
Nevertheless, in addition to the desire to modernize equipment and boost capability, there is almost certainly a desire not to let the gap [with China] widen too much further. The Indian defense ministry recently said it was conscious and watchful of China's military stance.
IB TIMES: India's top arms suppliers appear to be the U.S., Russia and Israel. Does Russia see India as a bulwark against China?
BARDALAI: India and Russia (then the Soviet Union) have had close ties since the 1950s.
IB TIMES: China said it will increase its military spending by 11.2 percent in 2012 and double that amount by 2015. I assume China does not supply any arms to India -- nonetheless, where and how does China think India represents a threat to its geo-strategic interests?
BARDALAI: India is actually low on the list of China's priorities. China does not perceive India as a strategic threat, and so the increase in Chinese military spending was driven by factors other than India.
IB TIMES: Is India primarily concerned about protecting its shipping lanes in the Indian Ocean? Or is India more worried about China's designs on the disputed northern state of Arunachal Pradesh?
BARDALAI: We don't believe that either of these specific issues would have featured prominently in India's decision to increase its military spending.
IB TIMES: How has Pakistan responded to India's accelerated military spending? Have they done likewise? Who are Pakistan's biggest arms suppliers?
BARDALAI: Last year Pakistan's budget allocated an increase in defense spending of about 12 percent (this year's budget has not yet been released). Since 2002 Pakistan has received around $2 billion annually in military and economic aid from the U.S., and the U.S. is a crucial supplier of arms to Pakistan. China is also an important arms supplier to Pakistan.
IB TIMES: On an absolute basis, how large is Indian military-defense spending, compared to China, the U.S. and Russia?
BARDALAI: According to data from the International Institute for Strategic Studies, in 2011 U.S. military spending was $740 billion, representing 46 percent of the world total. China's military spending was $89 billion (5.5 percent of the total global figure) -- however, precise figures are unavailable, and the true figure is estimated to be much larger because a significant part of China's defense budget is unreported.
Russia's spending was $53 billion (3.3 percent) and India's was $37 billion (2.3 percent). This made India the world's ninth-largest military spender in 2011.
IB TIMES: Why does the U.S. sell arms to India, given that the U.S. does not sell to China?
BARDALAI: The U.S. arms embargo to China was imposed after a specific incident [the reaction by the Communist Party to protests in Tiananmen Square in 1989].
In recent years, the U.S. has gone to some lengths to improve its relations with India, so it is unsurprising that it would sell arms to the country. However, Russia remains India's largest arms supplier by a wide margin.
IB TIMES: Is Pakistan's nuclear arsenal larger and more sophisticated than India's?
BARDALAI: Estimates vary, but we believe the two countries' arsenals are roughly comparable.
IB TIMES: Do both the Congress Party and opposition BJP party of India support this massive increase in defense spending?
BARDALAI: We think it's important to keep in mind that despite the announced rise in military spending, such expenditures still represents less than 3 percent of India's GDP.
In proportional terms this is roughly on par with spending in countries like Turkey and France -- and Pakistan -- and only slightly higher than the world average of 2.2 percent, according to SIPRI.
The BJP is further to the right of the political spectrum than Congress is and has traditionally been more hawkish about defense policy, so it would be unlikely to express opposition to any intention to modernize and improve India's military capabilities.
IB TIMES: Does India export arms, too? If so, where, and to whom?
BARDALAI: Indian arms exports are negligible and are mostly to small neighboring countries like the Seychelles. Arms exports to Myanmar have been controversial, however.
© Copyright IBTimes 2023. All rights reserved.
FOLLOW MORE IBT NEWS ON THE BELOW CHANNELS