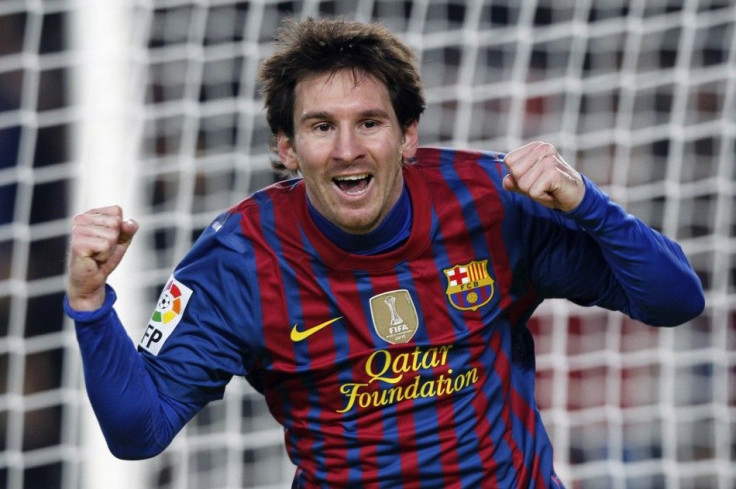 Lionel Messi hit four goals against Valencia in Spain's La Liga on Sunday to continue to show why he is the greatest player of this and, in the opinion of many any, generation. The little Argentinian's strikes in Barcelona's 5-1 victory took Messi to an incredible 42 goals for the season. What's more, Sunday's game represented Messi's 200th for the Catalan giants and his four goals took him to 146, more than any other player has managed at that milestone in Barcelona's illustrious history.
With Messi setting this latest record, now seems a perfect time to appreciate just what a genius the man from Rosario, Argentina is. Below is a look at five of the great man's best goals. Click on the links to view clips and feel free to suggest your favorite in the comments.
V Real Sociedad 12.12.2010When Messi receives the ball down the right side of the penalty area it doesn't look like there is anything on. Four defenders stand between him and the goal. A simple layoff or a hopeful cross into the box maybe? Not for Messi. He takes off sprinting at an incredible pace across the penalty area with the ball seemingly stuck to his boot. In a flash he has breezed past the defense and then produces the calmest of finishes back across the keeper. Sociedad's defenders didn't even know what had happened.
V Mexico 07.11.2007Those who claim that Messi is not the greatest player of all time always cite his failure to prove it on the international stage for Argentina as his two great rivals for the tile, Pelé and Diego Maradona, had done. While this criticism is perhaps wide of the mark given club soccer's now dominance over the international game, this goal is proof that Messi is capable of doing it in his nation's colors. A sumptuous chip over a goalkeeper that never had the chance to react to the instinctive flick of Messi's wand of a left foot.
V Stuttgart 03.17.2010Just to prove that Messi is capable of more than dribbling, here is a piledriver against Stuttgart. The best part about this goal is that Messi is surrounded by four defenders when he strikes the ball. Still he hits it with extraordinary power and accuracy, blazing the ball into the roof of the net.
V Real Madrid 04.27.2010For any Barcelona player to score against Barcelona is the pinnacle, to do so in a Champions League semi-final makes it all the more special. The match had been a horribly tetchy affair with Madrid's overly-physical tactics not helped by Barcelona's play acting. Then out of nowhere Messi gets the ball and accelerates through the Madrid defense before sliding the ball into the net. It was a goal that saved the match and reminded everyone why we call it the beautiful game.
V Getafe 04.18.2007Messi is always destined to be compared to his fellow Argentine Diego Maradona. While he may never truly eclipse Maradona in the eyes of many until he too lifts Argentina to a World Cup, he has shown that he can, at least, match Maradona's greatest goal. In a virtual replica of Maradona's iconic strike against England in the 1986 World Cup, Messi dribbles from inside his own half before rounding the goalkeeper and finishing from a tight angle. Simply brilliant.
© Copyright IBTimes 2023. All rights reserved.