Metta World Peace Discusses Suspension on 'Conan'; When Does He Return?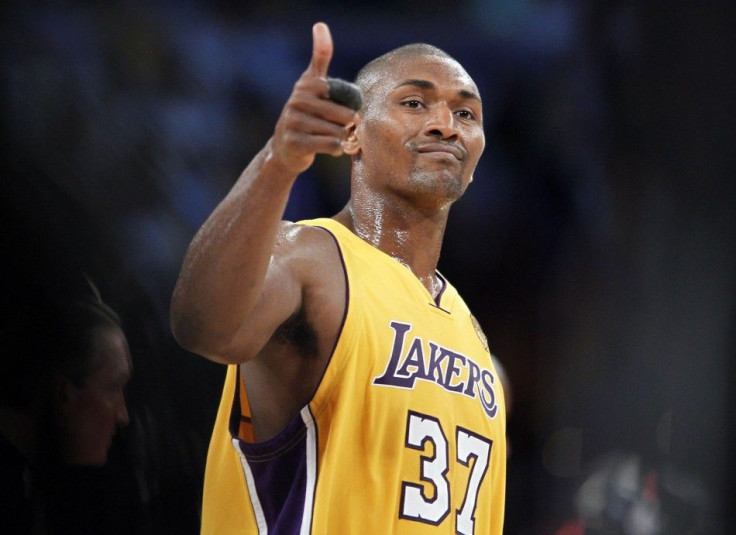 Suspended Los Angeles Lakers forward Metta World Peace wasn't shy in talking to Conan O'Brien on Monday night about the elbow to James Harden's head that landed him a seven-game suspension.
World Peace appeared on O'Brien's TBS show Conan and delved right into talk about the vicious elbow that left Harden with a concussion during an April 22nd game against the Oklahoma City Thunder. He said that he didn't realize it was Harden until after he was already in the locker room, but didn't call to apologize to the Thunder star afterwards.
Because I might have to play him in the playoffs, so I didn't really want to talk to him, World Peace said on the reason why he didn't reach out to Harden. But I did make sure he was okay... I called some third parties and they told me he was doing okay.
World Peace, who still has two games remaining from his seven-game suspension, even speculated that Harden purposely runs into people's elbows. The man formerly known as Ron Artest admitted that he deserved a suspension for the hit, but felt that not only was the suspension too long but the criticsm of him was over the top.
...When you get a player that you play with that you're in the same locker room with that's talking about you on TV because he has this new job, ... it's like, 'Come on, man. You was in the locker room when you asked me to protect you.'
That elbow was a little bit too much, and I deserved the suspension. I don't know if I deserved that many games because a week before that a guy looked at a guy and stepped on his head. So I said, 'Okay, maybe I can get the same amount of games that he's got.'
World Peace will return to the court for Game 7 of the Lakers series against the Denver Nuggets should it go that far or in either Game 1 or 2 of the second round depending on if the Lakers win on Tuesday night.
© Copyright IBTimes 2023. All rights reserved.