Is Mewtwo In 'Pokémon Go' Or Times Square Yet? Full List Of 151 Monsters To Catch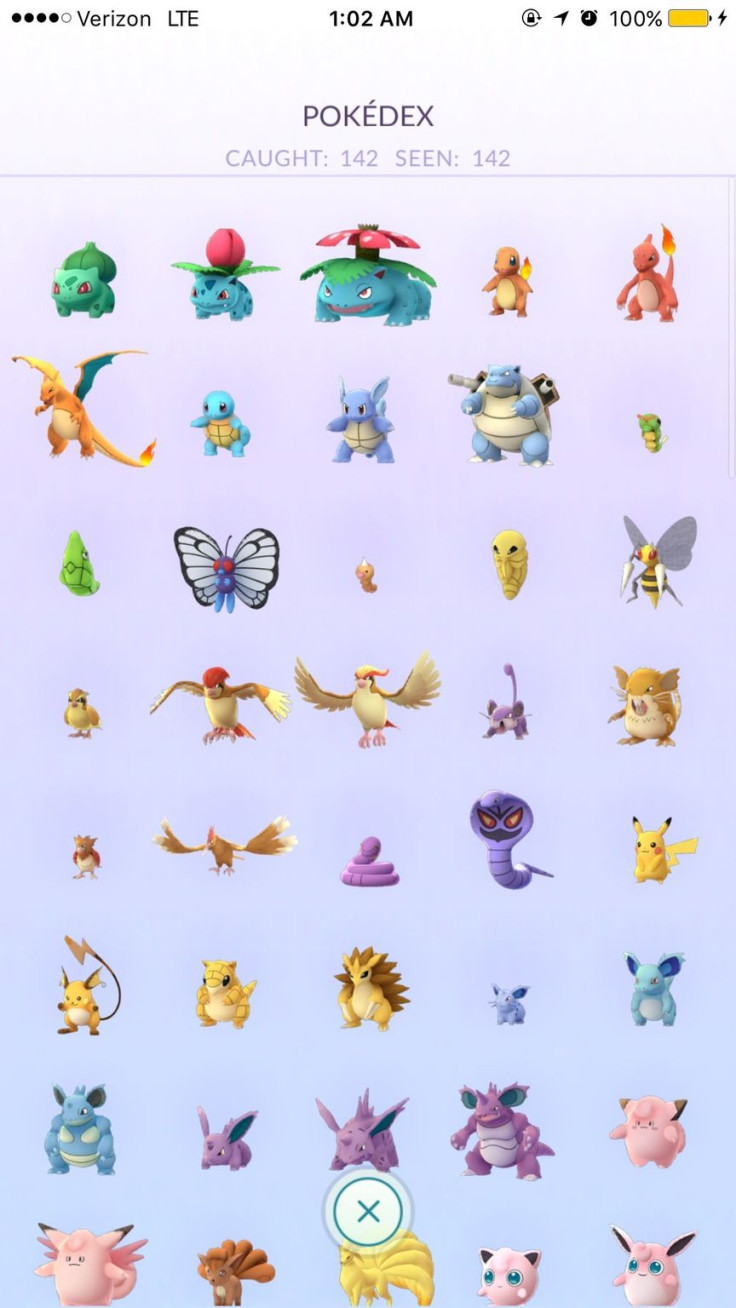 One of the biggest questions "Pokémon Go" players have is whether or not legendary creature Mewtwo is in the game. While Mewtwo makes up one of the 151 Pokémon, its presence in the app has been question since it launched. There have been plenty of trainers who claimed to have caught the highly coveted creature, but there haven't been any confirmed reports to date.
It doesn't mean it's impossible to catch Mewtwo, though. For example, Mr. Mime is only exclusive to Europe and Tauros is exclusive to North America. The only way to obtain a Tauros across the pond is to hatch it from a 5km egg.
Even though it's not possible to catch Mewtwo at the moment, there have been musings that it might be possible in the near future. Since the trailer showed a hoard of people catching Mewtwo in Times Square, it's assumed there will be a public hunt in New York City's midtown. Users will probably have to be at a higher trainer level to participate. None of this is confirmed, just highly speculated among players.
One reason there might be a limit on who can catch Mewtwo is because of what happened in Taipei, the capital of Taiwan, Saturday. Thousands of people stormed the capital to catch Snorlax, one of the rare creatures, Time reported Monday. The game has been a major problem for parts of Asia, where over-crowding it already a problem.
While the Mewtwo over-crowding theory might not be a good enough explanation for some, there are some certainties in "Pokémon Go." Here is the full list of pocket creatures that can fill one's Pokédex, courtesy of The Telegraph.
Bulbasaur
Ivysaur
Venusaur
Charmander
Charmeleon
Charizard
Squirtle
Wartortle
Blastoise
Caterpie
Metapod
Butterfree
Weedle
Kakuna
Beedrill
Pidgey
Pidgeotto
Pidgeot
Rattata
Raticate
Spearow
Fearow
Ekans
Arbok
Pikachu
Raichu
Sandshrew
Sandslash
Nidoran ♀
Nidorina
Nidoqueen
Nidoran ♂
Nidorino
Nidoking
Clefairy
Clefable
Vulpix
Ninetales
Jigglypuff
Wigglytuff
Zubat
Golbat
Oddish
Gloom
Vileplume
Paras
Parasect
Venonat
Venomoth
Diglett
Dugtrio
Meowth
Persian
Psyduck
Golduck
Mankey
Primeape
Growlithe
Arcanine
Poliwag
Poliwhirl
Poliwrath
Abra
Kadabra
Alakazam
Machop
Machoke
Machamp
Bellsprout
Weepinbell
Victreebel
Tentacool
Tentacruel
Geodude
Graveler
Golem
Ponyta
Rapidash
Slowpoke
Slowbro
Magnemite
Magneton
Farfetch'd - Only available Asia unless hatched from a 5km egg
Doduo
Dodrio
Seel
Dewgong
Grimer
Muk
Shellder
Cloyster
Gastly
Haunter
Gengar
Onix
Drowzee
Hypno
Krabby
Kingler
Voltorb
Electrode
Exeggcute
Exeggcutor
Cubone
Marowak
Hitmonlee
Hitmonchan
Lickitung
Koffing
Weezing
Rhyhorn
Rhydon
Chansey
Tangela
Kangaskhan - Only available Australia/New Zealand unless hatched from a 5km egg
Horsea
Seadra
Goldeen
Seaking
Staryu
Starmie
Mr. Mime - Only available Europe unless hatched from a 10km egg
Scyther
Jynx
Electabuzz
Magmar
Pinsir
Tauros - Only available North America unless hatched from a 5km egg
Magikarp
Gyarados
Lapras
Ditto - Unavailable at the moment
Eevee
Vaporeon
Jolteon
Flareon
Porygon
Omanyte
Omastar
Kabuto
Kabutops
Aerodactyl
Snorlax
Articuno - Unavailable at the moment
Zapdos - Unavailable at the moment
Moltres - Unavailable at the moment
Dratini
Dragonair
Dragonite
Mewtwo - Unavailable at the moment
Mew - Unavailable at the moment
Follow me on Twitter @mariamzzarella
© Copyright IBTimes 2023. All rights reserved.