Mexican Missing Students: Activists In 20 US Cities Protest Obama's Meeting With Mexico President Pena Nieto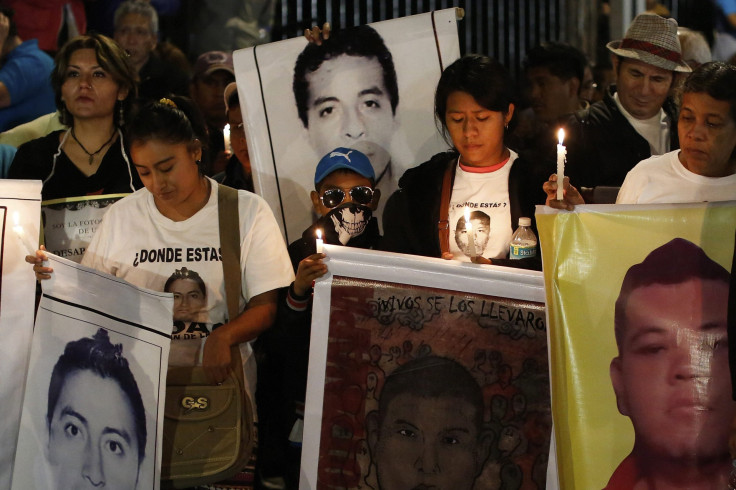 Protests planned in more than 20 U.S. cities Tuesday aim to send a clear, concise message to Mexican President Enrique Peña Nieto during his visit: You're not welcome here. Peña Nieto is due to meet with U.S. President Barack Obama to discuss issues such as relations with Cuba, immigration and border security, but demonstrators care about one topic in particular: the 43 students missing from Mexico's Guerrero State since Sept. 26. Activists say Peña Nieto enabled the government corruption that lead to the young men's likely murders by a drug cartel.
Mexican consulates in cities including Seattle, Los Angeles, New York, Dallas, St. Louis, Salt Lake City, Houston and Portland, Oregon, are expected to see peaceful protests at various times on Tuesday. The largest, organized by SOA Watch and #USTired2, will take place in front of the White House at 10 a.m. Protesters there plan to distribute a packet to members of Congress that includes a Foreign Policy article titled "Why America Is to Blame for Mexico's Carnage and Corruption," a letter from scholars to Obama asking for him to stop military aid to Mexico, a #USTired2 press release, and a letter urging Sen. Robert Menendez, D-N.J., the top Democrat on the Foreign Relations Committee, to speak out. Menendez sent a letter to Secretary of State John Kerry recently expressing concern about the missing students.
The case of the 43 students -- who disappeared after a confrontation with police, who allegedly turned them over to a drug gang -- has become a national symbol of corruption in Mexico's drug war. Activists said the government doesn't take the people's needs seriously, and they see Peña Nieto as the worst offender.
"Two years into his administration, it's now abundantly clear that instead of 'saving Mexico,' Peña Nieto and his failed policies are destroying Mexico to the point where it is disgraceful that our president is even meeting with a Mexican administration that, under U.S. law, should have its funding cut for massive human rights violations," #USTired2 co-founder Roberto Lovato told Fusion in a statement.
Protesters called last month for Obama to cut funding to Mexico under the Leahy Amendment, which mandates that the U.S. must stop supporting other countries' military forces if they violate human rights. The administrations of President George W. Bush and Obama have given about $2.5 billion to Mexico through the Mérida Initiative, according to #USTired2.
© Copyright IBTimes 2023. All rights reserved.