Mexico's Missing Students: Some Families Of The Disappeared Doubt Official Version Of Events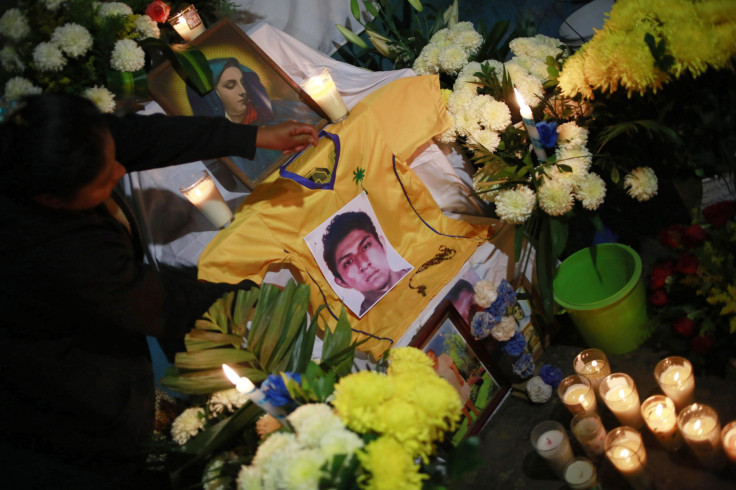 The DNA match of one of the 43 Mexican students who has been missing since September with a bone fragment found amid a pile of remains seemed to be a tragic conclusion to a monthslong search that has overtaken Mexico's public consciousness. But some family members of the other disappeared students are airing their suspicions about the findings.
Last month, Mexico's attorney general announced that authorities recovered several bags of ashes and remains from Cocula, a town in the southern state of Guerrero near where the students were last seen in September, based on confessions from gang members they arrested in connection with the crime. The remains were sent to a specialist lab in Austria for testing, and officials confirmed Saturday that DNA from a bone fragment matched 19-year-old Alexander Mora Venancio, one of the missing students.
An independent team of Argentine forensics experts confirmed that the bone fragment matched Mora but added that they were not present when the remains were recovered, a detail that relatives of the disappeared have seized upon in suspecting that the government may have planted the remains. Representatives of the forensics team said that when they arrived at the Cocula site where the remains were collected, government officials were already there and the bag of remains was open.
The attorney general's office said that the most likely scenario was that the mayor of Iguala, the town where the students were last seen, ordered police to go after the students for fear that they would interrupt a speech his wife was giving. The police then shot at the students, killing three, and allegedly turned them over to a local gang, who killed all 43, burned their bodies and dumped the remains into a nearby river.
But some relatives of the disappeared have cast doubt on that explanation of events, saying they heard from other witnesses who said some students were taken elsewhere. "We have information that the students were transported from one location to another; it's not possible that all were killed and burned," said Jose Felix Rosas, a representative for the Popular Movement of the Tecoanapa Municipality, a group representing the families of eight missing students who were from that town. He spoke during a press conference Monday evening.
"We demand the other 42 alive. We have total distrust in the PGR [Mexican attorney general's office] and in [President] Enrique Peña Nieto," he added. He also criticized local authorities, saying they did not contact Mora's father, Ezequiel, upon hearing the news about his son.
"We are tired of politicking, of political parties, of money that is spent on campaigns and the poverty of the people," he said. "We have proof that this is a failed state, and we will uproot it."
© Copyright IBTimes 2023. All rights reserved.