Mexican Missing Students Update: National Mobilization for Peace in Mexico Marches Held To Protest Drug War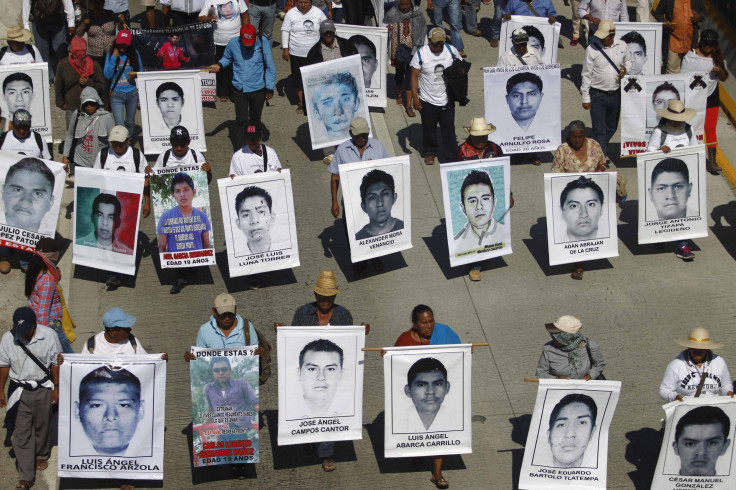 Ongoing protests in Mexico over 43 missing students spilled into the United States Wednesday, as Americans prepared for marches on federal buildings in more than 50 cities. Organizers said they are fighting the U.S. involvement in Mexico's war on drugs by calling for President Barack Obama to stop giving the country money for military training, Al Jazeera reported. As part of the National Mobilization for Peace in Mexico, demonstrators will march in New York City, Boston and Los Angeles to express their disapproval of U.S.-Mexico relations.
Under the Leahy Amendment, the U.S. must cut off funding for other countries' security forces that violate human rights, and protest organizers #USTired2 claim that Mexico's government has done just that. "We're turning our attention to what we can do as people living in the U.S.," spokeswoman Monica Novoa told Al Jazeera. "We know that billions have gone to the drug war and that this money goes to security forces. And in that way, the U.S. is complicit in what's happening in Mexico."
Residents in some U.S. cities were previously involved in Mexico's ongoing anti-government movement, Fox News Latino reported. They held candlelight vigils in memory of the 43 students who disappeared more than two months ago in Guerrero, Mexico. On Sept. 26, the students were on their way to protest a speech by the mayor's wife when police confronted them and allegedly turned them over to a local gang to be murdered. An investigation is ongoing.
Protesters in Mexico and the U.S. see the missing students case as another example of corruption in a government that doesn't take its people's needs seriously. The #USTired2 name comes from that theme. It's a translation of the now-notorious "Ya me cansé" ("I am tired") statement by Mexico's Attorney General Jesús Murillo Karam when reporters asked him for details about the investigation.
The U.S. has been significantly aiding the war on drugs since former Mexican President Felipe Calderón started the campaign in 2006. Under former U.S. President George W. Bush and Obama, the U.S. has sent about $2.5 billion to Mexico through the Mérida Initiative, according to #USTired2. This money has bought surveillance equipment and training for government forces. Univision reported the drug war has left more than 100,000 dead and 25,000 missing in Mexico.
"They are giving them money for guns, they're killing innocent people, they're giving weapons to disappear people and create mass graves," University of Berkeley researcher Roberto Lovato told Univision. "We will take to the streets, we'll take over offices, we'll do everything that's in our reach to keep these instruments of death and disappearance out of Mexico."
© Copyright IBTimes 2022. All rights reserved.
FOLLOW MORE IBT NEWS ON THE BELOW CHANNELS