Mexico Earthquake Videos, Photos: 8.2-Magnitude Tremor Triggers Tsunami Warning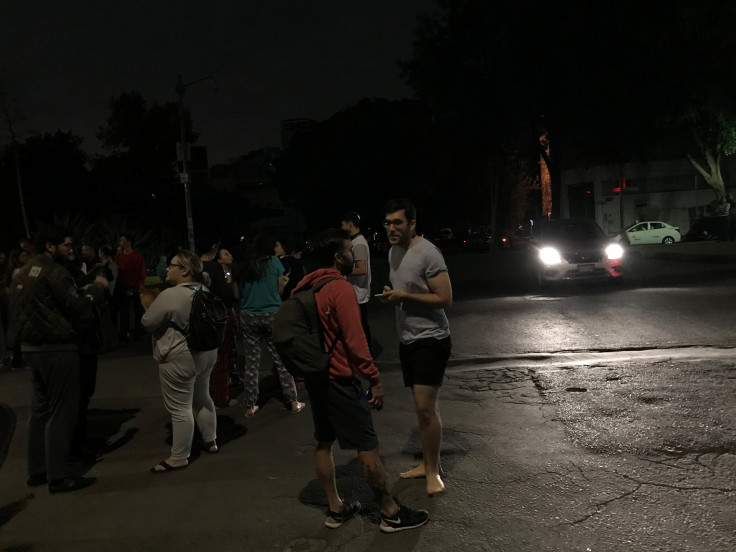 UPDATE: 8:01 a.m. EDT — The death toll following an 8.2-magnitude earthquake that hit Mexico has reached 16. Ten people died in Oaxaca state four in Chiapas state and two in Tabasco state.
Oaxaca Civil Protection Director Amado Bohorquez told CNN that four people were trapped inside a collapsed hotel in Oaxaca.
"High casualties and extensive damage are probable and the disaster is likely widespread. Past red alerts have required a national or international response," the United States Geological Survey (USGS) Pager system said while announcing a red alert.
UPDATE: 3:02 a.m. EDT — The death toll from an 8.2-magnitude earthquake in Mexico rose to five, including two children. A tsunami warning was issued for several areas. The National Weather Service's Pacific Tsunami Warning Center said the highest recorded wave so far was 3.3 feet.
UPDATE: 2:27 a.m. EDT — At least two people were killed in the southern Mexican state of Chiapas after it was hit by an 8.2-magnitude earthquake, the country's interior minister said. A tsunami warning has also been confirmed, with the largest wave of 2.3 feet, according to Reuters.
Original Story:
An 8.2-magnitude earthquake hit Mexico late Thursday with a depth of 21 miles, the Pacific Tsunami Warning Center (PTWC) said, citing USGS data. The quake struck off the coast of Chiapas with its epicenter 76 miles southwest of the town of Pijijiapan, triggering a tsunami warning.
Earlier, PTWC said the magnitude of the earthquake was 8.0. The PTWC said that hazardous tsunami waves could be expected within three hours following the quake along some coasts of Mexico, Guatemala, El Salvador, Costa Rica, Nicaragua, Panama, Honduras, and Ecuador. However, no tsunami warning was issued for the U.S. West Coast or British Columbia as a result of the quake.
"It's a big quake. It's about 70 miles offshore, but it's not an unheard of the quake," USGS geophysicist Randy Baldwin told NBC News, adding: "This is a large quake. I'm sure that it will be widely felt and possibly damaging." There were no immediate reports of major damage.
The quake forced many people in the capital Mexico City to run outside of their homes into the streets, Reuters reported.
"The shaking along the coast of Chiapas at this point is estimated to be very strong to severe," Jana Pursely, a geophysicist at the USGS told CNN. "I would expect damage along the coast of Chiapas."
Mexico's President Enrique Pena Nieto wrote on his Twitter account: "Civil protection protocols are activated, including the National Emergency Committee."
According to Mexico's civil protection agency, late Thursday's quake was the strongest to hit the country since a devastating 1985 tremor that affected several buildings and killed thousands.
Mexico is currently being threatened on its eastern coast by Hurricane Katia which has now become a category one hurricane.
This is a developing story.
© Copyright IBTimes 2023. All rights reserved.
FOLLOW MORE IBT NEWS ON THE BELOW CHANNELS