Mexico Election: What A Sweep By Peña Nieto May Mean For U.S., Oil, Security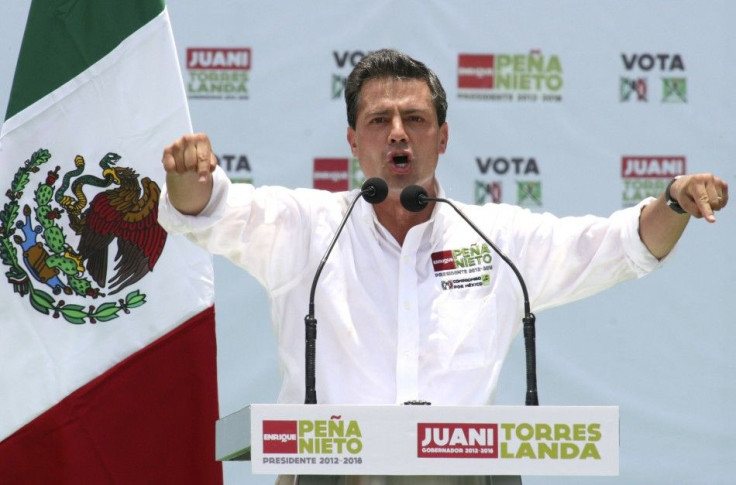 CUERNAVACA, Mexico -- Given up for dead after a shattering loss in 2000, Mexico's long-ruling Institutional Revolutionary Party (PRI) is poised to retake the presidency on Sunday, obtain working congressional majorities, and solidify its hold on the lion's share of Mexico's 32 gubernatorial seats. In the medium- and long-term, the advent of single-party dominance in both the executive and legislative branches, which this election portends, could pave the way for the key reforms on energy and fiscal policies needed to spur serious economic growth. Gridlock from divided government in the past two administrations, high levels of narcoviolence in many parts of Mexico, and momentum from the PRI's near-sweep of the 2009 midterms have combined to make its candidate, Enrique Peña Nieto, the very likely winner.
The effect of the election will extend from domestic policy to the country's relations with its most important neighbor, the United States. In addition to the presidency, all seats of Congress, governor's chairs in six states and the Federal District, and important mayoralties throughout Mexico will be contested.
What's At Stake?
Tomorrow's election will decide the next leader of the world's 13th-largest economy and of the United States' second-biggest trading partner. Often described as an ascendant BRIC, Mexico boasts unique advantages that underscore its importance to the U.S. economy: territorial contiguity from the Gulf to the Pacific, an expanding middle class increasingly hungry for U.S. goods, and a deep interdependence with the northern neighbor's manufacturing processes and markets. Annually, Mexico buys more U.S. products than any other nation except Canada; its consumer demand supports six million U.S. jobs; and its record of gradual, low-inflation growth has enhanced its safe investment profile, especially amid the eurozone and subprime mortgage crises that have punished more advanced economies.
Mexico has also emerged as a key North American security ally during the current administration of President Felipe Calderon, a member of the center-right National Action Party (PAN). In 2006, he and then-U.S. President George W. Bush signed the Mérida Initiative, a multi-billion-dollar security cooperation agreement, subsequently updated by President Barack Obama, who with Calderon advanced the principle of shared responsibility. This means that both countries bear blame for Mexico's drug trafficking violence-the United States for the high levels of drug consumption and illicit cash and arms smuggling that fuel the cartels, and Mexico for the official corruption and weak courts and police that enable the cartels' dominance of many parts of Mexico. The shared responsibility foundation has enabled extraordinary operational collaboration, intelligence-sharing, and legal, forensic, and technical training between the two countries.
On economic and security issues, Mexico and the United States are said by analysts on both sides of the border to enjoy unprecedented levels of cooperation and collaboration. University of San Diego political scientist David Shirk, for example, has said the bilateral relationship is "at a high-water mark," given the intense levels of mutual support in the fight against organized crime, not to mention the robust trade relationship, as well as a decline in the salience of historically thorny issues, such as unauthorized migration from Mexico. It is because of the current strength of the bilateral relationship that tomorrow's election will be so closely watched, for signs that it could shift or refocus-albeit subtly.
Security
Concern that parts of the relationship could shift may be greatest in the area of security cooperation. This is because President Calderon's hard-line strategy against organized crime, of which enhanced cooperation with the United States is a main component, has been losing popular support. In fact, this year's election is seen by many as a referendum on Calderon's policies, which his many detractors claim have actually fueled the country's rampant cartel violence. Recent counts in newspapers suggest that since 2006 nearly 50,000 Mexicans, many innocent civilians, have been killed in the violence.
Few observers expect a reset or sharp scaling-back of the recent advances in bilateral security cooperation, but they will be looking for hints on whether this key part of the relationship will shift in the years ahead and the extent to which a Peña Nieto government will continue policies begun under President Calderon. Some analysts have suggested that future security strategies will concentrate on more conservative approaches, working to limit highly violent cartel flare-ups and, in so doing, enhancing the appearance of law and order while maintaining popular support for security policies.
"Whether it's fair or not, right now, the PAN is essentially viewed as the party of violence, chaos and economic stagnation," Shirk told Reuters. It has been twelve really hard years in Mexico and people have become disenchanted with so much sacrifice in the name of democracy.
Energy
The energy sector is another important area of the bilateral agenda where new developments could be expected. Significantly, Peña Nieto has signaled a willingness to consider what has historically been a nationalist taboo in Mexican politics: increased private-sector investment in oil exploration and production. Opening the sector to greater investment by the private sector could create new opportunities for U.S. and world oil companies and enable Mexico to exploit its deep offshore oil reserves, which it cannot do alone.
"Mexico has the potential to be an energy power, and [state oil monopoly] Pemex ... should become a more aggressive lever in our economic life," Peña Nieto told an audience at The Wilson Center in Washington last year. For this to happen, it needs to open itself to greater private-sector investment.
Although changes to current investment rules would require legislative approval, Peña Nieto will likely enjoy working majorities in both the lower-house Chamber of Deputies, as well as in the Senate. In fact, Peña Nieto's popularity-he is far and away the front runner in every poll-could have exceptional coattail effects in the down-ticket races for the lower-house and Senate, furthering his legislative agenda when the time comes. All seats in Mexico's Chamber of Deputies, as well as the entire Senate, will be contested in tomorrow's general election, and while it is difficult to predict outright PRI majorities in the two houses, it is very likely that the incoming administration will enjoy coalitions that will help pass its proposals. Should he actually push for increased private-sector investment in Pemex, for example, Peña Nieto is expected to count on the support of a large share of PRI legislators, as well as members of the party's smaller coalition partner, the Green Party, and even PAN lawmakers, ideologically the party most supportive of liberalizing the sector.
Tomorrow's election for president, Congress, and key governor's races will have no immediate or dramatic effect on the U.S.-Mexico relationship. However, observers will be watching for subtle signs on how ties between the two nations, especially in the security arena, could shift or adjust once the new president takes office in December.
Robert Donnelly is a political analyst currently based in Cuernavaca, Mexico. He formerly worked at The Wilson Center Mexico Institute, a major think tank on U.S.-Mexico issues, and has written extensively on immigration and U.S.-Mexico border issues.
© Copyright IBTimes 2023. All rights reserved.
FOLLOW MORE IBT NEWS ON THE BELOW CHANNELS