Mexico: Fourth Blogger Murdered in Drug War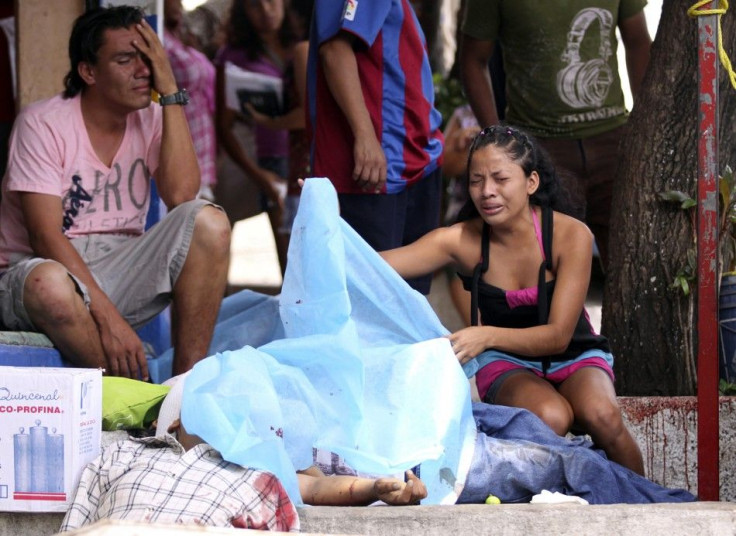 In Nuevo Laredo, Mexico, a local blogger was allegedly tortured and then murdered in retaliation for posting comments about local drug cartels. The decapitated body of El Rascatripas, as he was known online, was found lying on the street near a statue of Christopher Columbus, about one mile from the Texas border.
El Rascatripas, or the scratcher was the moderator of Nuevo Laredo en Vivo, a blog that reports on drug cartel activity in Mexico. His death marks the fourth Internet-related killing in under two months and the escalation of what could be a deadly new trend in Mexico's already brutal drug war.
In September, a man and a woman were murdered then strung up on a bridge in Nuevo Laredo for denouncing a drug cartel over Twitter. Attached to the bodies were notes reading This happens for... denouncing, and the names of two blogs: Al Rojo Vivo and Blog del Narco.
Mexican drug cartels like the Zetas -- who have been called sophisticated and violent... paramilitary enforcement groups by the Drug Enforcement Administration -- are so powerful that traditional media outlets are often afraid to publish stories about them, for fear of retaliation. This has placed the reporting burden on citizen bloggers, who are now paying the price.
Blogs have been threatened in the past, but the double murder marked the first time that anyone was killed because of what they said online.
The fear of speaking publically is likely what prompted Mary Elizabeth Macias, an editor with Nuevo Laredo newspaper Primera Hora, to post on the Nuevo Laredo en Vivo instead of her newspaper. She was murdered in September, her decapitated body placed by the same Christopher Columbus statue in the city.
Macias has been labeled the La Nena de Laredo or The Loredo Girl because of a note found her body that read I'm The Laredo Girl, and I'm here because of my reports. The note was signed ZZZZ, an indication that Los Zetas cartel was behind the killing.
Los Zetas' territory runs up Mexico's east coast, and the group, founded by former special forces soldiers, is one of Mexico's most notorious cartels. Nuevo Laredo's close proximity to Texas makes it a valuable trafficking stop between Mexico and the United States. It also makes it prime territory for any drug cartel, meaning that rivalries and gang wars are not uncommon.
Like in the previous killings, the murderers left a note next to Rascatripas' body on Wednesday night.
Hello! I'm Rascatripas and this happened to me for failing to understand that I should not report things on social media websites. I am a... (text covered by body) just like La Nena from Laredo...With this last report I bid farewell to Nuevo Laredo en Vivo.. Always remember... Never Forget..
Your moderator,
RASCATRIPAS
Bloggers are just the latest target in a war that has involved police officers, politicians, government officials, U.S. agents and citizens.
Since Mexican President Felipe Calderon began his militarized crackdown against the drug trade in 2006, more than 43,000 people have been killed.
It is unclear how the gangsters identify the bloggers from the names they use to write on the Internet, but the drug cartels have widespread networks of informants who could have exposed the writers, Global Posts' Ioan Grillo noted.
In response to the murders, bloggers have remained resolute and vowed to keep publishing information about cartels.
Do not be afraid to report, said Anon4024 at Nuevo Laredo en Vivo on Thursday. This is how we citizens can make a difference in this city.
Los Zetas have become increasingly aware of the role of the Internet recently. In the past two weeks, hacker group Anonymous has been at odds with the cartel. According to an Anonymous video, the Zetas kidnapped one of its members and the hackers promised to reveal the identity of dozens of Zetas collaborators if the member wasn't released.
© Copyright IBTimes 2023. All rights reserved.