Killed for Tweeting: Mexico's Drug War Has Two More Casualties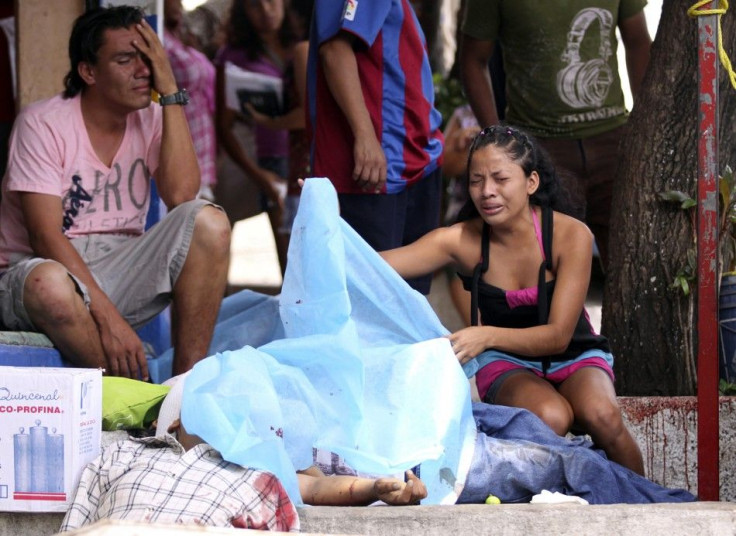 Twitter has become deadly serious in Mexico, where two people were allegedly murdered for denouncing a drug cartel on the social network.
In Nuevo Laredo, Mexico, a man and a woman were found hanging from a bridge by their hands and feet. An examination of the bodies showed signs of torture, and the pair is thought to have been beaten and killed by a powerful local drug gang, then displayed to send a message to citizens who might want to publicly renounce the group.
Attached to the bodies were two signs, one of which read This happens for... denouncing, according to CNN. One of the notes also had the names of two blogs, Al Rojo Vivo and Blog del Narco.
Blogs that report on Mexico's drug war have been threatened in the past, but this is the first time a person has been murdered over a tweet in the country.
The Mexican government has begun to take Twitter very seriously, especially after an Aug. 25 prank-gone-awry. Two users posted false reports that a drug cartel was attacking an elementary school in Veracruz, sparking a very real panic, as well as 24 car accidents, in the city. The pair has been arrested and charged with terrorism and sabotage, and they could face up to 30 years in prison.
Traditional media outlets are as frightened of drug gang retaliations as many citizens, and often censure their own reports to downplay cartel crimes. This places the reporting burden on bloggers, and now, Twitter users.
Mexico's President Felipe Calderon himself uses Twitter as a means of communication, and often tweets congratulations and official statements after state police make important drug busts.
Nuevo Laredo sits on the Mexico-Texas border in the state of Tamaulipas. Border towns such as Tijuana and Juarez are particularly dangerous, as they provide an important stopping point for drug traffickers on their way to the U.S.
The notes on the bodies were signed with the letter Z, a likely reference to the Zetas, a power cartel that operates in the area.
Drug-related violence in Mexico exploded in 2006 when Calderon launched a war against organized crime. Since then, more than 41,000 people have been killed, including civilians, tourists, government officials and soldiers.
Since October 2010, about 50 police officers have been killed, the most recent two weeks ago in Ciudad Juarez, a city near El Paso, Texas that has become one of Mexico's most terrifying areas. The murder of Jose Eduviges Nava Altamirano in Zucuaplan in August brought the number of mayors killed by drug cartels since 2010 up to 19.
But Calderon is insisting that his crackdown isn't responsible for the violence. He claims that cartel expansion, as well as the U.S.' insatiable appetite for illegal narcotics, are to blame, and that retaliation has nothing to do with it.
The armed forces are not part of the problem, but part of the solution, said Calderon. If we hadn't done anything, instead of the utopian country some think we would live in, we'd be overtaken by the cartels.
Despite the relentless stream of violence, government forces have made a number of high-profile arrests recently.
In August, police captured Jose Antonio Acosta Hernandez, known as El Diego, who is thought to be the leader of the La Linea gang, the enforcement arm of the Juarez cartel in the northern state of Chihuahua.
Acosta, who is a former policeman, admitted to ordering the murders of 1,500 people. He is also thought to be involved in the deaths of three people with ties to the U.S. Consulate, including a consulate employee and her husband, in 2010.
In June, police captured Acosta's second-in-command. Marco Antonio Guzman Zuniga, who is nicknamed El Brad Pitt, was arrested on charges relating to a car bomb detonated outside a police station last year. Guzman is also thought to be behind hundreds of murders.
Some shocking arrests have revealed an unimaginable depravity at the heart of this war. Edgar Jimenez Lugo, a 14 year-old San Diego boy, in July was convicted of murder, kidnapping and torture. Jimenez was arrested in Mexico in December, and admitted to decapitating four men for the South Pacific cartel.
Police caught the boy, along with his sister, trying to board a plane to Tijuana. Lugo said that he was trying to flee to San Diego to see his mother and that the cartel had kidnapped and drugged him and forced him to kill.
Earlier this year, police caught a 16-year-old girl trained to be an assassin by the Zetas gang. The Zetas also allegedly employed a 13-year-old girl who was caught in August.
While Calderon is making some progress, each big-name capture creates new challenges. When one cartel leader is arrested or killed (often in shootouts with police) a rift forms in that cartel. In many instances, a fight for power between two deputies can leave hundreds dead in just a short time, and thousands dead in the long term as rival gangs vie for turf.
That's the situation in Juarez, as well as Acapulco, where authorities recently discovered a mass grave, as well as the decapitated heads of five unknown people in a Sam's Club parking lot.
A July report, which found that more than 400 police officers and investigators nationwide had been fired over corruption allegations, proves just how ingrained these cartels are. The La Linea gang, for example, counts both current and retired cops as members, and in many cities, law enforcement officials, politicians and judges are either too afraid or being bribed too well to try to stop cartel activities.
FOR FREE to continue reading
✔️ Unlock the full content of International Business Times UK for free
offer available for a limited time only
✔️ Easily manage your Newsletters subscriptions and save your favourite articles
✔️ No payment method required
Already have an account? Log in
© Copyright IBTimes 2023. All rights reserved.