Mexico Student Massacre a 'Delicate Moment' For Enrique Pena Nieto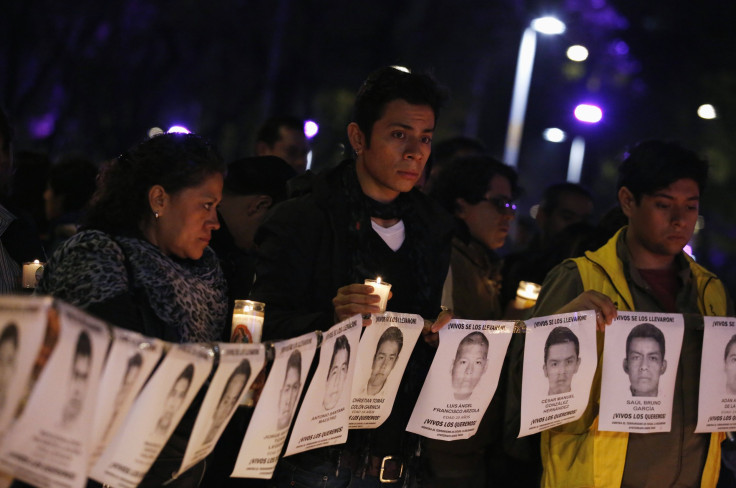 Anger is seething in Mexico as authorities try to determine if the charred remains of dozens of bodies found in mass graves last week were those of 43 students who have been missing for more than two weeks. The persistent violence brought by drug traffickers has almost inured many Mexicans to the country's high murder rate. But what has shocked Mexico is that this case traces back not to the familiar story of cartel violence and territorial wars, but to police forces and city officials themselves.
Outrage over the violent events in Iguala, in Mexico's southern state of Guerrero, prompted thousands of people across the country to protest in the streets this week. The calls for justice have been so loud that it may become increasingly difficult for President Enrique Peña Nieto to continue downplaying Mexico's dangers as he works to attract international investors.
"While you have a lot of complaints of abuses from the government -- torture, or extrajudicial executions -- they're not on this scale," said Adam Isacson, senior associate for regional security policy at the Washington Office on Latin America. "This is a big massacre."
The story, filled with gruesome details of violence and allegations of deep-seated corruption, has grown even uglier as it's unraveled. On Sept. 26, a group of students from a rural teachers' university -- all males in their late teens and twenties -- headed to Iguala to raise money to fund a planned protest in Mexico City against what they said were discriminatory hiring practices for teachers. There they clashed with police officers, who said the students were trying to commandeer local buses out of the city. Students, however, said they were attempting to hitchhike their way back to campus.
Police fired on the buses, and a total of six people died over the weekend. Meanwhile, however, 43 students went missing altogether. While some reported seeing the students taken away in police cars, there were no clues of their whereabouts. This was the case until Oct. 5, when security forces began uncovering several mass graves on the outskirts of Iguala that they suspected included at least some of the missing students. Four more mass graves were uncovered on Thursday.
State officials arrested 22 police officers in connection with the violence, many of whom were suspected of being members of the Guerreros Unidos ("United Warriors") gang. Meanwhile, Iguala Mayor Jose Luis Abarca, himself suspected of having ties to organized crime, has fled. Some theories speculate that Abarca sent police after the students to stop them from disrupting a speech being given by his wife, Maria de los Angeles Pineda Villa, just a few blocks away from where the students were that day.
"This is not just about narco-traffickers fighting it out over turf," said David Shirk, a security expert with the Woodrow Wilson International Center for Scholars. "This is taking criminals and using them for a political purpose. That is a new and very dangerous aspect of the violence that we've been seeing over the last five years."
This new kind of violence has been enough to stoke nationwide fury. And while President Peña Nieto has spoken out, calling the case "outrageous, painful and unacceptable" and vowing justice, he has spent most of his time in office trying to minimize the country's security problems in favor of promoting the image of a humming economic engine. Now he may have to take a different approach.
"The government can no longer ignore the contradiction between the thriving, modern country on the move that is presented to the world, and the weak rule of law that Mexico suffers on a daily basis," wrote Mexico's Center for Research for Development in a commentary published Thursday.
Isacson said that Peña Nieto would likely try to stay on track. "Peña Nieto and the media close to the PRI [Institutional Revolutionary Party] are going to do their utmost to steer the conversation away from this, and they may succeed if there are no [further] incidents," Isacson said. But, he said, "they're not doing enough to prevent this from happening again."
"This is a very delicate moment for the Peña Nieto administration," Shirk said. "Passions are very inflamed in Mexico, and the image of modernity and stability and forward-thinking progress that this administration wants to project is very quickly going to dissipate if this kind of incident continues to happen and if people get much more agitated."
But Shirk also said that while Peña Nieto has largely continued the security policies of his predecessor, Felipe Calderon -- who was credited with launching the "war on drugs" and targeting high-level drug kingpins to stop the spread of cartel violence -- the administration's emphasis has been too heavy-handed on security and not enough on the core problem of impunity.
"What Mexico lacks at every level and almost every sphere is one simple thing: accountability," Shirk said. "I suspect we'll likely hear something in the next week about a plan to step in and assert control to restore order. That's a great Band-Aid for trying to restore order, but it won't resolve the underlying fundamental problems and institutional weaknesses that are contributing to the violence."
FOR FREE to continue reading
✔️ Unlock the full content of International Business Times UK for free
offer available for a limited time only
✔️ Easily manage your Newsletters subscriptions and save your favourite articles
✔️ No payment method required
Already have an account?
Log in
© Copyright IBTimes 2023. All rights reserved.