Mexico's Congressional Candidate Shot Dead Before Elections, Armed Men Burn Over 100,000 Ballots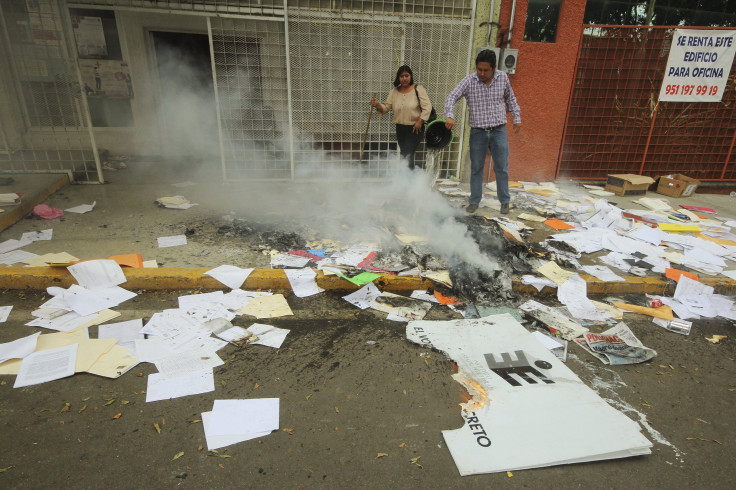 A congressional candidate in Mexico was shot dead on Tuesday in a town bordering Mexico City, ahead of Sunday's midterm elections. Armed men attacked the campaign offices of Miguel Angel Luna, a former mayor of Valle de Chalco, southeast of the capital city.
Luna succumbed to his wounds at a local hospital later while an assistant was also injured in the attack, the Associated Press (AP) reported. Eloi Vazquez, a spokesman for Luna's Party of the Democratic Revolution (PDR), said that it was not clear if the candidate received threats before the attack, Reuters reported.
On Sunday, Mexican President Enrique Pena Nieto faces his first national vote since taking power in 2012. The voting will also decide the fate of the lower house, nine governorships and various state legislatures.
In another attack on Monday in the southern state of Guerrero, armed men broke into electoral offices in the city of Tlapa and burned over 116,000 ballots, the AP reported. Authorities have reportedly vowed to replace or reprint the stolen ballots.
The attack was similar to the ones in the neighboring state of Oaxaca and follows threats from radical groups and unionized teachers to block Sunday's voting. The radical teachers oppose a 2013 education reform, which requires teachers to sit for a competitive test. They argue that such tests do not measure teaching skills or the special knowledge required to teach in rural areas.
So far, 16 candidates have been killed in Mexico amid continuing threats of boycott and disruptions from unions and criminal groups, Reuters reported.
In May, Enrique Hernandez, the mayoral candidate for the state of Michoacan, was shot dead after gunfire from a moving vehicle. Three others were injured in the attack.
On May 1, Ulises Fabian Quiroz, a mayoral candidate in Guerrero's Chilapa town, was also killed. Silvia Romero Suárez, a congressional candidate in Guerrero was kidnapped by armed men last month and later released.
In March, Aidé Nava González, a mayoral candidate in Guerrero for PDR was beheaded.
"This is what will happen to all the f---ing politicians who do not want to get in line," a note left on the body of González read. It was reportedly signed by Los Rojos, one of the most prominent criminal gangs in the area.
In recent months, there has been a surge in violence as several gangs attempt to establish control over drug trade and smuggling routes in the region, even as the government strives to curb the illegal activities.
© Copyright IBTimes 2023. All rights reserved.