After Missing Mexican Student's Remains Identified, Father Vows To Keep Up Pressure On Government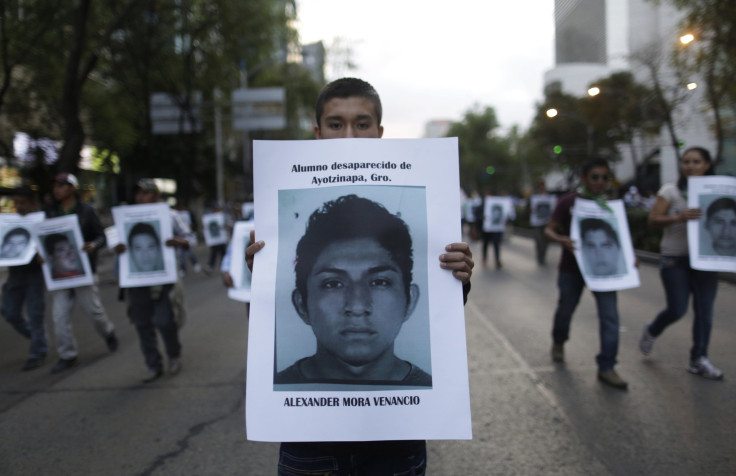 The widespread anger permeating Mexico over the presumed killing of 43 students turned to sorrow and anguish as forensics experts confirmed over the weekend that one of the missing men was identified from remains uncovered last month. The grieving father of 19-year-old Alexander Mora Venancio memorialized his son after hearing the dreaded news and urged protesters to keep fighting for justice.
Ezequiel Mora, surrounded by family members, friends and neighbors in his home in the town of El Pericon in Guerrero state, told Mexican newspaper La Jornada about hearing the news about his son.
"They took away his dream of becoming a teacher," he said. "They told me the news that my son had been taken; I couldn't believe it. It can't be that they are dead; there are so many," he said.
Alexander was one of 43 students who were allegedly kidnapped and killed in the town of Iguala in September at the hands of a gang colluding with local police and the town mayor.
As mass rage has continued to spark protests across the country over impunity and corruption in police forces and the security policies of President Enrique Peña Nieto, families of the disappeared have continued to demand investigators uncover the whereabouts of the students. Last month, Mexico's attorney general announced that the state had arrested gang members who confessed to killing the students, burning their bodies and dumping them in a nearby river. Still, many family members of the missing students doubted this theory in the absence of evidence.
But over the weekend, Argentinean forensics experts tasked with identifying remains uncovered from the river announced that Alexander Mora was identified from a bone fragment, heightening the probability that the other 42 missing students are also dead.
"We demand justice, because they [the perpetrators] will go unpunished, as the government has always done, and it won't be worth it," Ezequiel Mora said. "If there is no justice it means that [Peña Nieto] agrees with what they have done against the citizens."
After the news emerged on Saturday, students from the Ayotzinapa teachers' training college, where the 43 students were enrolled, posted a message on the college's Facebook page in the voice of Alexander Mora, urging students to keep up the fight. "Today, December 6, the Argentinean experts confirmed to my father that one of my bone fragments found corresponded to me," the post read. "I am proud that you have all raised my voice, courage and my libertarian freedom. Don't leave my father alone with my regret. For him, I mean practically everything – hope, pride, his effort, his work and his dignity. I invite you to redouble your fight so my death won't be in vain."
© Copyright IBTimes 2023. All rights reserved.