MH17 Crash Victims' Belongings Looted By Rebels, Facebook Identities Stolen By International Criminals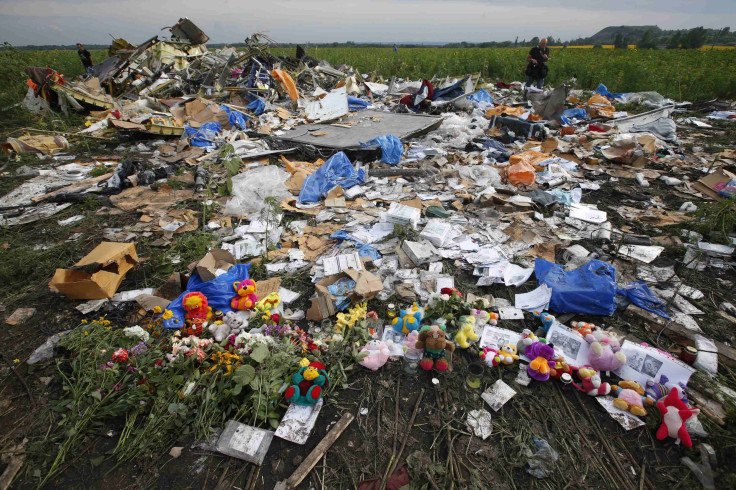 Criminals have exploited the names and identities of the victims of the Malaysia Airlines Flight MH17 crash in Ukraine last Thursday, creating dodgy Facebook "tribute" pages and even rooting through the luggage belonging to the victims to steal credit cards and other personal effects.
Ukrainian Member of Parliament Anton Gerashchenko announced on his Facebook page Friday that the pro-Russian rebels in control of the crash site were sorting through baggage and collecting any cash, jewelry and other valuables they could find. Gerashchenko's assertions have since been echoed by rescue workers and members of the international media, who have posted images of suitcases with captions accusing the rebels of looting.
"Just now I have received information that terrorists -- death hunters -- were collecting not only cash money and jewelry of the crashed Boeing passengers, but also the credit cards of victims," Gerashchenko wrote. "Currently they might as well try to use them in Ukraine or pass them on to Russia. My humble request to the relatives of the victims [is to] freeze their credit cards so that they won't lose their assets to terrorists."
There was initially little more than rumors to boost Gerashchenko's claims, yet as the rebels loosened their grip on the wreckage area, more images and photos of looting began to circulate.
Some 298 passengers and crew perished in the crash. Though the cause of the crash has yet to be determined officially, evidence points to a missile thought to have been fired by Kremlin-backed separatists. Along with refusing emergency crews access to the site and gaining control of at least one "black box" recorder, the rebels have also been slow to dispose of the victims' bodies. The corpses of many of those killed languished for days in the field before being loaded onto a refrigerated train car traveling to an undisclosed location.
The string of indignities, combined with the initial tragedy of the crash, have been almost too much for grief-stricken family members to bear. Of those killed, 193 people were from the Netherlands, with Dutch Prime Minister Mark Rutte blasting the pro-Russian forces at a news conference.
"I am shocked by the images of the utterly disrespectful behavior at the crash site," he said. "There are people fooling around amongst the debris with personal and recognizable items of the victims. This is utterly disgusting."
Sharing that disdain is the Dutch Banking Association, which released a statement Monday telling customers anyone victimized in the wake of the crash will be fully compensated.
"International media reports that victims' debit cards may have been stolen," the bank said. "Most important is that a debit card without a PIN is basically unusable. If necessary, banks will take preventative measures. Any damage resulting from abuse [of bank cards] will [be] compensate[d]."
Perhaps even more painful for family members has been seeing victims' names pop up on Facebook pages that, while advertised as memorials, do little more than serve to drive Internet traffic to sketchy external websites. Facebook has since removed a number of the pages because they posted a link titled "Video Camera Caught the moment plane MH17 Crash over Ukraine, Watch here the video of Crash" while actually redirecting visitors to a site where malicious software was common.
"When a disaster like this happens it's a great opportunity for all sorts of scammers," Ken Gamble, chairman of the Australian chapter of the International Association of Cybercrime Prevention, told the Daily Mail. "Everybody is out there looking for information at the moment, everybody wants to know more about what's happened. It's a great opportunity to prey on people's vulnerabilities and emotion is the greatest one."
© Copyright IBTimes 2023. All rights reserved.