MH17: Russia Fabricated Satellite Images To Blame Ukraine For Downing Of Malaysia Airlines Plane, Report Says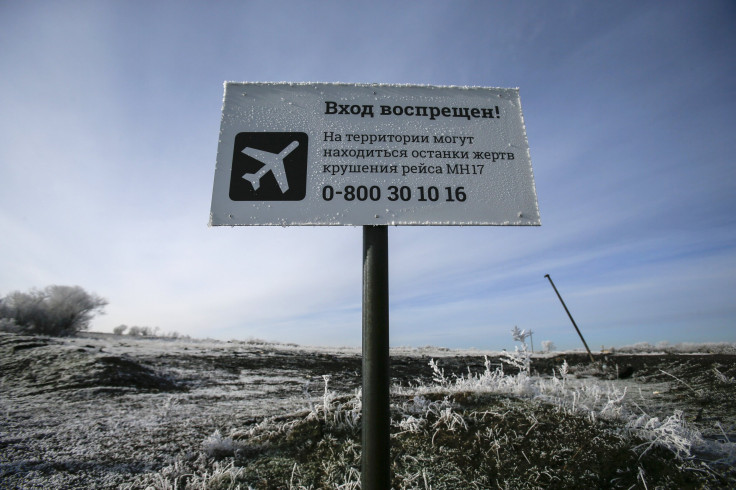 Satellite images released by the Russian government days after the downing of Malaysia Airlines Flight MH17 were faked to implicate Ukraine in the crash that killed 298 people, a new report said Sunday. The aircraft, which was traveling from Amsterdam to Kuala Lumpur went down in an area of eastern Ukraine held by pro-Russian separatists outside the city of Donetsk.
The report, from independent analysis group Bellingcat, stated that satellite images released by Russia's defense ministry showing the activities of Ukraine's military in the area were taken in June, a month before the crash. Russian authorities had claimed that the images were taken on the day of the incident and blamed Ukraine for shooting down the jetliner with a surface-to-air Buk missile.
"The discrepancies visible in the Russian MoD [Ministry of Defense] satellite map imagery which shows they are incorrectly dated are visible in publicly available imagery on Google Earth," Bellingcat wrote in its report. "Error level analysis of the images also reveal the images have been edited.
"This includes a Buk missile launcher that was removed to make it appear the Buk missile launcher was active on July 17th, and imagery where Buk missile launchers were added to make it appear they were within attack range of Flight MH17," the report added.
"These claims, representing the majority of information publicly presented by the Russian government since the downing of Flight MH17, are a clear attempt by the Russian government to deceive the public, global community, and the families of the Flight MH17 victims, only days after Flight MH17 was shot down," Bellingcat wrote, in its report.
In March, a Russian-language video was reportedly released urging witnesses who saw a Buk missile system being transported through war-torn eastern Ukraine on July 17 and July 18 to come forward and report it.
A preliminary report of the investigation into the crash by Dutch investigators -- released in September 2014 -- had stated that the jetliner broke apart in mid-air after being hit by "a large number of high-energy objects that penetrated the aircraft from outside." The investigators also said the cause of the crash could only be determined after more research.
© Copyright IBTimes 2022. All rights reserved.
FOLLOW MORE IBT NEWS ON THE BELOW CHANNELS