MH17 Fragments To Be Displayed At Russian Museum As 'Evidence' Ukraine Shot Airliner Down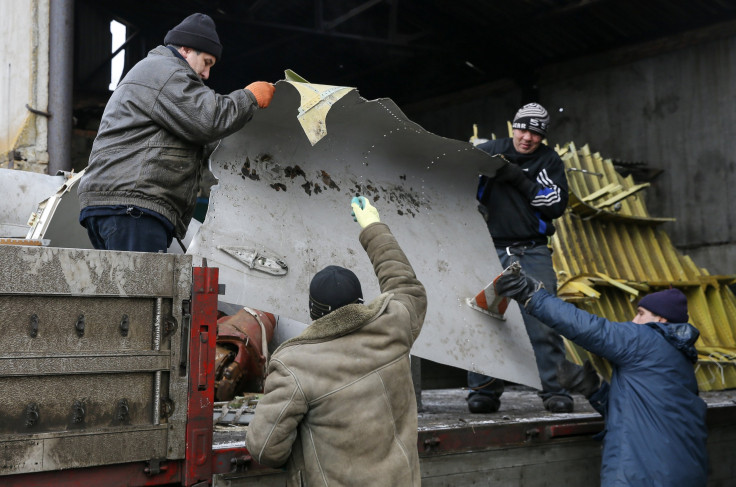 A museum founded by a Russian veterans group will display a fragment of the wreckage of Malaysia Airlines Flight 17 that the group says it received from residents in separatist-held territory. The piece will reportedly be exhibited as evidence that the Ukrainian air force, not separatists, shot down the jetliner, killing all 298 people aboard.
The veterans group, Combat Brotherhood, provided "donations of food, clothing, and medicine," to civilians in separatist-held areas who were affected by the fighting there, Meduza reported, quoting a Russian radio station, Echo of Moscow. Residents of Rassypnoe reportedly gave the fragment to Combat Brotherhood for the group's planned World War II museum in Yeysk, Russia, a city just across a gulf of the Sea of Azov.
A Dutch-led investigation team released a report in September confirming suspicions that the plane was shot down with a missile of some sort, but there is disagreement between the West, Russia and separatists over who fired that missile. The Ukrainian government accuses separatists of shooting the plane down with a BUK anti-aircraft missile, while separatists and Russian media speculate that a Ukrainian air force plane shot it down. Dutch investigators said March 30 that the "most realistic" scenario is that a BUK missile fired from separatist-held territory took down Flight 17.
The investigation team gained access to the crash site Wednesday in hopes of recovering the remains of the last two victims of the crash. The investigation on the ground in Torez, outside the city of Donetsk, was largely halted during heavy fighting through February, but a fragile cease-fire has allowed investigators to once again access the crash site. The site is littered with debris and human remains almost nine months after Flight 17 was shot down July 17 in mid-flight from Amsterdam to Kuala Lumpur.
© Copyright IBTimes 2023. All rights reserved.