MH370: Cyclones Force Temporary Suspension Of Search, Video Shows Rough Seas In Search Zone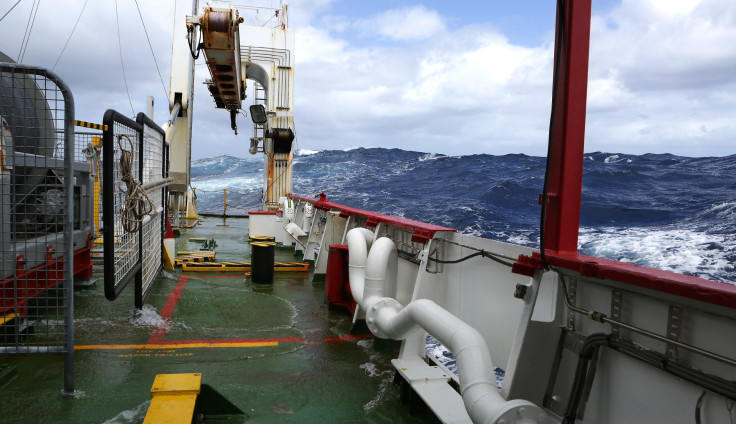 The search for Malaysia Airlines Flight MH370 has been temporarily suspended due to two tropical cyclones in the Indian Ocean, the Joint Agency Coordination Centre (JACC), which is leading the search, said in a statement Wednesday. The agency also released a video showing weather conditions in the search zone.
Authorities revealed that three search vessels -- Fugro Equator, Fugro Discovery and Fugro Supporter -- suspended underwater search operations due to severe weather conditions. Waves of up to 12 meters were predicted in the search area, which lies in a remote part of the southern Indian Ocean that is considered to be the resting point of the missing plane. Search efforts could resume Thursday if the weather in the priority area becomes calmer.
"The effects of tropical cyclone Eunice and ex-tropical cyclone Diamondra resulted in search vessels leaving the search area on 1 February," JACC said, in its latest operational search update. "Under these conditions the vessels are unable to deploy or retrieve the towfish or AUV equipment due to the safety risks to the crew as well as the risk of damage to the equipment in the rough weather."
The fourth vessel, GO Phoenix, is currently being resupplied in the Port of Fremantle and is scheduled to depart on Thursday.
An area of about 8,000 square miles, which is around 35 percent of the search area, has been scoured so far, JACC said.
The search for the aircraft, which disappeared on March 8 with 239 people on board during a flight from Kuala Lumpur to Beijing, has been continuing for 11 months but has so far yielded no concrete clues as to the whereabouts of the Boeing 777. The ongoing search is regarded as the costliest in aviation history.
Last month, Malaysia formally declared the disappearance of Flight MH370 as "an accident," stating all people aboard the plane are now presumed dead. The declaration was also acknowledged by the Australian and Chinese governments.
© Copyright IBTimes 2023. All rights reserved.