Miami Heat Notches Comeback Win, Houston Rockets Remain Winless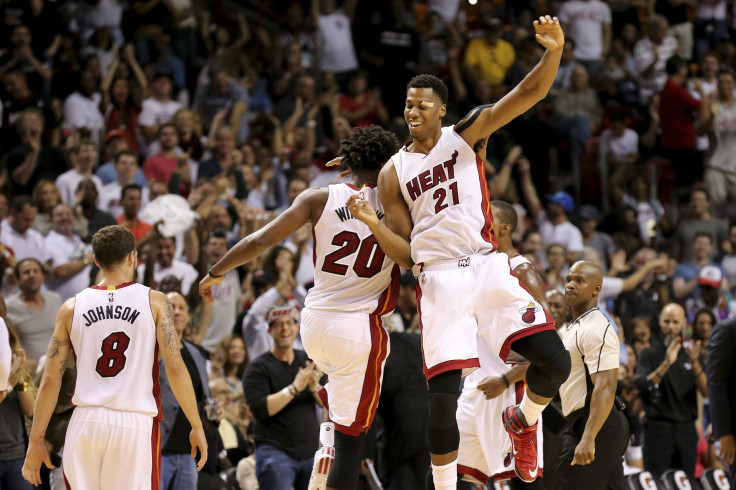 Down big at halftime, the Miami Heat rallied to beat the Houston Rockets, 109-89 Sunday to remain perfect at home and pushed the Texas team's winless run so far in the new NBA season.
Center Hassan Whiteside finished with 25 points, 15 rebounds, 3 steals and 2 blocked while veteran guard Dwyane Wade continued to show he is not yet past his prime ending up with 20 points, including 9 points early in the third quarter, when the Heat turned the probable blowout into a close affair.
The Rockets led 63-44 at the halftime break but the Heat outscored them, 31-12 in the third quarter and the game was tied at 75-75 entering the final period.
Houston never recovered from the third quarter collapse, allowing the Heat to score another 34 points in the fourth while the Rockets could only manage to score 14 on their own.
The Rockets struggled as a team shooting just 10-of-36 from the three-point land with star James Harden missing all 10 of his shots from behind the arc. Harden finished with 16 points but missed 13-of-15 shots overall and also had 5 turnovers.
Other Rockets starters did not fare better as Trevor Ariza shot 3-of-13 field goals for 9 points, Ty Lawson had 4 points and 3 turnovers in 37 minutes. Starting center Dwight Howard also missed the game.
The Heat bench also contributed nicely in this one. Rookie Justise Winslow had 10 points on 4-of-8 shooting while second-year guard Tyler Johnson had 11 points and 8 rebounds.
Miami improved to 2-1 for the season and remained unbeaten at home and will face the Atlanta Hawks in their next game. Houston dropped to 0-3 after three blowout losses to start the year and will take on the Oklahoma City Thunder Monday.
© Copyright IBTimes 2023. All rights reserved.