Miami Hurricanes Scandal: If Randy Shannon Couldn't Stop it, Who Can?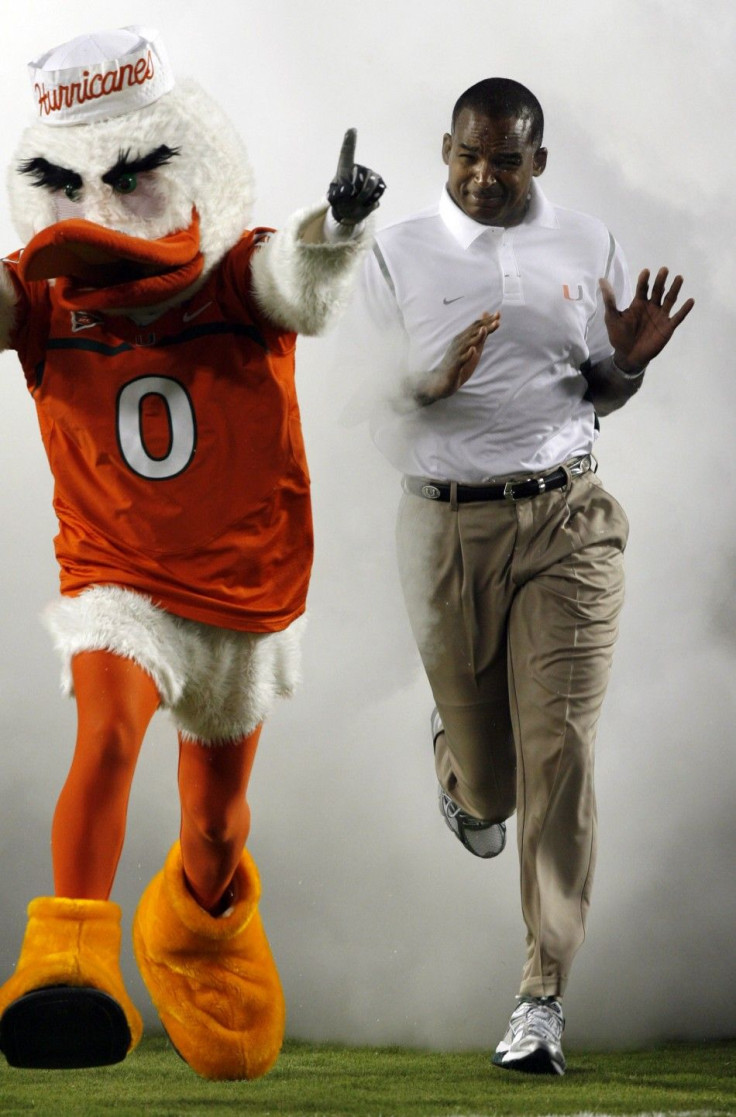 Yahoo! Sports stunning investigation into the Miami Hurricanes athletic program has knocked the college sports world off its feet. The investigation goes in-depth into close to a decade's worth of transgressions by booster and convicted felon Nevin Shapiro, showing that the corruption penetrated virtually every level of the athletic department.
At least 12 current Miami football players have been implicated in the scandal for accepting gifts from Shapiro, despite former coach Randy Shannon's strict orders to avoid the booster at all costs.
According to a CaneSports report, Shannon went out of his way to discourage his assistants and players from any contact with the shady Shapiro and yet, multiple Hurricanes had contact and accepted gifts from the booster.
Shannon, who was brought in to clean up Miami's Thug U image, allegedly did his absolute best to keep his players away from a sketchy guy and yet he still failed.
If Shannon -- known as one of the classiest coaches in football - can't corral his players into following the rules, can any coach?
I'd say no.
The amount of players that a coach has to keep track of, in addition to all of the outside forces that are trying to influence the program, makes it an incredibly difficult situation to deal with.
Further, no matter which way the coach deals with boosters it almost always ends up the same way - the boosters win out.
Coaches in the past have tried to turn a blind eye to cheating, a la former Ohio State coach Jim Tressel. Others have just embraced it and allowed it to happen; former Kentucky basketball coach Eddie Sutton is an example of that. Or a coach can try to stop it at all costs, like Shannon tried, and make sure his players and assistants stay away from certain boosters.
The common denominator?
All of those programs couldn't stand up to the boosters.
It's an incredibly tenuous situation for both coaches and players to have to deal with. The coaches are expected to win at all costs and allowing a booster or two to offer up private jets, yachts, and more could help accomplish that goal.
For poor players, a $100 handshake or two can help provide extra food, clothing, or pay off car bills. College athletes are 18, 19, 20 year old kids that can be easily influenced by flashy clubs, strippers, or more, like what happened in Miami.
Legendary Miami and Dallas Cowboy wide receiver Mike Irvin recently admitted it'd be extremely tough to turn down those kinds of opportunities as a college athlete.
I would have fell to those aphrodisiacs that he was throwing around, Irvin told ESPN Radio Los Angeles. I would have fallen into that. I would fall into it. Listen I wasn't able to handle at 18, 19, 20. I wasn't even able to handle it at 30. Thirty-five? I just got here at forty-five! I just got here. If you would have offered me boats, women, and my hands are up in the air.
If Irvin couldn't withstand those temptations at 35, how can anyone realistically expect a young football player to turn down the opportunity to drink and party at a hot club?
Expecting every single player to turn down those chances is completely pointless.
Frankly, unless the NCAA makes major changes in how it does business, what is the point in stopping boosters from gaining access to the team?
The way the NCAA works -- you are screwed if you do and screwed if you don't allow shady boosters to hang around your program.
So why not take the chance and potentially win a few national championships and major bonuses from your employer?
Even if you get dismissed in the long-term, like Tressel, you still made a whole lot of money and likely are still well-liked by the program's fan base
So why shouldn't every coach let their boosters run wild?
It's not like attempting to cut them out, like Shannon tried, did any good.
Coaches might as well let their boosters spend and do whatever they want to keep recruits and players happy because if they ever get caught they are going down - whether they allowed it or not.
FOR FREE to continue reading
✔️ Unlock the full content of International Business Times UK for free
offer available for a limited time only
✔️ Easily manage your Newsletters subscriptions and save your favourite articles
✔️ No payment method required
Already have an account? Log in
© Copyright IBTimes 2023. All rights reserved.