Michael Jackson Doctor Guilty of Manslaughter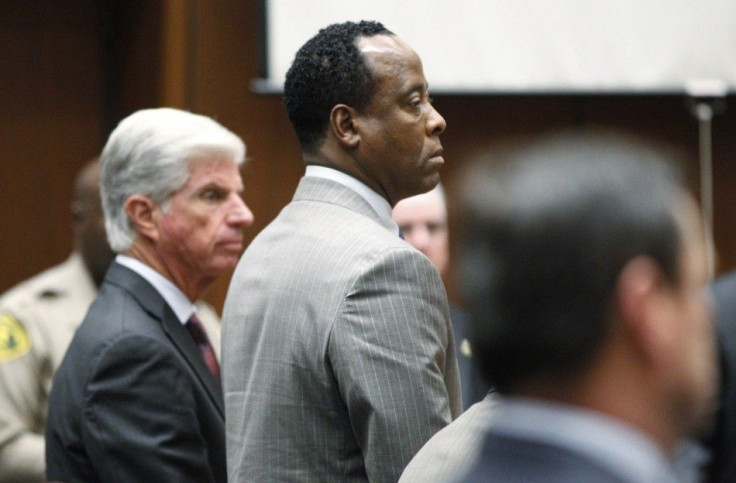 Michael Jackson's personal doctor was found guilty on Monday of involuntary manslaughter in the singer's death following a six-week trial that captivated Jackson fans around the world.
Dr. Conrad Murray, 58, was led away in handcuffs after the Los Angeles jury reached a unanimous verdict. The doctor, who could face up to four years in prison, will be sentenced on Nov. 29.
Dozens of fans outside the courtroom erupted in cheers and some burst into tears.
Murray had pleaded not guilty to giving the Thriller singer a fatal dose of the powerful anesthetic propofol -- normally used in surgery -- that was ruled the main cause of the pop star's June 25, 2009 death.
But prosecutors argued Murray was grossly negligent in administering the propofol to help Jackson sleep. Defense attorneys claimed Jackson delivered the fatal dose to himself.
The judge ordered Murray, who has been free on bail for two years, held in custody until his sentencing at the end of the month.
Murray did not testify at the Los Angeles trial and looked impassive as the guilty verdict was pronounced to a small cry from his side of the packed courtroom.
Jackson's mother Katherine and the singer's sister Rebbie cried silently as the guilty verdict was read. His siblings La Toya, Jermaine and Randy, and his father Joe, were also on hand.
Jackson was found lifeless at his Los Angeles mansion on June 25, 2009, age 50, about three weeks before he was scheduled to begin a series of concerts in London aimed at returning the pop star to the limelight after the humiliation of his 2005 trial and acquittal on child molestation.
Murray admitted giving Jackson a small dose of propofol to help him sleep. But his lawyers argued at the trial that the singer was dependent on the drug and that Jackson likely gave himself a extra, fatal dose of the powerful anesthetic, as well as swallowing a handful of sedatives, without Murray's knowledge.
JUSTICE WAS SERVED
Asked by reporters if she was pleased with verdict, Katherine Jackson said simply I am.
Justice was served. Michael is with us, said brother Jermaine.
Asked if he was disappointed, Murray's attorney, J. Michael Flanagan, told reporters Of course.
Prosecutors argued at trial that Murray was guilty of gross negligence for administering the drug in a home setting, failing to monitor Jackson, delaying calling emergency services, and failing to tell medical personnel he gave the singer propofol.
Trial judge Michael Pastor said on Monday that Murray was now a convicted felon who has been deemed the causative factor in Michael Jackson's death. Pastor said he should be locked up before being sentenced to protect public safety.
On the street outside, more than 100 Jackson fans whooped with joy and chanted Thank you judge! as the guilty verdict, announced live on television, was read.
Bus driver Dana Brenklin, 35, burst into tears. Of course it's not enough and it's not going to bring back Michael. But for two years, I had a project, justice for Michael Jackson, and I got what I wanted, Brenklin said.
Trial watchers had said the guilty verdict was almost assured. Prosecutors were required to prove only that Murray was reckless in his care, and the judge told jurors that the doctor could be found guilty even if the jury believed that Jackson gave himself the propofol, as long as such a possibility was foreseeable.
The prosecution did a great job of creating a portrait (of Murray) that asked, 'is this how someone would have acted if he was responsible?' said Marcellus McRae, former federal prosecutor and a trial lawyer with New York-based law firm, Gibson Dunn.
© Copyright Thomson Reuters 2023. All rights reserved.
FOLLOW MORE IBT NEWS ON THE BELOW CHANNELS