Michael Jordan Trademark Case: China's Top Court Rules In Favor Of Basketball Legend In Legal Battle For Chinese Name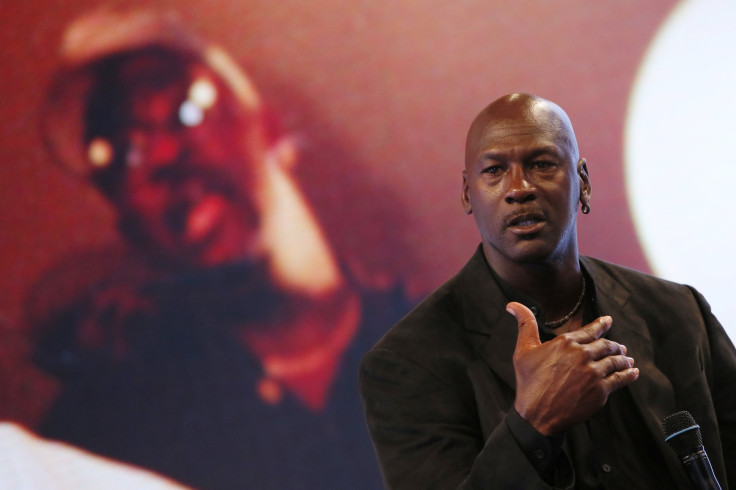 Basketball legend Michael Jordan claimed a major victory Thursday with China's highest court ruling in his favor in a long-running case related to the use of the Chinese version of his name by a local sportswear firm.
The NBA Hall of Famer sued Fujian-based Qiaodan Sports ( pronounced "CHEEOW-dan") in 2012 for using the Chinese name— the Chinese characters for Jordan's name read as "Qiaodan" — and his famous jersey number "23" to make it look like Jordan was associated with their brand, without his permission.
Jordan had previously argued for the preservation of his image in Beijing courts but a 2015 court ruling was in favor of Qiaodan Sports. This ruling was then upheld in the Beijing Municipal High People's Court, prompting Jordan's legal team to take it to China's Supreme People's Court.
The court — in a judgement that was broadcast live on its website — ruled that the basketball star's Chinese name is "well-recognized" in the country and that he should have the legal right to it.
Qiaodan Sports — which operates around 6,000 shoes and sportswear selling shops in China, according to Bloomberg — has been ordered to give up its trademark registrations of the Chinese version of the name. The Beijing law firm representing Qiaodan declined to comment, the Associated Press reported.
"I am happy that the Supreme People's Court has recognized the right to protect my name through its ruling in the trademark cases," Jordan said in a statement sent to Reuters. "Chinese consumers deserve to know that Qiaodan Sports and its products have no connection to me."
Jordan is awaiting another judgment in a Shanghai court over a separate lawsuit he filed against Qiaodan Sports in 2012, seeking legal damages. The Charlotte Hornets chairman and majority owner seemed optimistic about the outcome of the other case and said in his statement: "I respect the Chinese legal system and look forward to the Shanghai Court's ruling on the separate naming rights case."
A number of Chinese companies have been known to ignore intellectual property rights by selling products with names very similar to well-known foreign brands — sometimes only changing a letter or two.
However, the latest verdict "shows China's strong commitment to fight against trademark pirates, as this invalidates the trademark of a large Chinese sportswear company," Andrew Sim, a Beijing-based intellectual property partner at law firm Baker & McKenzie, said in a mail to Bloomberg. "The ruling will definitely have a positive effect in signaling to Chinese pirates that they cannot pirate the name of famous celebrities."
© Copyright IBTimes 2023. All rights reserved.