Michael Schumacher's Previous Paris Visits Revealed, Treatment Begins: Report
The condition of Michael Schumacher after his ill-fated skiing accident five years ago has been one of the most fiercely guarded secrets, with the family ensuring utmost privacy when it comes to providing updates.
The seven-time Formula 1 world champion has been receiving treatment at his home in Switzerland, with wife Corinna Schumacher admitting recently that they are doing everything humanly possible to help him.
According to French newspaper Le Parisien, via Motorsport.com, the F1 legend has now been shifted to a Paris hospital to receive treatment from a renowned heart surgeon who specializes in stem cell treatments. The report said Schumacher arrived in southern Paris at the Georges-Pompidou European Hospital and Professor Philippe Menasche is said to lead the medical team.
Menasche is a cardiothoracic surgeon who, with his colleagues, has long been working on using stem cells to repair damaged hearts. The treatment for Schumacher is expected to begin early Tuesday morning, with the former Ferrari driver expected to return home to Switzerland later in the week.
According to the Daily Mail, the former F1 driver is said to have made more visits to the facility earlier in the year for checkups prior to the treatment. Schumacher has not been seen in public since his life-altering accident. After spending six months in a medically induced coma, he was shifted to his home in Switzerland for round-the-clock care, but updates about his condition have been few and far between.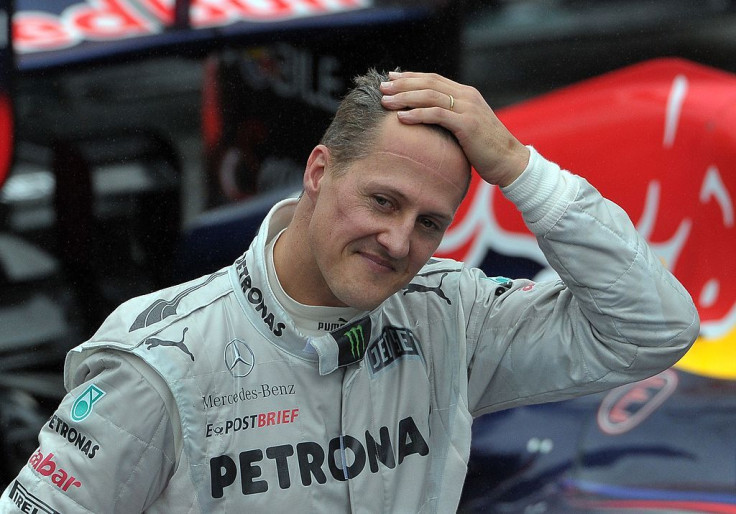 The family put out a statement earlier this year on the occasion of Schumacher's 50th birthday and revealed that they are doing everything possible to help him get better but it's the family's wish to keep information regarding his health private.
"You can be sure that he is in the very best of hands and that we are doing everything humanly possible to help him. Please understand if we are following Michael's wishes and keeping such a sensitive subject as health, as it has always been, in privacy," the statement read.
Jean Todt, the current FIA president and former Ferrari team principal, who is a close confidant of the German motor racing legend, recently revealed that he had visited the seven-time champion and watched an F1 race with him. It is a clear sign that Schumacher is making progress after suffering severe head injuries in the 2013 accident.
"I'm always careful with such statements, but it's true," Todt said. "I saw the race together with Michael Schumacher at his home in Switzerland."
© Copyright IBTimes 2023. All rights reserved.