Michael Vick is Most Disliked NFL Player: Top 3 Reasons Why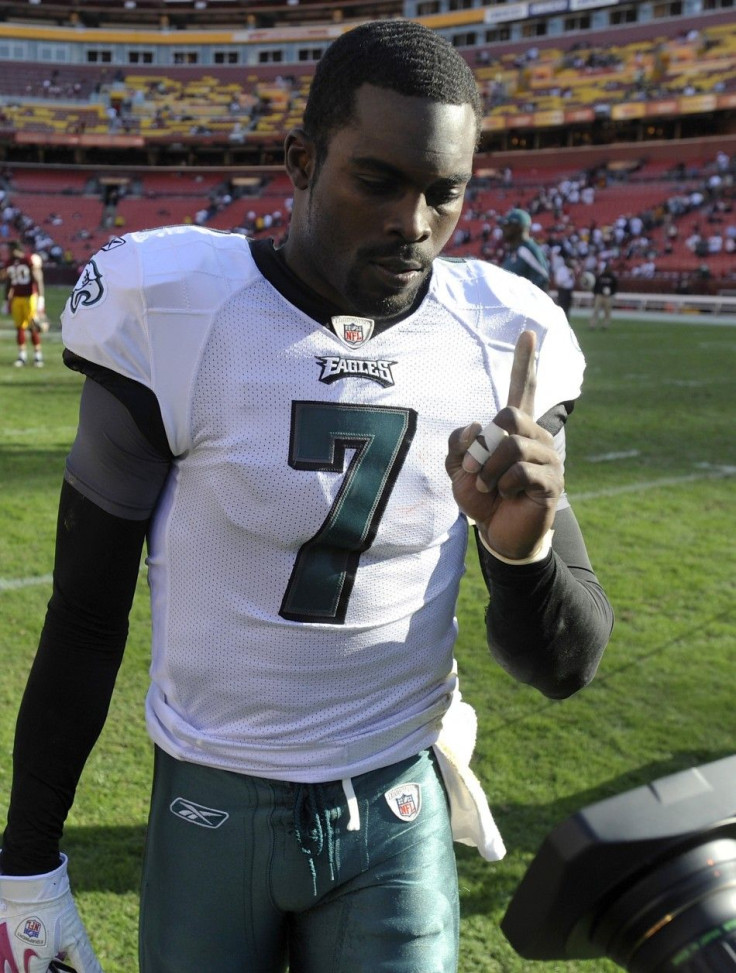 From superstar to wreck and back to superstar again, Michael Vick has been part of a media-frenzied, rollercoaster of a ride, beginning in his days playing quarterback for the Atlanta Falcons.
In Atlanta, he signed a 10-year, $135 million contract extension in 2005. Two years later, Vick went to prison for dog fighting. And now, he basically has the same contract from his dirty bird days, having signed a six-year $100 million deal with the Philadelphia Eagles.
Vick even won Comeback Player of the Year. But despite his redeemed success, fans are still not taking too kindly to number seven.
Forbes.com reported Monday that Vick is the NFL's most disliked player, according to a poll by Nielsen and E-Poll Market Research. According to Forbes.com, 60 percent of those polled picked said they dislike, dislike somewhat, or dislike a lot Vick.
Second on the list was New York Jets wide receiver Plaxico Burress at 56 percent, who has also returned recently from prison for criminal possession of a weapon, followed by Pittsburgh Steelers quarterback Ben Roethlisberger, who was accused of sexual assault last year but wasn't charged.
The rest of the list, from four to ten, include New England Patriots defensive tackle Albert Haynesworth at 46 percent, Chicago Bears quarterback Jay Cutler at 38 percent, Patriots receiver Chad Ochocinco at 35 percent, Eagles backup quarteback Vince Young at 32 percent, Oakland Raiders quarterback Carson Palmer 31 percent, Dallas Cowboys quarterback Tony Romo at 29 percent and Carolina Panthers tight end Jeremy Shockey, also at 29 percent.
It seems as though Michael Vick, at least among the casual NFL fans, still has a lot of work to do in gaining back trust and re-establishing a connection. He has been involved in numerous incidents that everyone has kept a close eye on, putting him under constant scrutiny.
Here are the top three reasons why Michael Vick is and may continue to be disliked by fans:
3. It happened quickly, but maybe it may not have affected those watching from home as much as fans actually at the game. After a loss to the New Orleans Saints in the Georgia Dome on Nov. 26, 2006, Vick made an obscene gesture at fans by holding up two middle fingers in apparent reaction to fans booing his performance. The NFL fined Vick $20,000. Half he would pay directly to the NFL and half the NFL mandated him to donate to a charity of his choice. The fine was noteworthy because before that point, the NFL had fined players a maximum of $5,000 for similar behavior. And, because of such a noteworthy increase, the gesture was made that much more emphatic, something indelible in the minds of those who saw it live or replayed on television. Vick apologized twice for the gesture, but to no avail, the roller coaster ride would go downhill from there.
2. One word: dogfighting. It made Michael Vick the villain of all sports athletes, the laughing stock within the locker room and the illusory role model kids thought they had and parents began to loathe. What both ironic is that a search warrant on Apr. 25, 2007 as part of a drug investigation of Vick's cousin Davon Boddie led to the discovery of evidence that Vick was actually dogfighting. As separate state and federal investigations progressed and more details were revealed, such as abuse, torture and execution of under-performing dogs, the media publicity frenzy erupted and resulted in a backlash from animal rights activists and expressions of public outrage. Vick and several others were indicted on both federal and Virginia felony charges related to the operation. Although Vick only went to prison for less than a year, he filed for chapter 11 bankruptcy while in jail, still owing creditors to this day even with his fat contract.
1. You think it's over, but it's not. New developments of Michael Vick in a nude photo scandal have surfaced Monday in which a woman claims to have a full frontal picture of Vick and is shopping it around to various media outlets in an attempt at financial profit. Vick's reps don't deny the photo exists either. According to starzuncut.com, one of the Websites the woman contacted, the photo was easily identifiable because Vick has unique tattoos that appear all over his body including his signature Superman tattoo. The woman claims the photo was taken less than a year ago in a hotel room in Dallas, Texas, the night before the Eagles played the Cowboys. The woman also claims she has other photos of Vick, who she says she is willing to expose for taking the pictures despite being engaged. Here's an excerpt of her pitch to starzuncut.com:
I am also willing to part with exclusive photos of him and myself in hotel rooms while he is supposed to be engaged and a reformed family man. I know the value of these photos and that even playgirl has tried to offer him tons of money for one photo of himself naked. PETA would love to expose him. No one has ever exposed him in this way before. No one has had this type of access. I also have exclusive letters from prison, text messages, ect [sic]. As current as last week. I know what this will do for your company and where you can go with this. The world will be watching. Those who hate and love him both...the ball is currently in your court now.
© Copyright IBTimes 2023. All rights reserved.