Michigan Confederate Flag Supporters Rally In Caravan, Cite 'Southern Pride'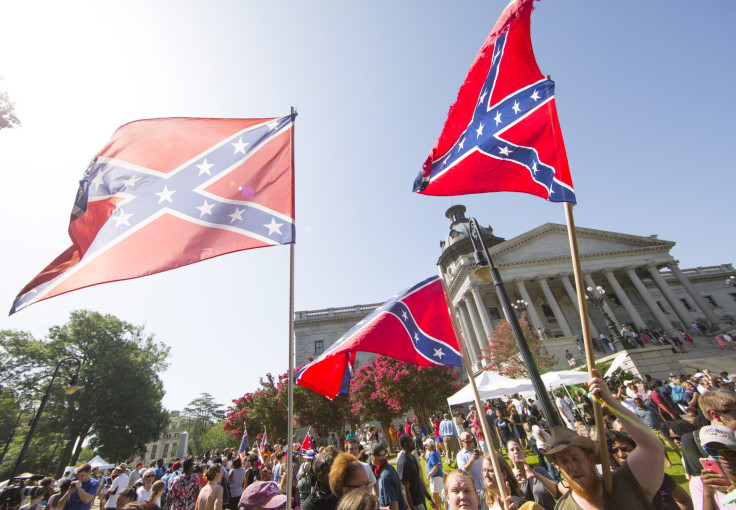 A long line of cars took to the roads of eastern Michigan recently to support the Confederate flag, rallying in a caravan that traveled among small towns north of Detroit. More than 50 vehicles made the drive between Oxford and Lapeer, sporting the flag the supporters said was not a symbol of racism, reported the Flint Journal.
The rally-goers in Michigan -- a state on the northern border that was on the Union side in the Civil War -- said the Confederate flag did not represent racist beliefs to them but rather was a symbol of Southern heritage. "It symbolizes today Southern pride and states' rights. That's just it," said Amber LaFrance, 26, of Port Huron, Michigan, according to the Flint Journal. LaFrance, who decided to join the rally after seeing a post on Facebook, told the paper that a man from Charleston, South Carolina, thanked the group during the caravan's trip.
The flag as a symbol of heritage is a recurring point in a national debate that took on a new fervor after the killing of nine African-American worshippers in the historically black Emanuel African Methodist Episcopal Church in Charleston on June 17. The suspected shooter, 21-year-old Dylann Roof, reportedly hoped to incite a race war with his actions and pictures emerged with him posing with the Confederate flag. Roof faces murder and hate crime charges. A month later, South Carolina took down the flag from the state house grounds in Columbia.
Search Volume of the Term "Confederate Flag" | FindTheBest
While the American flag was also on display during the 15-mile mobile rally, all of the vehicles displayed the stars and bars of the Confederate battle flag.
Rally organizers said they did not intend to spark conflict, but police did show up at the endpoint in a Walmart parking lot in Lapeer. Rally-goer and local resident Jay Casas called it "a peaceful event," according to the Flint Journal. "We had no intentions to disrespect anyone at all," the 26-year-old said. Once police came, the rally reportedly ended without incident.
The debate surrounding the Confederate flag has continued since it was removed from South Carolina state house grounds on July 10. Most recently former Alaska Gov. Sarah Palin defended it in a Facebook post and in mid-July protesters in Oklahoma flew the flag ahead of a visit from President Barack Obama.
© Copyright IBTimes 2023. All rights reserved.