For Michigan, Jim Harbaugh's Coaching Record, Profile Make Hire A 'Grand Slam'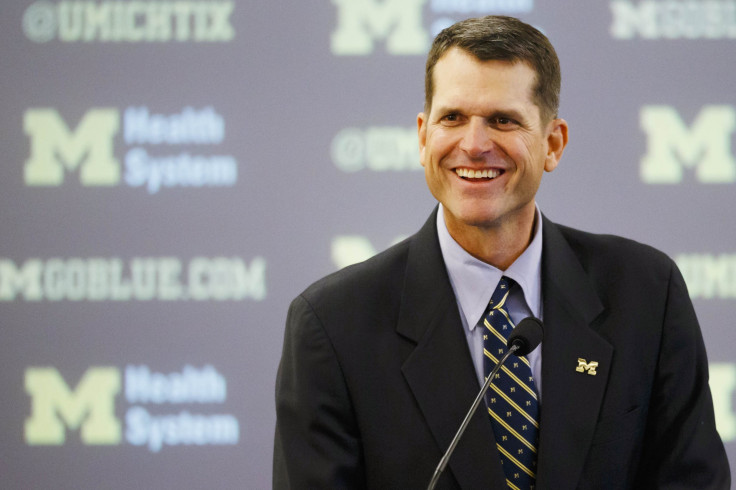 The prodigal son has returned to Ann Arbor. Jim Harbaugh officially announced Tuesday that he signed a deal with the University of Michigan after a whirlwind courtship that saw him turn down lucrative offers from several NFL teams in favor of a deal with his alma mater.
Michigan landed the most coveted head coach in the country at both the college and professional level. Fresh off a dominant run with the NFL's San Francisco 49ers, Harbaugh, 51, brings an aura of success and stability to a program still recovering from the disastrous tenure of Rich Rodriguez and the recent dismissal of Brady Hoke. Michigan fans are convinced they've found the savior they've sought since the legendary Lloyd Carr retired after the 2007 season, as evidenced by the giddy scene at Harbaugh's welcome press conference.
"It was pretty energetic. There were a lot of former players, former coaches, Michigan boosters in the room," said Jeremy Allen, who covers the University of Michigan for the Ann Arbor News and MLive.com. "Everybody seems to think this was a grand slam hire for the program."
There's good reason for that excitement. Michigan signed Harbaugh to a seven-year deal with a base salary of about $5 million per year, plus incentives – less than the rumored six-year, $48 million deal that would have made him the highest-paid coach in college football history. Harbaugh will still likely end up as one of the top-five highest-paid coaches in NCAA football, but his willingness to accept less provides Michigan supporters with an indication of good character to go along with on-field success.
"Jim insisted that he not be the highest-paid coach in college football, or even the Big Ten," Michigan interim Athletic Director Jim Hackett told the Wall Street Journal. "I think that tells you something about his values."
Michigan's athletic department is uniquely equipped to offer top-dollar salaries to prospective coaches. The school's football program is one of the most profitable in the nation, bringing in $82 million in revenue in 2012-13 compared to $23 million in expenses, according to MLive.com.
Football was by far the biggest contributor to the $144 million in earnings generated by Michigan athletics last year and a major factor in establishing the university's athletic department as one of a select few across the country to turn a profit. And the program's contributions may soon be on the rise – the Big Ten's next television contract is projected to bring in more than $44 million to the school in the 2017-18 academic year alone.
Profitability has remained intact despite the yearly waning of Michigan football's on-field product. The Wolverines haven't won a conference title since 2004, when Carr was still coach. Rodriguez's arrival from West Virginia University in 2008 was meant to herald a return to good fortune for the team, but the next three years were marked by awful performances and in-fighting. Hoke began his tenure with a promising 11-2 record, only to oversee middling teams in each of the next three years. He was fired in December after a 5-7 finish to the season.
The team's struggles have had a noticeable impact on ticket sales. Student season ticket purchases dropped from 19,000 in 2013 to approximately 13,000 this season. Former Michigan Athletic Director Dave Brandon insisted in June that nonstudent season ticket sales remained steady, but public dissatisfaction with the football program extends further back still. A plan ahead of the 2013 season to install a general admission policy for student ticket sales was a public relations nightmare for the school. The resulting backlash prompted school officials to replace the policy with a plan that awarded tickets to students based on their overall attendance the previous season.
The Harbaugh hire provides a balm to discontent regarding both ticket policies and on-field performance. Hackett presented the Michigan faithful with a new head coach who has never failed to succeed, and local businesses are already beginning to match the enthusiastic reaction amongst fans.
"Already you see some of the local corporations in Ann Arbor, for example, Bank of Ann Arbor, they already have new billboards up utilizing this new hire as an opportunity to create some positive energy around an athletic program that has struggled in the past few years from a public relations standpoint, in addition to not winning many games on the field," said Scott Bukstein, assistant director of the DeVos Sports Business Management program at the University of Central Florida. "This is an opportunity to re-energize and reinvigorate the athletics program from a fan standpoint as well as a financial standpoint."
Harbaugh's ability to maintain that enthusiasm, however, will depend on his ability to produce a winner – something he's done consistently ever since the University of San Diego of the NCAA's lesser-known Football Championship Subdivision gave him his first head coaching position in 2004. Harbaugh was a relatively unknown commodity at the time, possessing the name recognition afforded to a former NFL quarterback, but without much of a coaching resume.
That quickly changed. By 2006, Harbaugh had led the San Diego Toreros to back-to-back 11-win seasons and consecutive conference titles.
"The biggest impact Jim made on our program was raising the profile," said Ky Snyder, athletic director at the University of San Diego. "He's a great coach, he's a great motivator. He also works really well with the community, with the alumni, with your corporate sponsors. He's just the whole package in college. He just does a great job of connecting with those people."
Harbaugh soon attracted the attention of Stanford University, who hired him as head coach ahead of the 2007 season. It took time for Harbaugh's methods to take effect, as the Cardinal suffered through losing seasons in each of his first two years at the helm. But Stanford steadily improved, posting an 8-5 mark in 2009 before exploding for a 12-1 record and an Orange Bowl victory in 2010. Harbaugh developed a national reputation as a "player's coach" and was considered instrumental to the development of Stanford quarterback Andrew Luck, who later became the first player taken in the 2012 NFL Draft.
By then, Harbaugh had attracted attention from the professional ranks. The once-proud 49ers hadn't posted a winning record in eight years when they hired Harbaugh ahead of the 2011 NFL season. Over the next four years, Harbaugh firmly re-established San Francisco as a powerhouse franchise, winning at least 11 games three times and leading the 49ers to three consecutive NFC Championship berths. His .695 winning percentage ranks fifth in NFL history, according to the San Francisco Gate.
But Harbaugh's time in San Francisco was often marked by conflict. Rumored clashes with front office executives, especially team General Manger Trent Baalke, were routine by the end of the 2014 season. Analysts constantly speculated about Harbaugh's impending downfall, with some implying there was tension within the 49ers' locker room. Ultimately, CEO Jed York announced last Sunday that Harbaugh and the 49ers had agreed it was in their "mutual best interest to move in different directions" after a disappointing 8-8 finish to the season, according to ESPN.
Harbaugh's intensity may rankle some, but it's also the reason he's been so successful throughout his coaching career, said Snyder. Harbaugh never came into conflict with the University of San Diego's upper management during his time at the school, he added.
"Jim's a driver. He's going to keep working and working and working until he gets success. The people who aren't driven are going to have troubles with that, but the people who are embrace it and love it," Snyder said.
Regardless of how his time in San Francisco ended, many Michigan fans remain convinced that Harbaugh is the answer to their foundering program's prayers. They see only a proven track record of success and a level of intensity that will assure Michigan football's return to national prominence.
"By far, this tops everything else before it. You have a guy who was coached by [legendary Michigan coach] Bo Schembechler, who's looked at as a god in Ann Arbor," Allen said. "Michigan landed the guy today who they've been fishing after for the last seven years. With that, it doesn't get any better for the Michigan hopefuls."
© Copyright IBTimes 2023. All rights reserved.