Microsoft Earnings Preview: First-Quarter Profit Expected To Rise 13.3 Percent Despite Declining PC Sales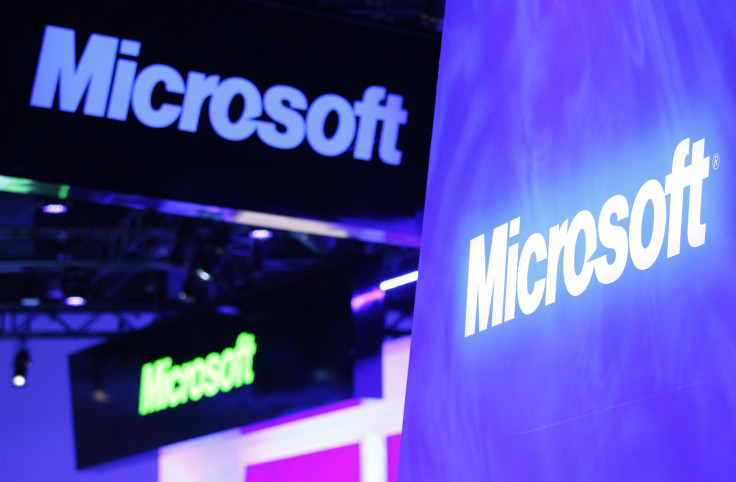 Microsoft Corp. (NYSE:MSFT), the world's largest software company, is expected to report a 13.3 percent profit increase for the third quarter as strong global software revenue offsets falling PC sales and a lackluster response to its newly released Windows 8 operating system.
The Redmond, Wash.-based company, which will report third-quarter earnings Thursday, is expected to report profit of $5.78 billion and earnings per share of 68 cents, according to a Thomson Reuters poll of Wall Street analysts. These estimates compare with a $5.11 billion profit and 60 cents earnings per share in the year-earlier period. Revenue is expected to be $20.51 billion compared with $17.41 billion in last year's third quarter.
Barclays Research expects the company to report a "healthy growth" in its server and tools sectors as well as its business division.
"Microsoft refreshed SQL Server, Windows Server and System Center in late 2012, and we expect these products to continue to be the main growth drivers this quarter as the rollout continues," Barclays said. Specifically, the British bank expects a 14 percent increase in the company's server and tools operations and a 9 percent gain in its business division.
PC sales are another matter. Microsoft has experienced a steady decline in PC sales over the last four quarters "as tablets continue to cannibalize the market," according to Barclays. Worldwide PC sales fell 13 percent in the first three months of this year after falling 14 percent in the first three months of last year, which International Data Corp. considers the sharpest quarterly decline recorded in Microsoft's 19-year history.
Microsoft is facing an uphill battle as it completes its first full quarter of selling Windows 8, which is considered the most significant update of the company's operating system since the mid-1990s. The company has seen its stock rise just 3 percent since Windows 8's release in October 2012, compared to the 10 percent increase of Standard & Poor's 500 index in the same time.
Designed to function on both touchscreen tablets and personal computers, Windows 8 is Microsoft's answer to Apple's iPad and the various tablet devices powered by Android software. While Microsoft reports a positive response to its latest operating system, Wall Street paints a different story: IDC research indicates users overwhelmingly find the software confusing and are favoring smartphones and tablets over PCs when replacing their devices.
Microsoft benefits from the sales of its other popular software including Microsoft Office, Microsoft Outlook, Microsoft Servers and its Xbox video game console. Barclays estimates that "core Windows growth (excluding deferrals and Surface revenue) this quarter" will be down 4 percent.
Nevertheless, the company still earns approximately one-fourth of its revenue from Windows-related products, and Microsoft CEO Steve Ballmer is expected to use the conference call to explain why Windows 8 as well as recent Office updates will help the company rebound in the third quarter.
© Copyright IBTimes 2023. All rights reserved.