Microsoft Surface Pro 3 Beats Apple iPad Air 2 To Become Fastest Tablet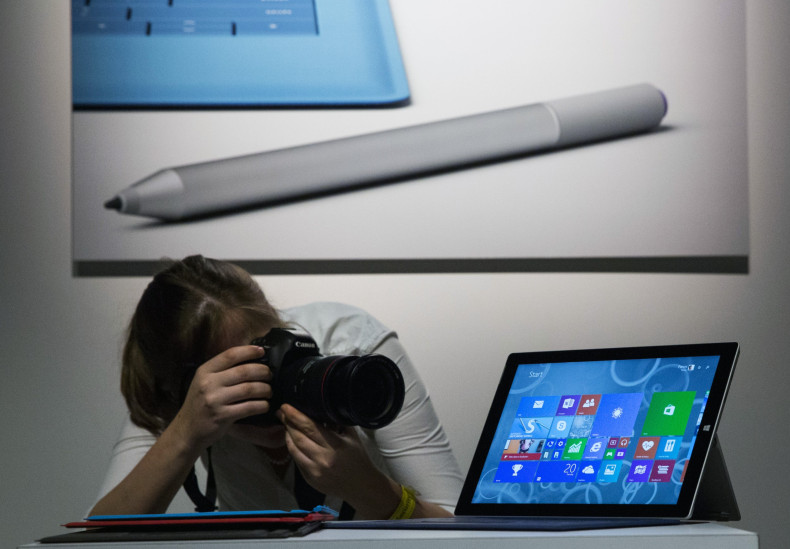 Released in 2014, the Apple iPad Air 2, powered by a superior in-house A8 chipset, has always beaten other tablets in speed and benchmark scores. In fact, Apple even vouched for this iPad by saying the device is "as powerful as many personal computers." But it now looks like the Microsoft Surface Pro 3 is even faster.
According to the site Which UK, the cross-platform Geekbench benchmark testing score of the Microsoft Surface Pro 3 is 5,069 points, while the iPad Air 2's is 4,046. Though Microsoft offers a slew of processor choices, the team apparently used the Intel Core i5 silicon version of the Surface Pro 3 for the test. The Intel Core i5 SoC is a desktop-grade processor, according to Phone Arena.
The Microsoft Surface Pro 3 features a huge 12-inch display with QHD screen resolution. Even with such a sizable display and a power-consuming resolution, it offers up to nine hours of battery life on a single charge. Amazingly for its size and power, the Surface Pro 3 is only 9 mm thick. But it is also more expensive than the Apple iPad Air 2. Microsoft is marketing the 2-in-1 tablet as a business-centric device, while Apple's device is targeted for everyday use and entertainment.
Here is Which UK's list of tablets ranked by speed (given in points), based on Geekbench scores:
Microsoft Surface Pro 3 - 5,069
Apple iPad Air 2 - 4,046
Google Nexus 9 - 3,537
Amazon Kindle Fire HDX 8.9 2014 - 3,060
Apple iPad Air 32 GB Wi-Fi - 2,687
Samsung Galaxy Tab Pro 10.1 - 2,650
Samsung Galaxy Tab S 10.5 - 2,594
Asus MEMO Pad 7 - 2,351
Tesco Hudl2 - 2,084
Apple iPad Mini 3 - 1,790
© Copyright IBTimes 2022. All rights reserved.