Microsoft Xbox One Wireless Controller Gets Standard Headphone Jack
A new controller is on the way for Xbox One consoles that makes gaming a little more convenient and perhaps less expensive. The gadget, expected in June, will include a standard headphone jack -- something the PlayStation 4 has had since 2013 but Microsoft has not supported until now.
The update was revealed on the Xbox Support website, which includes a diagram and accompanying descriptions for the controller. The design appears to be essentially the same as the previous model, except for the headphone jack (No. 16 in the diagram below).
1 Left stick
2 Left bumper
3 View button
4 USB charge port
5 Xbox button
6 Menu button
7 Right bumper
8 Directional pad (D-pad)
9 Expansion port
10 Right stick
16 3.5-mm port
X X button
Y Y button
A A button
B B button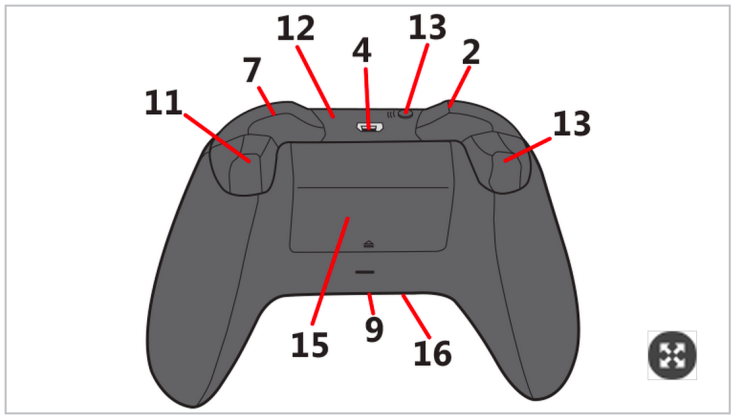 2 Left bumper
4 USB charge port
7 Right bumper
9 Expansion port
11 Right trigger
12 IR window
13 Wireless enrollment button
14 Left trigger
15 Battery cover
16 3.5-mm port
The updated controller features a 3.5-millimeter (0.14-inch) port -- the standard headphone jack. The previous model had a proprietary port that limited gamers to using proprietary Xbox One headphones or buying a separate Xbox One Stereo Headset Adapter for $24.99. Pricing for the new controller is not yet available. The current Xbox One Wireless Controller retails for $59.99.
With this update, the controller will most likely support any headphone set for audio functions. However, not all headset microphones may be equipped, Engadget writes. It is unclear how gamers will be able to control volume on the updated controller. As the Verge notes, Xbox's stereo headset adapter includes volume and mute controls.
There is no specific release date. The description next to the headset component reads it will be "available on controllers released after June 2015," according to the support page. Electronic Entertainment Expo (E3) 2015 is on June 15, when Microsoft has a planned press event. The company's announcement will focus on Xbox One, PCGamer reports.
© Copyright IBTimes 2023. All rights reserved.