Microsoft's Skype Buy: Still Not OK'd but How to Battle Google?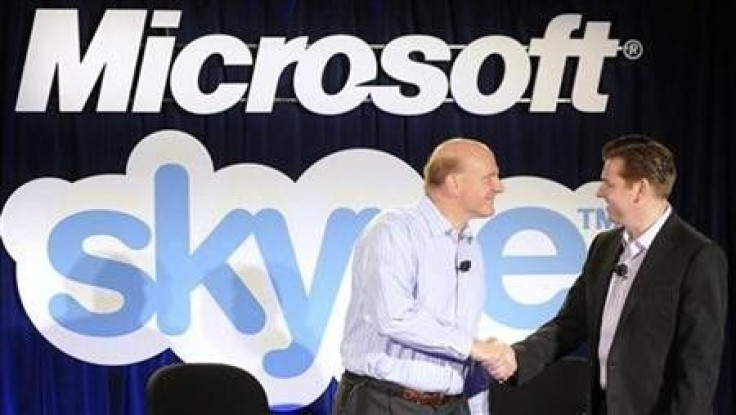 Lost in the fray surrounding Google's proposed $12.5 billion takeover of Motorola Mobility is Microsoft's $8.5 billion proposed acquisition of Skype. Are both companies collaborating or battling each other?
It's hard to determine. The Google/Motorola Mobility deal likely won't conclude until early 2012, the principals said. But the Microsoft-Skype deal, already approved by the U.S. Federal Trade Commission, may be stuck before the European Commission.
Clearly, both Microsoft and Google are targeting a sort of holy grail of mobile platforms that seamlessly communicate all matters of voice, data, video, social media and entertainment --- not to mention advertising --- because it's where they see growth.
But Microsoft, the No. 1 software company, may encounter some rough weather in Brussels. Neelie Kroes, the European Commission's antitrust commissioner, was around for Microsoft's 2004 agreement to make Windows interoperable with other platforms. She also demanded Microsoft pay a record $1.3 billion in 2008 for failing to comply with it.
Kroes is also a huge fan of Luxembourg-based Skype, which sold itself first to eBay in 2005 for $3.1 billion. In 2009, eBay sold a 65 percent stake for $1.9 billion to private equity groups including Silver Lake, Index Partners, Andreesen Horowitz and the Canada Pension Plan. Now all parties, including eBay and Skype co-founders Niklas Zennstrom and Janus Friis, are unloading the entire company to Microsoft for $8.5 billion, its biggest-ever acquisition.
Last year, Kroes discussed her affinity for Skype, which she said lets anyone with a connection communicate. Vote with your feet and leave your mobile provider, she told a conference. The message will be all the more powerful when it comes from the bottom up and not the top down.
Skype CEO Tony Bates, formerly a senior vice president of Cisco Systems, recently predicted the European Commission will OK the Microsoft acquisition by the fourth quarter, but Kroes surely will cast a jaundiced eye on any move by Microsoft that impacts European clients.
Microsoft, which has had slow adoption of its Windows Phone 7 OS, previously licensed it to Finnish giant Nokia, the one-time mobile phone leader now ranked third in second-quarter market share behind the Apple iPhone and Samsung Electronics' Google Android phones, IHS estimates.
Nokia, which had used the Symbian OS popular in Europe, is slowly transitioning to Microsoft's OS.
Buying Skype, though, would put Microsoft squarely into the telephone business. Last year, Skype handled 190 billion minutes of traffic, up 68 percent from 2009, estimates TeleGeography. That was a giant chunk of an $83 billion international voice market that handled about 413 billion minutes and one of the few sectors that grew year-over-year as traffic growth for the AT&Ts and Verizon Communications eased.
If Brussels OKs the deal, Microsoft plus Skype would instantly become one of the world's biggest telecommunications providers, with as many as 170 million registered users, along with strong ties to the enterprise market. Notwithstanding Microsoft's huge consumer appeal, the company dominates the enterprise sector; it also has a partnership selling communications equipment from Avaya, the Alcatel-Lucent spinoff.
Skype already works with Facebook's 500 million users, so Microsoft's overall positioning ought to be strengthened. In search, Microsoft is wielding its Bing offering with support for Yahoo, but is still nowhere near Google in views and advertising.
Meanwhile, the European Commission, as well as the U.S. regulators, need to approve the Google -Motorola Mobility deal. Last week, Google CEO Larry Page pledged the company will retain the smartphone maker as an independent company and keep Android an open OS to capitalize on its success capturing more than 50 percent of the smartphone market.
GoogleVoice, an offshoot of Grand Central, acquired in 2007, had previously been added to Gmail, as a free service, so the Mountain View, Calif.-based search leader is no stranger to telecommunications. More recently, it launched Google+ as a rival to Facebook and claimed 500,000 users in two weeks. Participants in GoogleCircles are able to communicate by voice as well as online.
But Google itself is also under scrutiny, which it has acknowledged, from both Washington and Brussels, where regulators like Kroes are exploring if it might be behaving in an anti-competitive manner. Google has acknowledged the probes, without comment. Earlier this month its legal team hired a senior FTC lawyer for its own staff.
Much of the focus on the Motorola Mobility takeover was on Google's appetite for Motorola's 17,000 patents for wireless spectrum and telephony. But given the prowess of Motorola Mobility CEO Sanjay Jha, the real bet could well be on scoring yet another turnaround, making Google's Motorola phones No. 1 in the market vs. Apple's iPhone.
Consumers will vote in the marketplace, especially if they find a product they like as much as the iPhone and the iPad priced cheaper than Apple's always more expensive offerings. First, though, consider what could happen if both deals are stopped.
Reports cited a $2.5 billion breakup fee if Google-Motorola Mobility collapses. Apparently, there is no breakup fee for Microsoft-Skype.
Given the rapids both deals face, there could be some rough sailing for both tech giants. Google shares, trading Tuesday around $517.70, are about 8 percent down over the past week, whereas Microsoft, around $24.63, is off about 2 percent.
One irony: Marc Andreesen, the co-author of Mosaic and co-founder of Netscape Communications, enjoys more perspective than anyone else in all these deals. He's a director of eBay and Facebook, as well as Hewlett-Packard, which exited the TouchPad market last week. He's also a name partner of Andreesen Horowitz, which should make a fortune selling Skype to Microsoft.
© Copyright IBTimes 2023. All rights reserved.
FOLLOW MORE IBT NEWS ON THE BELOW CHANNELS