Microsoft's Surface Series Allegedly Outdid Apple iPad's Online Sales In US During October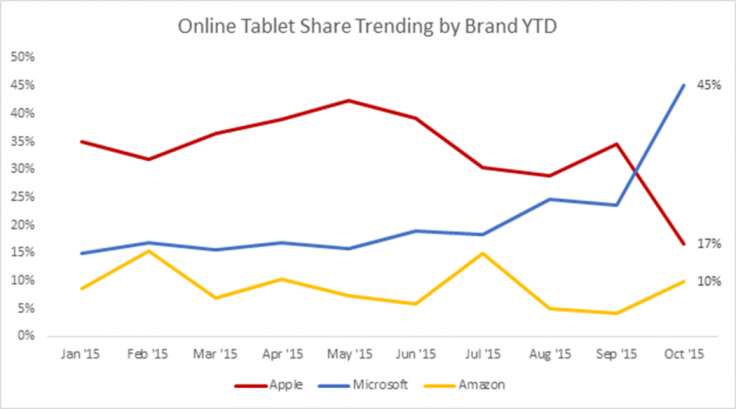 It's a known fact that tablet sales across the globe has been on a downward spiral for a long time now. However, Apple iPad series has always stayed ahead of the counterparts with regard to number of shipped units. Thanks to Microsoft's Surface lineup of devices, this equation apparently changed in October.
In hindsight, Phone Arena said that there were times when Apple iPads amassed a whopping 95 percent tablet market share. Thenceforth, the iPads saw a steady decline. By Q1 2013, iPads managed only 40 percent market share, when compared to the 58 percent it maintained during Q1 2012. This is reportedly followed by a decline to 30 percent in the following quarters.
The reason for the steady decline has been attributed to the inexpensive Android slates available across the globe. Microsoft also chipped in with the impressive sales of the Surface series of 2-in-1 tablets and changed the game altogether.
For instance, the Microsoft Surface Pro 3 was marketed as a device for both work and play. Following this, the expectations surrounding the successor Surface Pro 4 was sky high. Microsoft managed to live up to the expectations with the new device released only a couple of months back. Many reviewers have rated the tablet as a "worthy successor."
But then, the question that comes to anybody's mind is: Did Microsoft manage to amass Apple iPads' market share? Folks at WinBeta apparently have the answer. As it turns out, WinBeta managed to get a copy of a report pertaining to the time period of January 2014 to October 2015, authored by "101data Ecom Insights Panel."
According to the report, Microsoft apparently shipped "more tablets" in the U.S. when compared to any other OEM in October. The data, however, includes only the online tablet sales. This means, Microsoft clearly trumped Apple in October.
To be specific, Microsoft's market share pertaining to online tablet sales reportedly surged to a whopping 45 percent in October, whereas Apple's share declined to 17 percent. Readers should also note that Microsoft sells the Surface lineup of slates including the Surface Pro 3, Surface Pro 4 and Surface Book at an average price of $844, while the Apple iPad's average price is just $392.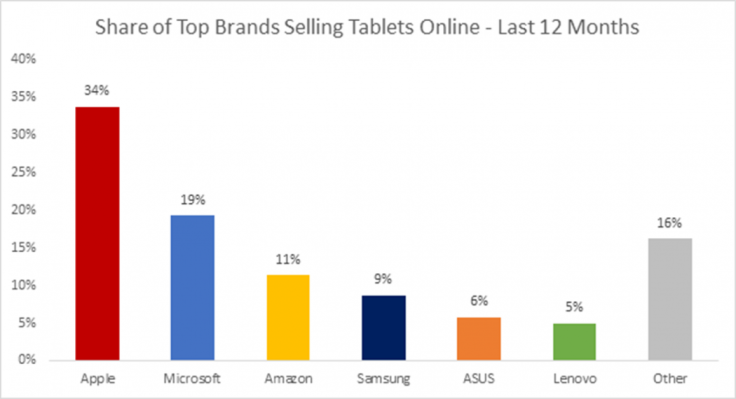 In general, with the data collected over the past 12 months, Apple is apparently the leader with 34 percent market share. Even though, Microsoft allegedly topped the charts in October, it comes second with a commendable 19 percent overall share. This is followed by Amazon with 11 percent.
But then, if Microsoft manages to hold the fort for the next 12 months with regard to online tablet sales, Apple has some serious competition not only from Android but also from Microsoft.
© Copyright IBTimes 2022. All rights reserved.
FOLLOW MORE IBT NEWS ON THE BELOW CHANNELS