Midterm Election Results 2014: Did Voter ID Laws Help Republicans Win The Senate Majority?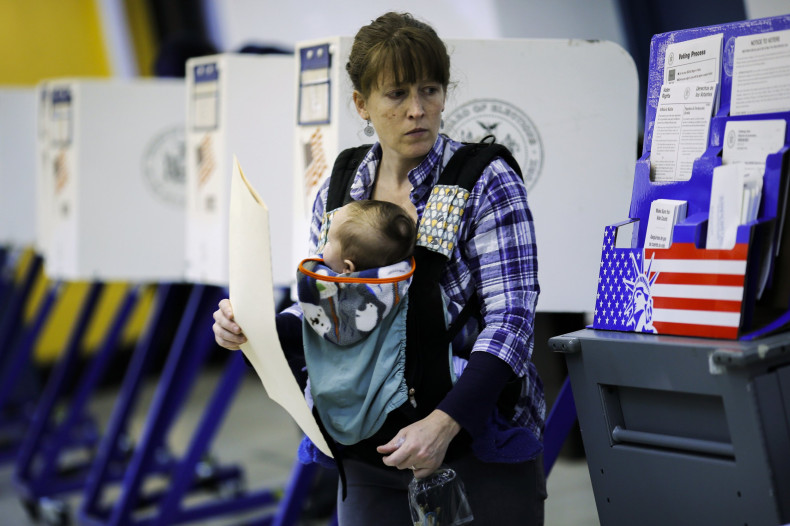 Thousands of voters in Texas, North Carolina and Georgia said they were unable to cast ballots in Tuesday's midterm elections amid growing efforts by Republicans to stamp out voter fraud. The complaints suggest that a slew of laws passed in recent years by GOP lawmakers and blasted by critics as a modern-day poll tax aimed at suppressing Democratic turnout may have influenced the results in some of the nation's most contested contents.
In states that recently passed election reform laws, voters said they were turned away because they didn't have photo identification or after they showed up at the wrong precinct. Voters also complained of long lines, faulty voting machines, language hurdles and confusion over voter requirements, according to the nonpartisan coalition Election Protection. In all, the nonprofit fielded 18,000 complaints, a 30 percent increase from 2010, according to the Seattle Post‑Intelligencer.
Republicans have led efforts in recent years to require photo identification and reduce or eliminate early voting or same-day voter registration because of alleged incidents of voter fraud. But critics argue that the laws suppress voter turnout of key Democratic demographics, including low-income, black, Hispanic, female and young voters. Civil rights activists monitored election offices across the country Tuesday for any hint that the laws could be helping the GOP, which expanded its House majority and gained control of the Senate.
"This is the first election in 50 years where voters of color will not have the full protection needed to vote," Deborah Vagins of the American Civil Liberties Union, told the Los Angeles Times.
In Georgia, at least 40,000 people who registered to vote were not included on the state's voter list and hundreds more were not assigned a polling place. The state's elections website that allows people to check their voter registration status was also out of service for hours. In Texas, which recently passed the state's toughest voter identification law, voters said they didn't know what form of photo ID was acceptable. In Florida, voters complained that some precincts had ran out of ballots. In Mississippi, thousands of voters faced similar challenges under a new voter ID law this year.
Roughly 11 states have enacted voter identification laws since Georgia became the first to do so in 2005, according to the National Conference of State Legislatures. If a valid ID isn't shown, the voter fills out a provisional ballot that is only counted if the voter is able to show proper ID within a few days after casting the ballot.
The most popular forms of photo ID -- a driver's license or passport -- are less likely to be held by the poor because they can't afford to drive or travel out of the country. If a voter doesn't have one of the valid forms of ID, he can obtain a voter ID card from the state. But one needs a birth certificate to obtain the voter ID card. If a voter changed her name, there is an error on her birth certificate or if she don't have a certificate because they weren't born in a hospital, there are additional costs to correcting the document, putting a further burden on low-income and black voters.
State officials said they made an effort to educate voters about acceptable forms of identification. "We've worked very hard to make sure people know about the photo ID requirement," Alicia Pierce, a spokeswoman for Texas' secretary of state, told Al Jazeera.
The main argument behind voter ID laws -- to stop electoral fraud -- has been dismissed by Democrats and some legal scholars who say there is scant evidence that wide voter fraud exists. Dan Tokaji, a law professor and voting rights expert at Ohio State University, said voter ID laws are "a solution in search of a problem."
Richard Briffault, an election law professor at Columbia Law School, said it's easier and more efficient to manipulate software that runs electronic voting machines than to get a large group of people to impersonate a voter. "It's complicated to get lots of people to vote lots of times," he said.
But Andrew Kloster, a legal fellow at the Heritage Foundation, a conservative think tank based in Washington, said voter ID laws strengthen voters' confidence in the American electoral system. "Even one example of voter fraud … it depresses turnout and it shakes faith in our democracy," he said.
Supreme Court Justice Ruth Bader Ginsburg slammed the measures in her dissenting opinion on a ruling last month lifting a federal judge's stay on Texas' voter ID law. "The greatest threat to public confidence in elections in this case is the prospect of enforcing a discriminatory law, one that likely imposes an unconstitutional poll tax and risks denying the right to vote to hundreds of thousands of eligible voters," Ginsburg wrote. She said the Texas law may affect as many as 600,000 registered voters, or about 4.5 percent of all Texas voters.
Voter ID laws have also been criticized by Attorney General Eric Holder, who said the voter ID laws are being used by Republicans to give themselves a boost at the polls. "I think many are using it for partisan advantage," he said earlier this year. "People have to understand that we are not opposed to photo identification in a vacuum. But when it is used in — certain ways to disenfranchise particular groups of people, whether by racial designation, ethnic origin, or for partisan reasons, that from my perspective is problematic."
© Copyright IBTimes 2022. All rights reserved.