Midterms 2014: Who Is Winning Congress? 2014 Congressional Midterm Election Results [Live Updates]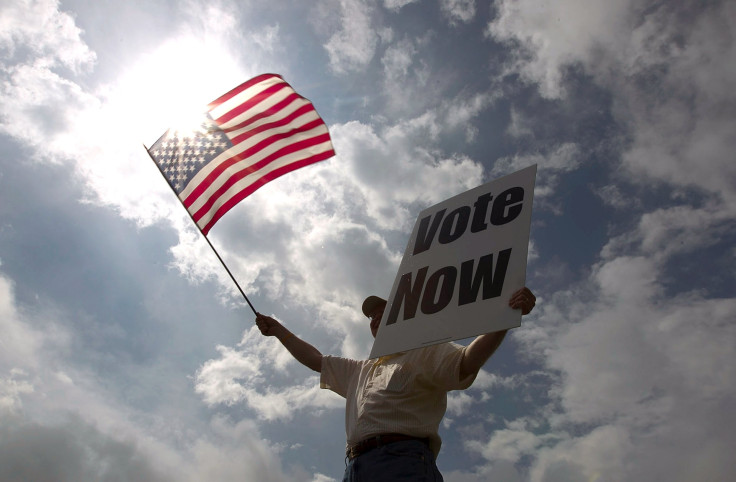 The Senate:
To win a majority in the Senate, Republicans need at least 51 seats. Republicans are expected to win in eight new states, giving them 53 seats and control of the Senate. We will be updating the charts below as the returns come in.
All eight key races with seats expected to flip party affiliations -- Montana, Alaska, Colorado, South Dakota, Iowa, Arkansas, Louisiana and West Virginia -- are expected to turn red. Take a look at the map below to see how the states are leaning. The map will be updated with live results as they come in.
The House
All 435 seats in the House of Representatives are up for election. The Republican majority is expected to gain an additional nine seats.
Below are the key races for the House of Representatives. Check back throughout the night to see coverage of the returns.
LIVE BLOG
Check back here for live returns coverage throughout the night.
7:10 p.m.
Mitch McConnell wins Kentucky and stands to become Senate Majority leader if the Republicans take the Senate. South Carolina is called for Lindsay Graham with 53.4 percent of the vote.
7:30 p.m.
The first pick up for the Republicans of the night, West Virginia is called for Shelley Moore Capito. Also in West Virginia, Republican Evan Jenkin defeats Democratic incumbant Nick Rahall to win the 3rd district House seat.
8:00 p.m.
Polls along the East Coast close. Maine and Mississippi are called for the Republicans. Massachusetts and New Jersey remain the only blue states on the map so far.
Governor races in Ohio, South Carolina, Tennessee, and Alabama are called for the Republicans. Democrat Tom Wolf wins Pennsylvania over incumbent Tom Corbett.
8:30 p.m.
Arkansas is called for Republican Tom Cotton, giving the GOP a second Senate pick up. Democrat Jack Reed from Rhode Island wins with 62.7 percent of the vote in Rhode Island.
8:50 p.m.
Democrat Jeanne Shaheen wins New Hampshire's Senate seat with 54.3 percent of the vote.
9:00 p.m.
Voting has closed in Arizona, New York, Colorado, Texas and Wisconsin. However some voters, who were already in line when voting closed, are still waiting. In Texas, many voters wait in the rain to cast their ballot.
9:05 p.m.
Democratic governors win in New York and New Hampshire. With Mike Rounds' win, South Dakota became the third Senate seat picked up by the Republicans.
9:50 p.m.
Since no one candidate has over 50 percent of the vote, there will be a runoff in Louisiana between Bill Cassidy and Mary Landrieu.
10:00 p.m.
Montana's formerly Democratic Senate seat has now gone to Republican Steve Daines.
11:30 p.m.
With 51 seats, the GOP takes control of the Senate.
© Copyright IBTimes 2023. All rights reserved.