Midwest States Are Getting Soaked By Rise In Damaging Floods, Study Finds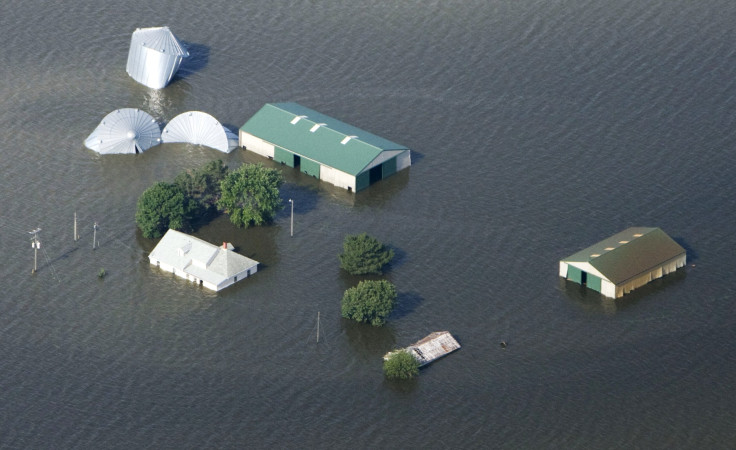 The U.S. Midwest is getting soaked. Damaging floods are hounding the region with increasing frequency, leading to billions of dollars in agricultural losses and displacing thousands of people, a new study found. Scientists say the trend will likely get worse in coming decades as the effects of climate change accelerate.
Fourteen states in the Midwest and surrounding area saw "increasingly more frequent flood episodes" from 1961 to 2011, according to a University of Iowa study published Monday in the journal Nature Climate Change. Researchers pored over daily geological reports from 774 stream gauges, and found that about a third of stations experienced increasingly frequent flooding. Only 9 percent of stations showed a decrease in flood events.
"There was a feeling that these flood events have been increasing, but the question was, Is it just our perception of the recent past vs. present?" Gabriele Villarini, an engineering professor at Iowa and the report's lead author, said. "So that's when we decided to do this analysis."
Five major floods have pummeled the Midwest region over the past two decades, including a record 2008 disaster in Cedar Rapids, Iowa, that caused up to $6 billion in flood-related damage and forced 25,000 people from their homes. The event exceeded the once-in-500-year flood level by more than 5 feet. Other cities in Iowa, including Des Moines, Iowa City and Ames, have each suffered multimillion-dollar flood events in recent decades.
Nationwide, many states have also seen a rise in "nuisance flooding," the minor events that shut down roads down and clog storm drains but aren't particularly dangerous, the U.S. National Oceanic and Atmospheric Administration reported last fall. Such floods have jumped by more than fivefold in the past 50 years, with the U.S. East Coast suffering the worst impacts due to its rising sea levels.
Villarini said the increased frequency of Midwest floods is largely the result of changes in regional temperatures and rainfall patterns. In the northern states, the spring season has become steadily warmer over the past few decades, while at the same time, snowmelt -- the watery surface runoff caused by melting snow -- has also increased. In other areas, heavy rainfall events are happening more often, leading to more frequent flooding.
He said it is difficult to directly link those changes to global warming, which is largely caused by man-made greenhouse gas emissions from burning fossil fuels and destroying forests. "It's a very complicated problem to address just using observational data," Villarini said.
But he noted that the findings are consistent with how climate scientists generally believe global warming is affecting the hydrological cycle. As the atmosphere warms up, it can retain more moisture; all that added vapor, in turn, can lead to more intense and frequent precipitation. In the Midwest, that could lead to more "erosion declining water quality and negative impacts on transportation, agriculture, human health and infrastructure," according to the National Climate Assessment, a sweeping 2014 report by the White House.
The Midwest accounts for about 65 percent of the country's total corn and soybean production, and the states generate about $2.6 trillion in regional gross domestic product, or about 20 percent of the U.S. total. A flurry of flood events not only rots or destroys existing crops, it can also prevent farmers from planting seeds, forcing them to skip a harvest or rotate to alternate crops, Villarini said.
In expanding cities such as Chicago, Milwaukee and Minneapolis, increased flooding could paralyze normal business activity and lead to greater damage in homes and office buildings, unnavigable roads and clogged sewage and drainage systems. Most of the region's 61 million people live in urban environments, "which are particularly vulnerable to climate change-related flooding ... because of aging infrastructure and other factors," the National Climate Assessment report said.
Across the U.S., flood events caused more than $260 billion in damages from 1980 to 2013, according to the White House.
The Obama administration says it will now require all federally funded roads, buildings and other construction projects to account for the risks of frequent flooding and heavier rainfall. The White House's new flood risk management standard "will help ensure taxpayer dollars are well spent on infrastructure that can better withstand the impacts of flooding," John Podesta, Obama's outgoing senior adviser on climate and energy policies, said in a Jan. 30 statement.
Villarini said he and other Iowa researchers are next working to determine the economic toll of more frequent flooding in the Midwest and nearby states. The 14-state region includes: Illinois, Indiana, Wisconsin, Ohio, Michigan, Minnesota, Kansas, Nebraska, Missouri, West Virginia, Kentucky, North Dakota and South Dakota.
© Copyright IBTimes 2022. All rights reserved.
FOLLOW MORE IBT NEWS ON THE BELOW CHANNELS