'This Might Be The Last Time You See Me Alive' Ukraine's President Says After Putin Calls For Coup
Ukraine's President Volodymyr Zelensky warned European leaders in a conference call that they may never see him alive again as Russia's army masses outside the Ukrainian capital Kyiv.
Zelensky issued the warning during a discussion with several other European leaders on Friday. A day earlier, the Ukrainian president warned that Russian "sabotage teams" had entered Kyiv in search of him and his family. On the call Zelensky thanked them for their support, but chastised them for their failure to do more to stop Russian President Vladimir Putin's advance.
"Who is ready to fight with us? Honestly, I don't see anyone . I'm asking them, 'Are you with us?' " Zelensky said, according to the Financial Times.
Zelensky, who has remained in Kyiv despite warnings that the Russian military was working to "decapitate" the government, has urged Western states to do more to help his country. On Twitter, he has called for the establishment of a no-fly zone over Ukraine to stunt the Russian advance, but this has not been taken up by NATO or the European Union.
Yesterday, President Joe Biden and European leaders announced a series of sanctions against Russia's banking sector, individual oligarchs aligned with Putin and a prohibition on funding for projects in the Russian energy sector. However, no move to remove Russia from SWIFT, the international financial messaging system used for worldwide transfers, was taken over objections from several European countries. Turkey, a Ukrainian ally, has declined to shut the entrance to the Black Sea to Russian warships despite pleas from Kyiv.
According to Axios, Swedish media reported the Ukrainian leader ended his conversation with his European counterparts with a somber warning that "this might be the last time you see me alive."
Around the time Zelensky issued this warning, Putin issued a call to Ukraine's military to urge them to overthrow their government in order to begin negotiations with Moscow. In remarks from the Kremlin, Putin referred to the Ukrainian leadership as "terrorists," "neo-Nazis" and a "gang of drug addicts" who were using their people as "human shields."
"Take power in your own hands," Putin implored. "It seems like it will be easier for us to agree with you than this gang of drug addicts and neo-Nazis."
In the two days since Russia began to bombard Ukrainian cities and military installations, its forces have advanced from three prongs toward Kyiv. Explosions are heard nightly as Ukrainians are forced to huddle together in bomb shelters and metro stations in fear of the Russian advance.
Putin has justified his military operation as one of necessity in a meeting with Russian business elites on Thursday. After the first attacks began in the pre-dawn hours of that day, the Russian president said he was acting to "strive for the demilitarization and denazification of Ukraine."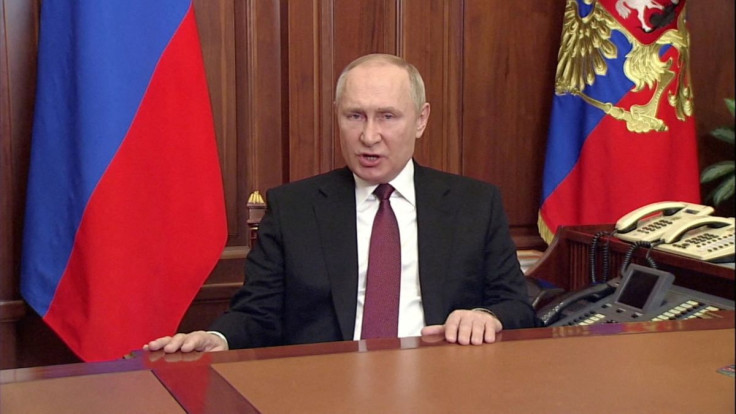 © Copyright IBTimes 2023. All rights reserved.