Migrant Crisis May Eclipse Greek Debt Problem: German Chancellor Angela Merkel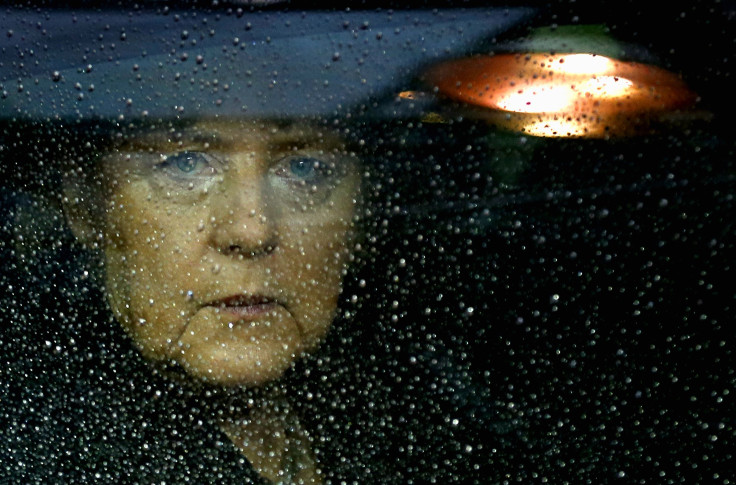 German Chancellor Angela Merkel warned Sunday that the migrant crisis could become a bigger challenge for the European Union than the Greek debt problem, and strongly condemned a rising spate of attacks on refugee centers in Germany.
When asked about a rising tide of arson attacks on refugee shelters in the country, Merkel said, according to Agence France-Presse: "That is unworthy of our country." Since the beginning of this year, there have been over 200 attacks on refugee centers.
According to Merkel, the issue of migration would "preoccupy Europe much, much more than the issue of Greece and the stability of the euro."
Europe is currently facing an unprecedented migrant crisis, fueled by growing instability in the Middle East, which has prompted hundreds of thousands of refugees -- fleeing chaos in countries like Libya and Syria -- to seek increasingly desperate measures to enter Europe.
The EU has mounted a naval mission against thousands of immigrants who attempt the risky crossing across the Mediterranean that leaves thousands dead or stranded in the sea. The EU naval forces have also cracked down on human traffickers who smuggle refugees into Italy and Greece. Meanwhile, the condition of migrants in refugee camps and holding centers in Greece, Italy and near the French transportation hub of Calais, has been described as abusive by human rights activists.
Merkel said that the EU's response to the crisis so far has not been enough. "The issue of asylum could be the next major European project, in which we show whether we are really able to take joint action," she reportedly said. She added that Germany's response to the situation -- where thousands of refugees remain in tents -- was "absolutely unsatisfactory." The country is expected to see as many as 600,000 asylum seekers this year.
Merkel called for the EU to establish a list of countries of origin of migrants deemed safe, in order to help prioritize migrants from major crisis areas like Afghanistan and Syria. Currently, about half of Germany's asylum applications since January have come from countries in southeast Europe such as Albania, Bosnia, Bulgaria, Croatia, Kosovo, Macedonia, Montenegro and Serbia.
In early August, a German police union also called for the pan-European Shengen agreement to be weakened and passport controls to be reinstituted along national borders, arguing that it would help curb illegal migration. German police have already stepped up security checks along inter-European trains and highways.
Anti-immigrant sentiment has been rising in the economically prosperous country, which has been a popular destination for migrants and asylum seekers. The anti-Islamic Patriotic Europeans Against the Islamization of the Occident, or Pegida, movement organized several rallies in 2014 and early 2015, though they were often dwarfed by counter-protests in the country. Meanwhile, several polls have shown that Germans are broadly in favor of migration and consider it a less pressing issue than the economy.
The United Nations also warned in June that the world is facing its most pressing migration crisis since World War II, estimating that up to 50 million people are displaced from their homes due to conflict and political crisis.
© Copyright IBTimes 2023. All rights reserved.
FOLLOW MORE IBT NEWS ON THE BELOW CHANNELS