Mike Brown Shooter Name: Anonymous Claims To Identify Cop In Ferguson Shooting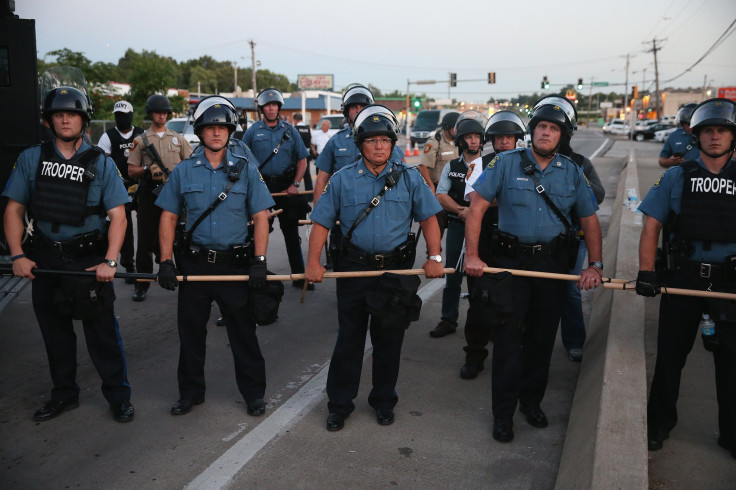 UPDATE 10:59 a.m. EDT: The St. Louis County Police Department denied Anonymous' claim about the identity of the officer in the Mike Brown shooting. The department's Twitter account said the name mentioned by Anonymous is a "random citizen" who is not an officer of either the Ferguson Police Department or the St. Louis County Police Department.
Original Story:
The hacking collective Anonymous released Thursday what it said is the name of the officer who shot and killed Mike Brown in Ferguson, Missouri, over the weekend. But authorities have not confirmed the name of the officer, which has been withheld by the Ferguson Police Department, citing death threats against the cop on social media.
International Business Times could not confirm Anonymous' claims with law enforcement. A call to the office of Ferguson Police Chief Thomas Jackson was not immediately returned. A voicemail could not be left with a spokesman for the St. Louis County Police Department because the mailbox was full. The FBI's St. Louis office could not immediately be reached for comment either.
Anonymous said law enforcement's lack of response in confirming or denying the officer's name mentioned on its Twitter feed backed up its claim as to his identity:
Anonymous also didn't immediately respond to an email request about how it was able to identify who it said is the officer who shot and killed Mike Brown, an unarmed black teenager, in broad daylight Saturday.
Saturday's shooting has since unleashed waves of protests and anger for days in Ferguson, a suburb of St. Louis, with riot gear-clad police watching protesters chanting "No justice, no peace" and signs to express their frustration over the shooting. A vigil for Brown on Sunday turned into rioting, with several stores looted and a convenience store burned.
On Wednesday night, two reporters from the Huffington Post and Washington Post covering the shooting and its aftermath were arrested. The news outlets condemned the arrests, with the Huffington Post calling reporter Ryan J. Reilly's handcuffing a "false arrest," and the Washington Post said the detention of Wesley Lowery had "absolutely no justification."
© Copyright IBTimes 2022. All rights reserved.
FOLLOW MORE IBT NEWS ON THE BELOW CHANNELS