Indiana 'Anti-LGBT' Law Boycott: After SB101 Signing, How Much Will 'Religious Freedom' Cost Local Businesses?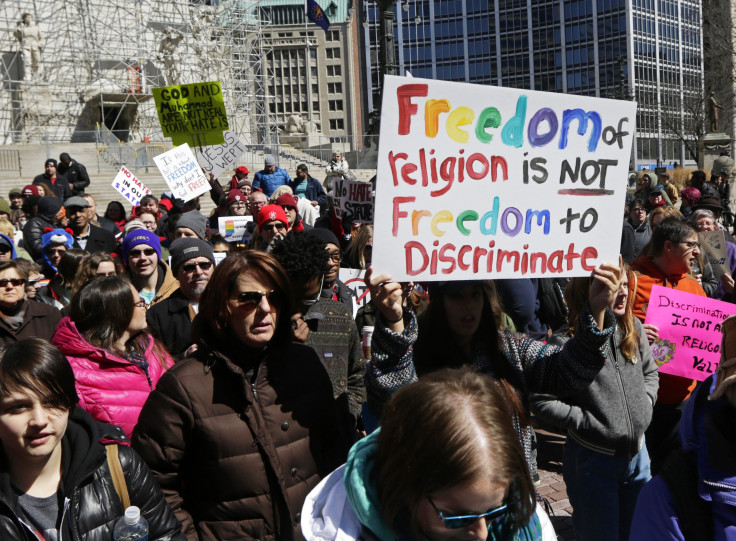 When Republican Indiana Gov. Mike Pence signed a religious freedom law Friday widely viewed as opening the door to discrimination against the LGBT community, he didn't just unleash an outcry across the country. With the stroke of a pen, he threw away at least $40 million in lost economic activity -- a figure certain to grow as companies in the Hoosier state become concerned that Indiana's reputation for intolerance will cost them out-of-state business.
The signing of the Religious Freedom Restoration Act, which prevents Indiana from substantially burdening a person's religious rights, is viewed by opponents as allowing business owners to deny service to LGBT individuals whose behavior or identity goes against their religious beliefs. About 30 states have some form of the religious freedom law signed by Pence on Friday, but a key difference is that Indiana's civil rights laws don't include gays as a protected class.
Jeb Banner, the CEO of Indianapolis-based Smallbox, a marketing and branding company whose clients include Salesforce and Angie's List, said he's concerned about how the law will affect the perception of the state. The law has spurred calls from San Francisco Mayor Ed Lee and Connecticut Gov. Dannel Malloy to boycott the state and a Change.org petition to move the Big Ten college football championship game, which has been held in Indianapolis since 2011, out of the city, among other protests.
"We don't want to become the Iran of America because of this boycott," Banner said. "We're becoming, unfortunately, a bit of a pariah, and it was completely avoidable. The last thing I want to do is get rejected [for business] not because of the quality of our work but the state that we come from, and that wasn't a concern until this week."
A similar bill was considered in Arizona, but then-Gov. Jan Brewer vetoed it last year amid pressure from a host of groups, including the NFL, which threatened not to hold the 2015 Super Bowl in the Phoenix area if the bill was enacted. Brewer, who had long had a close relationship with conservative Christian leaders in Arizona, declined to approve what was seen as an anti-LGBT law after the state faced the same kind of backlash that Indiana is experiencing now when it passed in 2010 SB1070, a law seen as targeting minorities and immigrants. While the U.S. Supreme Court struck down some major provisions of the so-called "anti-immigrant" legislation, Arizona lost $141 million from the convention industry and $253 million in economic impact in the first year the law was passed, according to the Center for American Progress.
Laura Durso, the center's director of LGBT research and communications, said it's difficult to immediately gauge the economic impact of SB 101 on Indiana, but research shows that people support companies who are seen as "good actors" by protecting LGBT employees and customers. Indianapolis draws a lot of convention business, which are a big part of the state's tourism and hospitality industries. "You'll continue to see folks taking a look at whether they want to contribute to the Indiana economy or put their dollars elsewhere where they don't discriminate," she said.
So far, Indiana has lost $40 million after Angie's List, a company that crowdsources reviews for services such as plumbers and landscapers, canceled its Indianapolis expansion over SB 101. Meanwhile, the American Federation of State, County and Municipal Employees, or AFSCME, one of the larget labor unions in the country, said Monday it would not hold its women's conference planned for October in Indianapolis because of the law and the gamer convention Gen Con announced it is considering holding the event, which generates $50 million for local businesses, elsewhere. The CEOs of Apple, Yelp and Salesforce have also taken a stand against the religious freedom law, with Yelp CEO Jeremy Stoppelman saying the company wouldn't strengthen its ties to Indiana or any other state with similar laws on the books, according to the San Francisco Business Times.
Republican legislative leaders in Indiana said during a Monday news conference that they would clarify the law. "It is not the intent of the law to discriminate against anyone, and it will not be allowed to discriminate against anyone," said Sen. David Long, president pro tem of the Indiana Senate.
Meanwhile, state Democratic lawmakers attacked the GOP for not coming up with a specific plan and for not going far enough to rectify the damage caused by SB 101. Sen. Tim Lanane, minority leader of the Indiana Senate, said the only choice is to repeal the law and add language to Indiana's civil rights laws to protect LGBT individuals. "When you have a bill that is this tainted, this corrupted, there is no fix to it," he said during a press conference Monday.
Tim Wilk, who is gay and owns the Gray Goose Inn in Chesterton, Indiana, said his bed and breakfast won't be hurt because of its proximity to Chicago, "where you don't have that rednecky, hayseed type of mentality." But he said he was embarrassed over the law. "It's like going back 200 years. It doesn't make sense to me," he said. "What's next? They're going to put signs up, 'No Colored People Allowed' or 'No Mexicans'? The thing just goes on and on."
© Copyright IBTimes 2023. All rights reserved.