Mike Tyson: Johnny Nelson Reveals Shocking Details Of Confrontations With Prime 'Iron Mike'
KEY POINTS
Former world cruiserweight champ Johnny Nelson was once close to fighting Mike Tyson in the U.K.
Nelson recalled how "menacing" Tyson was when they discussed their potential fight in a new article
Nelson also revealed how Tyson taunted him in front of his wife and thousands of people after "Iron Mike" knocked out Lou Savarese
Johnny Nelson, who was once expected to face Mike Tyson in London back in 2000, revealed how he and prime "Iron Mike" almost got into fights a few times outside the ring.
Nelson was a former WBO cruiserweight titleholder. Based in the U.K., he now works as a pundit for renowned British sports media Sky Sports. But one thing people may not know about Nelson is that he and a prime Tyson were supposed to fight in London roughly two decades ago.
The 53-year-old recently published the entire story on Sky Sports' official website. According to the former champ, as close as it was to happening, the fight between him and Tyson started and ended verbally.
"It was serious talk. Mike Tyson had a three-fight deal with promoter Frank Warren. They got two opponents and they were looking for a third opponent. That fight was going to happen. Mike and Frank had these conversations, and I was the third opponent," Nelson revealed.
The boxing columnist recalled walking into the Grosvenor Hotel and described how "menacing" it was to hear Tyson throws insult to his face.
"Mike has got a high pitch kind of voice and his head used to go to the side, with an involuntary click of the neck. He said: 'You want to earn some money, let's do it'. It was so menacing," Nelson wrote.
"Remember, I was world champion, so I thought I was the best cruiserweight in the world. I can't give that impression that I'm bottling it. I went, 'Yeah, yeah, no problem'. It was verbally discussed with all of us. It was a done deal. It was just an unsigned contract," the retired British boxer continued.
Things become even more intense after Tyson knocked out Lou Savarese. While still inside the ring, Nelson recalled vividly how Tyson taunted him, saying, "You sure you want some of that? We're going to eat you!"
Humiliated in front of thousands of people and his wife, Nelson came with the best trash-talk he could during the intense moment.
"I was sat at ringside with my wife and I was thinking, 'No, not in front of my missus mate'. Steve 'Crocodile' Fitch was next to him and he's giving it: 'Yeah, we'll mess you up'. I've got to style it out, I've got to be cool, and I've got to make out I really fancy this fight. I needed a one-liner and all I could think of was, 'Get yourself fit, fat boy,'" Nelson revealed.
Tyson and Nelson's off-ring rivalry didn't end inside the stadium. The two crossed paths once again in an exclusive elevator where they both had another intense exchange. However, Nelson chose not to step outside his hotel room after this confrontation.
"The door is closing and 'Crocodile' is mouthing behind him, doing the cut-throat sign. Just before it shut, I gave him a farewell gesture, and my wife was not impressed. We got downstairs and we walked straight back upstairs and didn't go out," he recalled.
After Tyson easily dismantled Julius Francis and Savarese during his U.K. stint, Nelson said he had still not "come out with an excuse." Therefore, the fight was still on.
Unfortunately, Tyson and his former promoter, Frank Warren, eventually ended their relationship, which Nelson claimed was the only reason why the bout didn't push through.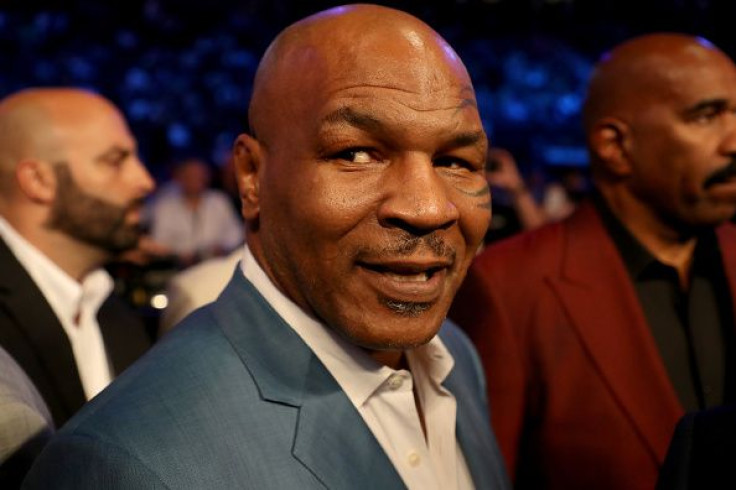 © Copyright IBTimes 2023. All rights reserved.