Mayweather's Money Won't Match Pacquiao's Legacy, Hall Of Fame Trainer Says
KEY POINTS
Hall of Fame trainer Buddy McGirt picks Manny Pacquiao's legacy over Floyd Mayweather's money
McGirt said Pacquiao's accomplishments are something that could be remembered forever
Bernard Hopkins said he'd rather have Pacquiao's career than Mayweather's
A Hall of Fame boxing trainer said Floyd Mayweather's money will never match what Manny Pacquiao has accomplished in his career.
When boxing was put on hiatus, fans started a social media debate aiming to know who had the better career between two legendary fighters, Mayweather and Pacquiao. Several boxing personalities weighed in on the subject, revealing whether they would rather have Mayweather's billions or Pacquiao's legacy.
Though the world has been dealing with the financial crisis brought by the pandemic, a large percentage of boxing fans still chose the Filipino legend's eight division world championships over the American's net worth and undefeated 50-0 record.
Hall of Fame trainer James "Buddy" McGirt was one of the people who recently expressed his thoughts about the matter. Just like most fans, the former two-division world champion also favored the fearsome warrior mentality of Pacquiao over Mayweather's infamous handpicking of opponents.
McGirt also emphasized that being a multi-division champ is more important than making tons of money while staying in your comfort zone.
"I'd say the 8-division champion, because it's something you will always be remembered for," McGirt told Elie Seckbach of EsNews.
"You still got a lot of money, you don't have a billion dollars, but you got something your kids and grandkids could remember. It's a legacy, something that lives on forever," he continued.
Bernard "The Executioner" Hopkins was another Hall of Famer who picked Pacquiao's accomplishments over Mayweather's riches. In an exclusive interview with The Ring, Hopkins, who believes he and Pacquiao are the same in terms of being able to outlast their peers, explained that the Filipino champ never backed down from anybody, while Mayweather treated the sport as pure business.
"I'd rather have Manny Pacquiao's legacy than Floyd Mayweather's. Manny fought everybody and Floyd fought guys (on his watch). Also, I don't think Floyd gave two you-know-whats about how people feel whether he fought the best guys or not. It was strictly business for Floyd," Hopkins pointed out.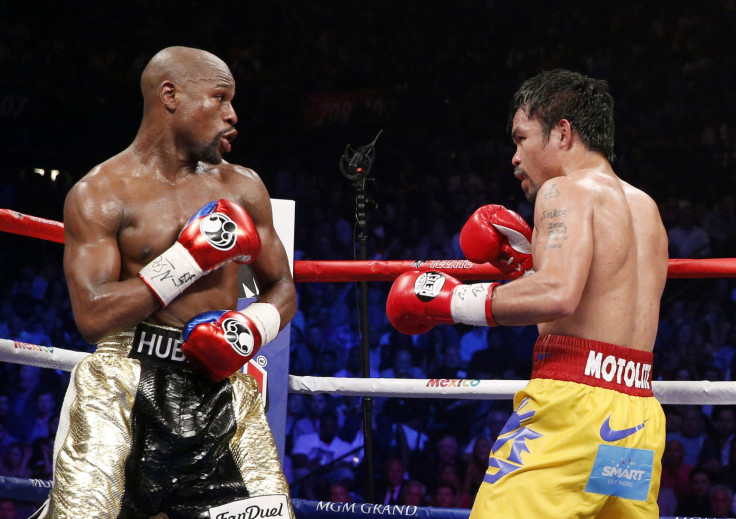 Mayweather and Pacquiao faced each other in 2015. The fight was billed as "The Fight of the Century" as both fighters had already exceeded most of their rivals at the time, but only one fighter has to be crowned the greatest of them all.
Unfortunately for Pacquiao, Mayweather managed to get away with a win and kept his flawless record. However, many are convinced that Pacquiao got robbed, and even to this day, fans have been yearning for a rematch.
© Copyright IBTimes 2023. All rights reserved.