Millennials Are Splitting Into Haves And Have Nots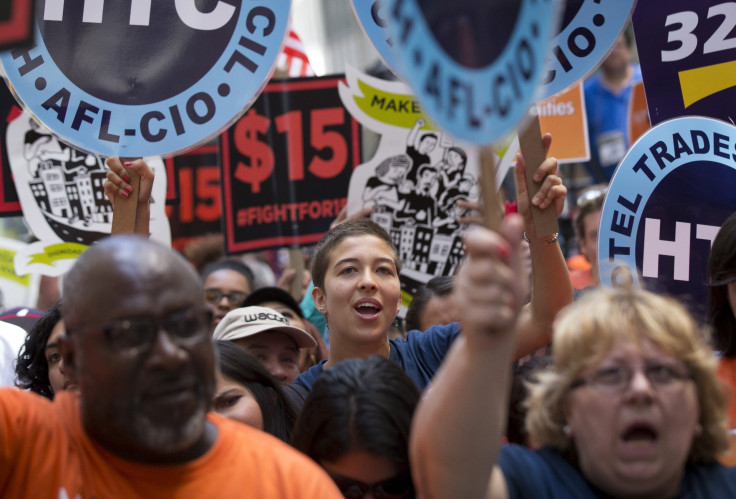 Millennials make up the majority of workers earning minimum wage or below, but more than half of them don't want the mandated payout raised to $15, according to a survey of more than 3,000 college students from the student loan refinancing marketplace LendEDU. The split, far more evenly divided than most similar surveys with broader samples, may be a symptom of the yawning wealth disparities among younger Americans as more of them obtain college degrees, leaving their less-educated counterparts in the proverbial socioeconomic dust.
The divide in opinion among those surveyed — 48 percent in favor of a $15 hourly minimum versus 52 percent against — was hardly higher than the survey's 1.75-percentage-point margin of error. A similar percentage of those earning the federal minimum of $7.25 per hour or less, or 49.2 percent, are between the ages of 20 and 34, according to data from the Bureau of Labor Statistics. Widen that net to include those ages 16 to 19, and the portion grows to 69.8 percent. (The BLS did not include the percentage for those in the typical millennial age range of 18 to 34 years old.)
Read: Delinquency On College Debt Soars Above That Of Credit Cards, Mortgages
Some argue that lower-skilled workers in crowded fields — unlike highly educated job candidates who face unemployment rates as low as 1.6 percent — would be hurt by a minimum wage increase, as companies would be forced to lay off workers to cut costs, making those workers averse to what might appear to others as a working-class-friendly policy. Yet polling data from both the Pew Research Center and Gallup shows that preference for a minimum wage hike appears to escalate as the incomes of respondents grow smaller.
The LendEDU survey results differ substantially from a variety of others pegging support of all age groups for such a wage hike at between 50 and just over 60 percent. But those surveyed by LendEDU were college students, and their slight proclivity as a group for avoiding a $15 minimum could have something to do with the growing class disparity between their generation's haves and have nots —those who have a degree, that is, versus those who don't.
"As more and more of the millennials are going to have college degrees, … there's going to be two classes of millennials: the educated class and a non-educated class," said University of Southern California Price School of Public Policy professor Dowell Myers, whose research focuses on population dynamics.
Millennials are often portrayed as the generation under economic stress, given mounting student debt and the fact that, according to an April Census Bureau report, a full third of them still live at home with their parents. But those crises don't tell the entire story.
Between 1975 and 2016, the number of millennials with a bachelor's degree or higher rose to 30 percent from 22.8 percent, but median personal income declined to $34,800 from just under $36,900, the Census found. But even as the median fell, the portion of young people earning at least six figures more than tripled to 5.4 percent from 1.7 percent. The drop in the median may be fueled in part by the ballooning percentage of men making less than $29,000 annually — that number grew to 41.4 percent last year from just a quarter in 1975, while the percentage for women slid to just 58.1 percent from nearly 80 percent over the same period. And it's no secret which gender is leading the generational advances in college degree attainment: Women are not only more enrolling in higher numbers, but are more likely to finish.
The dual rise of income inequality and college attainment — a so-called "achievement gap" that's exacerbated by racial inequities and is more acute in college towns — is not limited to America's largest generation. As the percent of degree-holders has gone up, those in the top income brackets have seen their earnings skyrocket since the mid-1970s, while everyone else's wages have remained stagnant. But as heirs to an increasingly unequal economy, millennials are more or less becoming poster children for income inequality.
Read: Women Have More College Debt Than Men And Take Longer To Pay It Off
Still, the data, according to Myers, could be distorted by the difference in lifestyle within the millennial cohort, with the older members, in their early thirties, already financially established, compared to the youngest members, who are either full-time students or still living at home. (But even the older millennials' advantages could be stymied a bit by the fact that many of them entered the workforce during a recession.) The one-size-fits-all approach to postsecondary education, however, will likely perpetuate what is already becoming a strong economic dividing line, he added.
"Some people are just not really suited to white-collar, pencil-pushing work," Myers said, citing underappreciated occupations like that of an electrician. "In America, we're so inclined to equality. We want everyone to be treated equally and the same."
What's needed, he said, are "more middle jobs" and technical programs to enable their potential workers, as "the future of the national economy is resting on millennials."
© Copyright IBTimes 2022. All rights reserved.
FOLLOW MORE IBT NEWS ON THE BELOW CHANNELS