What Should The Minimum Wage Be? What Trump, Fight for $15, Economists Have To Say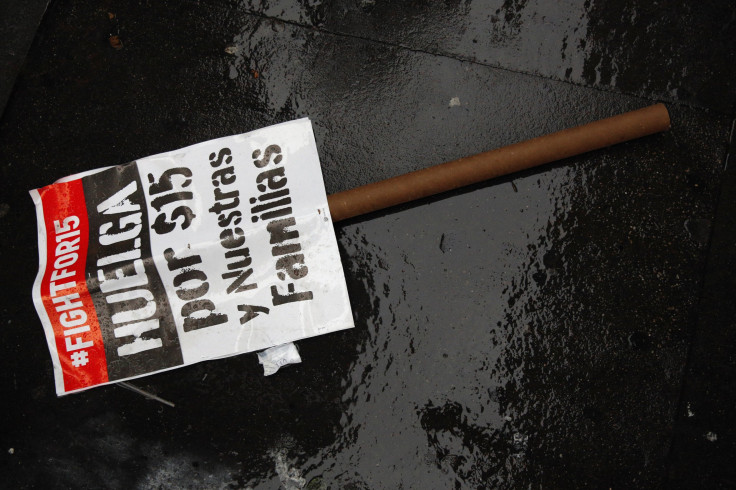 As a part of Fight for $15's nationwide "day of disruption," hundreds of airport employees, fast food workers, child care providers and Uber drivers engaged Tuesday in a mass strike across the nation. But whether the advocacy group's goal of a $15 minimum wage is feasible, reasonable or even desirable is under heated debate.
In a thinly-veiled nod to President-elect Donald Trump's win earlier this month, Fight for $15 railed against "newly-elected politicians," "an extremist agenda to move the country to the right" and "efforts to block wage increases, gut workers' rights or healthcare, deport immigrants or support racism," according to a post for the Nov. 29 event.
The president-elect has flip-flopped on the issue, at one point stating that "the minimum wage has to go up" to "at least $10" and at another labeling wages "too high." The day after Election Day, the advocacy group appeared to acknowledge this, sending out a comforting message on Twitter amid Trump's victory, urging supporters to "get ready for the fight to come."
But whether Trump settles on either of his previous minimum wage stances, he's among many who believe an increase to $15 per hour simply isn't viable. Recent history, however, may prove them wrong.
Trump's main issue with a more than doubling of the federal minimum wage, which currently stands at $7.25 per hour, is that businesses looking for cheap labor will be driven away from the U.S. as a result. As Jeffrey Wagner, a senior policy researcher at the Rand Institute, wrote, employers facing a relatively high minimum wage—an effective labor price floor—have to either raise the prices of their products and lose sales, or seek less worker-friendly alternatives.
"Ultimately this raises the incentive for employers to find cheaper substitutes for expensive labor such as outsourcing, offshoring or substituting machines for people," Wagner wrote in the libertarian-leaning think tank's blog.
In California, that argument may prove true, according to reporting from the Los Angeles Times.
"The exodus has begun," Cal State Channel Islands economist Sung Won Sohn told the paper last spring, when clothing maker American Apparel announced it might outsource hundreds of local jobs amid an incoming minimum wage hike to $15. "The garment industry is gradually shrinking and that trend will likely continue." Still, the Times noted, American Apparel's move followed a decade-long trend of garment companies leaving the area due to high commercial real estate prices.
A similar minimum wage raise experiment, confined to just one company, may have led to comparable consequences. Walmart raised millions of its employees' wages to $9 and then $10 over the past two years, and has been closing stores and laying off workers in droves over the same period.
But while some have pointed to workers' raises as a reason, many of the lost jobs were occupied by higher-paid employees, while store closures have been tied predominantly to the superstore's shift to ecommerce, often considered a crucial move for the Sam's Club subsidiary's survival.
Proponents of a $15 minimum wage often argue that a $7.25 minimum wage simply isn't enough to support oneself—let alone any dependents—and that low-wage Americans' inflation-adjusted incomes peaked in 1968. And in terms of the actual consequences of a minimum wage hike, many studies have revealed a net benefit.
A 1993 study on the effects of a minimum wage increase in New Jersey comparing the changes in employment there to those of Pennsylvania, which kept its minimum flat, found a 13 percent increase in employment in the Garden State over that of its neighbor.
"How can this be? There are several answers, but the most important is probably that the market for labor isn't like the market for, say, wheat, because workers are people," New York Times economist Paul Krugman wrote about the study in a column last year. "And because they're people, there are important benefits, even to the employer, from paying them more: better morale, lower turnover, increased productivity."
A prospective study by the University of California Berkeley's Labor Center focusing on another East Coast state, New York, where Gov. Andrew Cuomo signed into law a statewide $15 minimum last spring, found that the benefits Krugman mentioned actually outweighed the disadvantages commonly cited by critics, like higher payroll costs and more expensive products. More precisely, the researchers expected the $15 minimum wage to lead to a 23.4 percent increase in pay, on average, for more than 3 million workers in New York.
"This improvement in living standards would greatly outweigh the small effect on employment," the study said. "In the end, the costs of the minimum wage will be borne by turnover reductions, productivity increases and modest price increases."
FOR FREE to continue reading
✔️ Unlock the full content of International Business Times UK for free
offer available for a limited time only
✔️ Easily manage your Newsletters subscriptions and save your favourite articles
✔️ No payment method required
Already have an account?
Log in
© Copyright IBTimes 2023. All rights reserved.