Minimum Wage 2015: Los Angeles Approves $15 Minimum Wage By 2020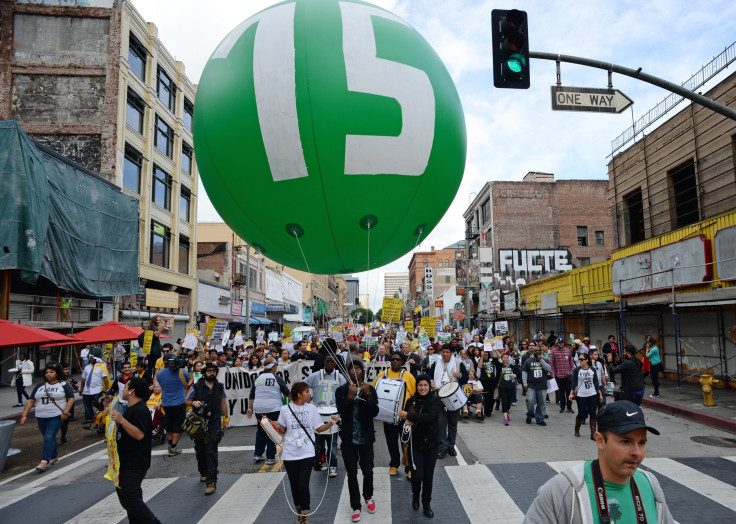 Los Angeles is the latest and largest U.S. city to approve a $15 hourly minimum wage. City Council approved the increase, which will take effect by 2020, by a 14-1 on Tuesday.
The vote is the latest victory for activists championing minimum wage increases nationwide. As proposals to hike the federal minimum stall in a Republican-dominated Congress, dozens of states and cities have taken up the cause on their own. Los Angeles now follows in the steps of Chicago, Oakland, San Francisco, Seattle and Washington, D.C., among others, which have all enacted pay increases in the last couple of years.
Los Angeles' soon-to-be $15 pay rate was once an inconceivable demand that low-wage worker protests -- the so-called "Fight for 15" movement -- helped usher into the political mainstream. Given the size and scope of the latest wage increase, it will likely fuel similar efforts in other states and cities--most significantly, the state of New York and New York City. The latter remains noticeably absent from the list of cities to boost pay. Mayor Bill de Blasio backs a $15 citywide minimum by 2019, but he remains hamstrung by a state law that prohibits municipalities from setting their own minimum pay rates.
Hundreds of thousands of workers in Los Angeles will likely see pay increases from the new wage. According to research from the University of California, Berkeley that looked at a similar proposal--$15.25 by 2019--the boost would lift average earnings by almost a third.
"The City Council's action today creates a path for workers to succeed and gives our economy the boost it needs to grow," said Rusty Hicks, secretary-treasurer of the Los Angeles County Federation of Labor.
© Copyright IBTimes 2023. All rights reserved.