Minneapolis Shooting: Suspect Who Shot At Protesters Supporting Jamar Clark Confesses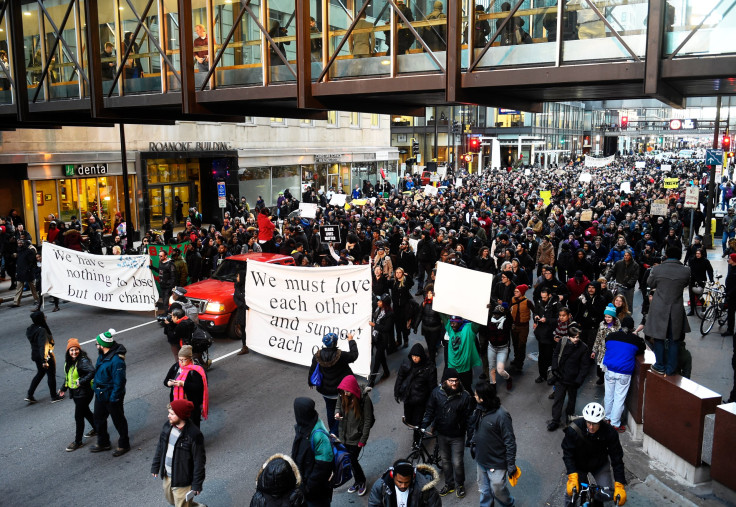 A suspect arrested in connection with the shooting this week of five people protesting the death of an unarmed black man at the hands of police in Minneapolis, had confessed to a police officer. His confession led to the first arrest in the case, reports said late Wednesday. Officials from the U.S. Department of Justice have been informed of the ongoing protests -- over the Nov. 15 shooting death of Jamar Clark -- outside the Minneapolis police station, the Associated Press reported.
The suspect, identified as Allen Lawrence "Lance" Scarsella, 23, is one of four people arrested in connection with the incident Monday. His confession to a friend, who was a police officer in Mankato, Minnesota, was mentioned in an application for search warrant filed in Hennepin County court, the AP reported. It led police officials to search his home in Bloomington, where they seized a dozen weapons, computer equipment, cellphones, camouflage clothing, an AR-15 rifle, bolt-action rifles, revolvers and ammunition, Star Tribune, a local newspaper, reported.
Prosecutors said that they will need more time to decide if charges will be filed against the four men.
The warrant cites Scarsella as telling the police officer, named only as "Levin," that the four had initially gone to the protest to stream it live. But an altercation with the protesters led to the shooting. Eight shells were found at the site. Levin reportedly told the Minneapolis police station that Scarsella owned a .45 caliber weapon that matched with the shells.
The newspaper also reported that the police were searching for white supremacist paraphernalia. The other men in police custody with Scarsella were Nathan Gustavsson, 21, Daniel Macey, 26, and Joseph Martin Backman, 27. A 32-year-old Hispanic man was also arrested on Tuesday but he was later released as the officials believed he was not present at the site.
According to Star Tribune, Scarsella's grandmother did not know about the allegations and his arrest. "Oh, my gosh! Lance is a good boy -- my oldest grandson. Oh, no, he had all kinds of friends in school," she said.
About 150 people had gathered outside the police station Tuesday as the activists decided to have a quiet night to respect Clark's family. Clark, 24, died in what the police termed a scuffle with the officials who were responding to an assault. Some of the community members said that Clark was handcuffed but the police officials denied the allegations, the AP reported. Clark's funeral was held on Wednesday in Minneapolis and was attended by hundreds of people.
© Copyright IBTimes 2023. All rights reserved.