Missing Baby Lisa Irwin Update: Volunteers Suspect Mother 'Killed Lisa'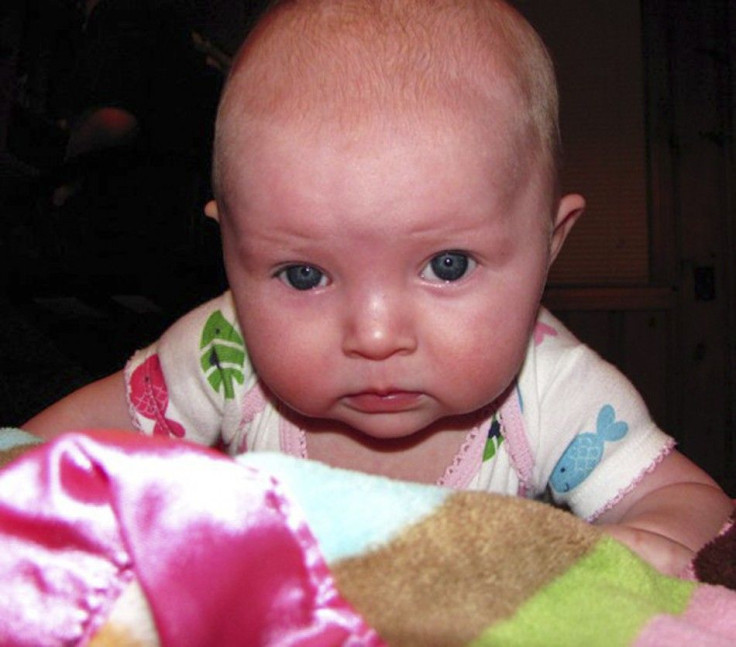 Baby Lisa Irwin has been missing for two months, however the 1-year-old's parents, Deborah Bradley and Jeremy Irwin, surprised authorities Sunday when they requested local prayer vigils be put to an end.
Lisa aunt, Ashley Irwin, came forward Tuesday in an email to the Examiner.com to explain why Bradley and Irwin want the vigils outside their home to cease. She said the parents are frustrated that volunteers and neighbors remain on the family's lawn and are unhappy with rumors and suspicions that Bradley was involved with Lisa's disappearance.
Some of those involved in the prayer vigils created unnecessary drama, Ashley explained in an email. Neighbors would congregate on Bradley and Irwin's front lawn to discuss the details of the case. She stated that the vigils had become gossip-fests and focus had shifted away from baby Lisa.
Some of those involved habitually talked about what other people were supposedly doing and saying and creating a rumor mill, Ashley said. A lot of unnecessary stress and drama started to surround the vigils. People were always talking about other people behind their backs and someone was always mad at somebody else for something.
Last weekend volunteers searched a local abandoned casino where a psychic alleged that Lisa's body was buried. Many of the volunteers were then invited to attend the prayer vigil on Bradley and Irwin's front lawn.
The majority, if not all, of those people think that Deborah [Bradley] killed Lisa and dumped her body there, Ashley said. Hence, why they were searching [at the closed casino] in the first place.
Lisa's mother, Bradley, has asked that the location of the vigils be moved, according to Ashley, because she feels overwhelmed by people surrounding her home and is uncomfortable being incessantly approached with people knocking on her door.
[Bradley] never asked that people disband the prayer group or that people stop praying - that's absurd, she said; however she does hope that the vigils will move away from her home.
Bradley and Irwin have been subject to intense scrutiny since baby Lisa's disappearance on Oct. 4. Authorities have questioned why Bradley and Irwin refused to cooperate fully with police since her disappearance, especially refusing to be interviewed separately by police. Authorities are also surprised the Lisa's parents seem so quick to move on.
Former Homicide Detective Rod Wheeler told Megyn Kelly of Fox News' America Live that Bradley and Irwin's demands for the prayer vigils to end is a tell-tale scenario that the parents are hiding something from police.
Nine times out of 10 most parents, especially in a case of a missing child would want people to be there, would want people to come and have a prayer vigil or what have you. Those folks are saying, 'It's time to move on with our lives. Get out of my driveway, get out of my yard and move somewhere else.' What does that tell you I wonder? Wheeler said on America Live.
As a homicide investigator, it tells me that the Kansas City Police Dept. has been correct in focusing on these two people, Wheeler continued.
John Walsh also urged Bradley and Irwin to cooperate with investigators on America's Most Wanted if they have any hope of seeing their 1-year-old child again.
They should cooperate with police fully. They should do all the media they can and they should remember one thing - if they had nothing to do with their daughter's disappearance, they need to be the face of baby Lisa, Walsh told Inside Edition. You keep searching if you have nothing to do with the disappearance of your child. You are there every day at the police station saying what can I do to get this baby back.
Detectives closed their outpost focused on finding baby Lisa on Nov. 25, however Kansas City Police Department Capt. Steve Young insists that investigators are still focused on locating the missing child. Police claimed the case will remain open, but after following hundreds of leads, there are still no major suspects, and tips have started to dry up.
Related Article: Missing Baby Lisa Irwin Timeline: Are Police Giving Up After Two Months?
© Copyright IBTimes 2023. All rights reserved.