Mitt Romney Almost Halfway Home In GOP Presidential-Nomination Race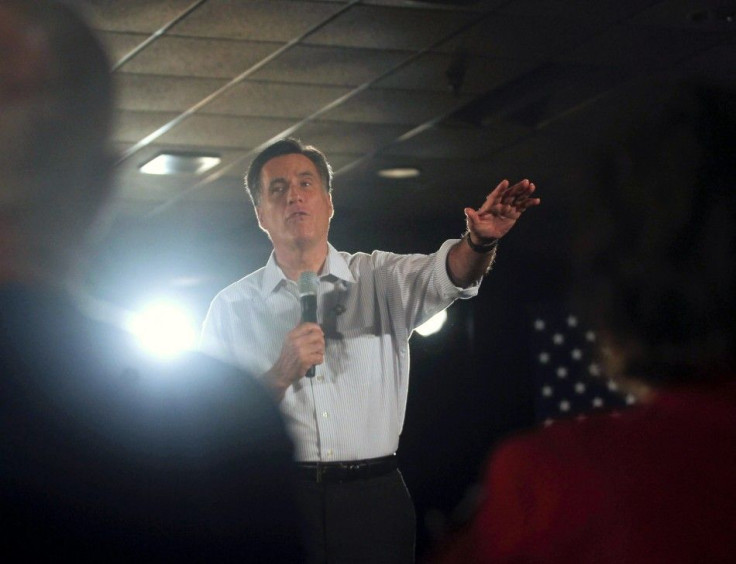 Both front-runner Mitt Romney and chief challenger Rick Santorum have added campaign events in Illinois over the next few days in anticipation of the state Republican Party's presidential primary election on Tuesday.
Illinois should be competitive, according to RealClearPolitics data on polling in the state.
The most recent RCP average of support in the state shows Romney, the former governor of Massachusetts, with 37.7 percent; Santorum, the former U.S. senator from Pennsylvania, with 31.3 percent; Newt Gingrich, the former speaker of the U.S. House of Representatives from Georgia, with 13.3 percent; and Ron Paul, the U.S. representative from Texas, with 7.3 percent.
Illinois will have 69 delegates at the Republican National Convention in August.
If Romney wins Illinois, people will say he is sealing the deal as a front-runner candidate, Republican strategist Ron Bonjean told Reuters. If he loses, then they're saying he still has a lot of work to do and he's relying on delegate math and that he may win by the numbers but he also has to win by momentum to generate enthusiasm.
Assuming Romney does comparatively well in the contests in Puerto Rico on Sunday, Illinois on Tuesday, and Louisiana on next Saturday, it appears he could be halfway home by the end of this month in the terms of the number of delegates needed to win the nomination on the first ballot: 1,144.
At last count, Romney had 495 delegates, Santorum had 252; Gingrich had 131, and Paul had 48, according to the Washington Post's Campaign 2012 Republican Primary Tracker.
Romney and his surrogates are believed to be spending more than $4 million in Illinois, while Santorum and his surrogates are thought to be spending at least $310,000 in the state, Reuters reported.
Romney has scheduled a full day of campaigning in Illinois on Sunday, with three campaign stops and an appearance on the Fox News Sunday show on the Fox News Channel, according to The Associated Press.
Meanwhile, Santorum spent a little time Saturday making comparisons between Romney and Democratic President Barack Obama in areas ranging from health-care policy to fossil-fuel regulations, AP reported: People ask me why I am the best candidate to run against Barack Obama. ... I feel like in some respects like I am running against Barack Obama here in this primary because Mitt Romney has the same positions as Barack Obama in this primary.
© Copyright IBTimes 2023. All rights reserved.
FOLLOW MORE IBT NEWS ON THE BELOW CHANNELS