MLB: Boston Red Sox, Alex Cora Agree New Deal Until 2021
The Boston Red Sox and coach Alex Cora have reached an agreement over a new deal that could see him be at the helm until the end of the 2022 season. The manager signed a three-year deal until 2020 last November, but the new contract gives him an added year plus a club option for the 2022 season.
Cora, who led the team to a franchise-record 108 wins, cruising through the post-season going 11-3 and bringing home the World Series championship, will also see his remuneration rise with the new contract.
It was the Red Sox's fourth title in 15 years and the team's hierarchy have shown that they are ready to back their manager to lead them to future successes. He is the first rookie manager to win the World Series since Bob Brenly for the D-backs in 2001.
"We have consistently been impressed by Alex at every turn," Red Sox chairman Tom Werner said, as quoted on the team's official site. "His knowledge of the game, ability to connect with our players and his incredible instincts and decisiveness led us to a historic championship season. We know we are in good hands and could not be more pleased to know he will be with us for the foreseeable future."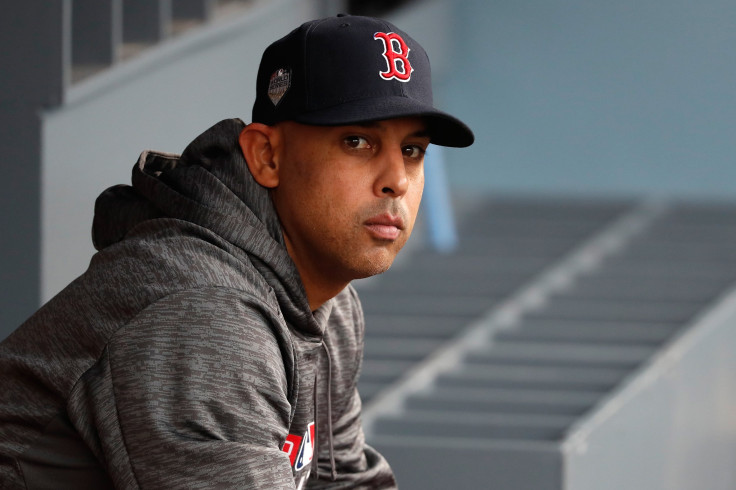 The new contract for Cora came a day after he was voted as the second best manager of the year in the American League behind Oakland Athletics manager Bob Melvin. Red Sox president Dave Dombrowski revealed that the new contract is for the tremendous job Cora has done throughout the season.
"Alex did a tremendous job for our club all year long and we wanted to reward him for his efforts after an amazing season," Red Sox president of baseball operations Dombrowski said. "We are extremely happy that he will be with us and leading our club on the field."
The 43-year-old was delighted after reaching an agreement to extend his stay with the Red Sox. Cora became the second skipper to win over a 100 games with the Boston franchise in his first season – Jake Stahl was the first, he won 105 games in 1912.
"Since Day 1, John and Linda Henry, Tom Werner, Mike Gordon, Sam Kennedy, and Dave Dombrowski have been incredibly supportive of me and my family, and for that, I am extremely grateful," Cora said. "For me, 2018 was not only historic, but it was special as well, both on and off the field. We have a great appreciation for our accomplishments this past year, but now our focus moves forward to the season ahead and defending our World Series title."
The Red Sox are hoping to repeat their title success in 2019 and become the first repeat champions since the New York Yankees won three straight titles in 1998, 1999 and 2000.
© Copyright IBTimes 2023. All rights reserved.