MLB News: Biggest Trade, Free-Agent Signing Of 2019 Paying Off For Phillies, Cardinals Early
Some of the best players in baseball changed uniforms in the offseason, and they are paying immediate dividends for their new teams. Through the first week of the 2019 MLB season, few players have performed better than Bryce Harper and Paul Goldschmidt.
Harper was the top free agent on the market, and he signed a record-setting $330 million contract with the Philadelphia Phillies. Goldschmidt was the best player traded this past winter when the Arizona Diamondbacks sent him to the St Louis Cardinals.
It's very, very early, but both Philadelphia and St Louis have to be thrilled with the deals they made at this point.
If MLB had an MVP award for the first five games of the season, it would go to Harper. The outfielder has been the league's most productive hitter, leading all players with a 1.840 OPS. His teammate Maikel Franco is second in the majors with a 1.591 OPS.
In fact, Harper's .500/.652/1.188 splits are all MLB highs in the season's first week. He's also got three home runs and five RBI for a Phillies' team that became the last club to suffer its first loss of the year. Philadelphia got off to a 4-0 start for the first time since 1915.
After hitting two home runs in his first game in front of the Phillies fans, Harper returned to Washington D.C., where he seemed to feed off the boos of what was once his home crowd. The 26-year-old hit two doubles and a long home run against his former team.
The Harper signing received many more headlines than the Goldschmidt trade, even though the first basemen has proven to be the more consistent player in recent years. Goldschmidt finished second behind Harper in the 2015 NL MVP voting, and while Harper hasn't had a top-10 finish since, the Cardinals' new slugger was sixth in the voting last year and third in 2017.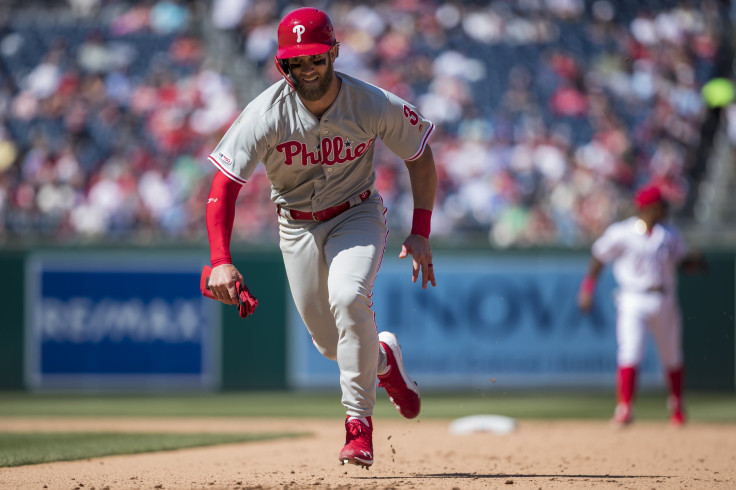 Goldschmidt might be well on his way to another MVP-caliber season. He had a three-home run, five-RBI day in the second game of the season. His four home runs and eight RBI both rank second in the NL behind only the Los Angeles Dodgers' Cody Bellinger.
Goldschmidt is hitting .250/.379/.750. He's posted an OPS of no worse than .899 in every season since 2013. The Cardinals' 3-3 record has them in second place in the NL Central behind the Milwaukee Brewers.
A year away from hitting free agency, Goldschmidt reportedly agreed to a five-year, $130 million contract extension with St. Louis.
The Phillies and Cardinals are hoping their offseason moves get them back to the playoffs, and if their stars continue to perform this way, there's a good chance both teams will be competing in October.
© Copyright IBTimes 2023. All rights reserved.