MLB Rumors: Archer, Dozier, Gallo On The Block? Dodgers, Yankees, Indians Active Ahead Of Trade Deadline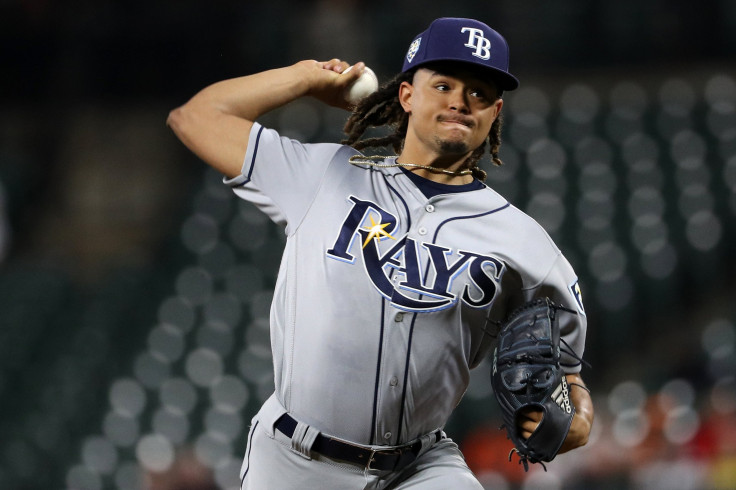 The Milwaukee Brewers on Friday acquired slugger Mike Moustakas from the Kansas City Royals, and the Chicago Cubs recently bolstered the rotation by adding Cole Hamels, but there are still some notable names on the trade market ahead of the July 31 trade deadline.
The biggest name might by Tampa Bay Rays right-hander Chris Archer, who appeared to be a trade deadline candidate before the season even began. The Los Angeles Dodgers were considered the early favorites to land the 29-year-old but other teams might also be in contention.
Baseball insider Ken Rosenthal added the New York Yankees, despite the two teams playing the American League East. Oddly, also in the mix are the National League West underdog San Diego Padres, and some reports have linked Archer to the St. Louis Cardinals.
ESPN's Jerry Crasnick claims the interest for Archer, who has 4.31 earned-run average over 96 innings, is "intensifying." Archer has not had an ERA below 4.00 since the 2015 season.
Minnesota Twins infielder Brian Dozier could also be dealt by the deadline. The 31-year-old has seen his numbers dip this season but he still has 16 home runs and posted strong batting statistics in August and September of 2017. According to Mike Berardino of the Pioneer Press, the impending free agent may be drawing interest from the Cleveland Indians and San Francisco Giants.
After letting go of Cole Hamels, the Texas Rangers may also part ways with outfielderJoey Gallo. Evan Grant of The Dallas Morning News reported that the Indians and Philadelphia Phillies are among teams that have the most interest in Gallo. The 24-year-old has hit 25 home runs this season but is batting just .190 and already has 138 strikeouts.
© Copyright IBTimes 2023. All rights reserved.